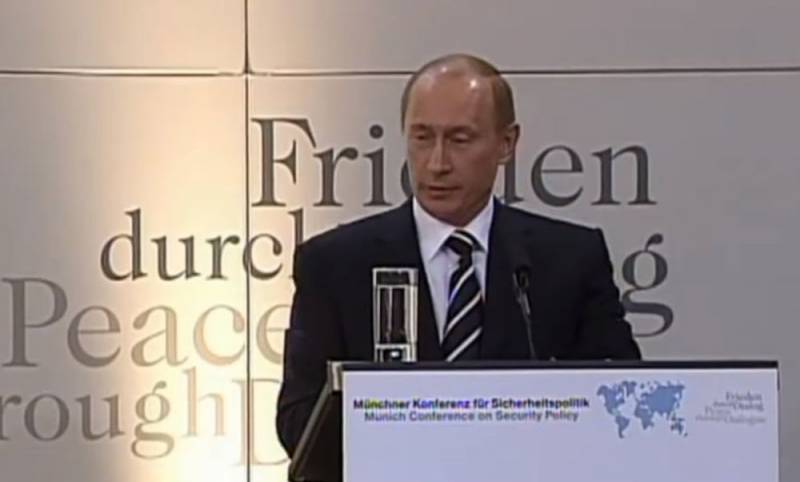 Recently, the Western press began to recall the words of Russian President Vladimir Putin, spoken by him in 2007 at the Munich Security Conference. 15 years have passed and the world noticed that the Russian leader then spoke about today.
For example, according to Harlan Ullman, a columnist for the American newspaper The Hill, the West made a mistake by criticizing the speech of the head of the Russian state and not listening to it. Putin spoke rather abruptly, but the format of the platform allows him to do this, so he did not need to hide the meaning behind ornate diplomatic phrases. He talked about a multipolar world, that the US should stop considering itself the only pole of power on the planet, and NATO should stop expanding eastward and threatening others.
The participants in the event were shocked by the vigor of Putin's attacks, but on the whole they brushed them aside. It was a mistake
- specified in the publication.
Ulman is sure that Putin considered the subsequent behavior of the West arrogant and disrespectful towards Russia. However, the countries of the Western world really ignored the theses set forth by the owner of the Kremlin, which "aggravated his growing indignation," the author summed up.
We remind you that in mid-February, i.e. Prior to the start of the Russian special operation on Ukrainian territory, Franco Frattini, chairman of the Italian State Council (the highest administrative court and legal advisory body that ensures the legitimacy of state administration), said that Putin was right when he spoke of the need to overcome the unipolarity of the world and develop multilateral cooperation.
In January, a columnist for the French newspaper Le Monde, Sylvie Kofman, reminded the readers of the publication that the head of the Russian Federation outlined his claims to NATO and the United States at the aforementioned Munich Conference. He advised in this vein to consider proposals sent by Moscow to Washington and Brussels in December 2021 on security guarantees, which the United States and NATO refused to comply with.