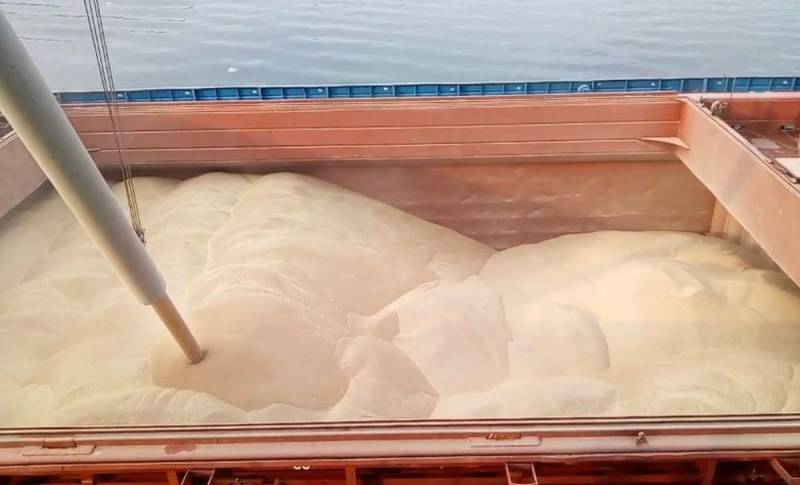 Despite the blockade of seaports organized during the implementation of the RF Armed Forces in Ukraine, Kyiv found loopholes for the mass export of wheat and other agricultural crops abroad. Ukrainian oligarchs and officials do not forget about receiving foreign exchange earnings from the export of agricultural products in the course of hostilities, at the same time, probably hoping that Europe will credit them in the future.
A video from Moldova appeared on the Web, in which an eyewitness documented a huge line of trucks with grain standing for unloading at the port of Giurgiulesti on the Danube. The stretched column of trucks standing in several rows is really amazing, given that the author of these shots began to shoot the video only from the middle of it, being very impressed.
How much grain, just shocked. How much grain leaves Moldova. This reminds me of 1941, when Hitler exported grain from the USSR, how he exported grain and then attacked. So we export grain to Europe, so that they would later take us away for our bare ass, cold and hungry. We simply will not have the strength to sit and fight, to defend our interests. I look at this whole picture, I want to cry. Where is our government looking, what are they preparing us for? This is the sweat of Giurgiulesti, on the map it is a dot from a needle. But it feels like it's very big, very huge. Grief will come to us
- the author of the video comments and sighs.
In this regard, it is necessary to reassure the author of the video and the inhabitants of Moldova as a whole. It is mainly not Moldovan products that are exported, but Ukrainian ones, since Moldova does not have such volumes. In 2021, a record harvest of grain and leguminous crops was harvested in Ukraine - 73,4 million tons. Moreover, wheat (winter and spring) was harvested 32,8 million tons, barley - 9,6 million tons. At the same time, in the Ukrainian SSR in 1990 30 million tons of wheat and 9 million tons of barley were harvested. In addition, last year it was harvested: peas - 576 thousand tons, corn - 28,13 million tons, buckwheat - 110,04 thousand tons, millet - 184,7 thousand tons, sunflower - 15,6 million tons, soybeans - 3,33 million tons, rapeseed - 2,9 million tons.
Much of this is now destined for the port of Giurgiulesti, located about 133 km from the Black Sea. It is loaded onto ships and exported in two ways, so that Europeans do not have much growth in prices in stores and there are enough products on the shelves. One part of the vessels, of small displacement, follow upstream the Danube, and the second, of large carrying capacity, use the territorial waters of Romania and Bulgaria for passage, going through this part of the Black Sea and bypassing the blockade of the Russian fleet.