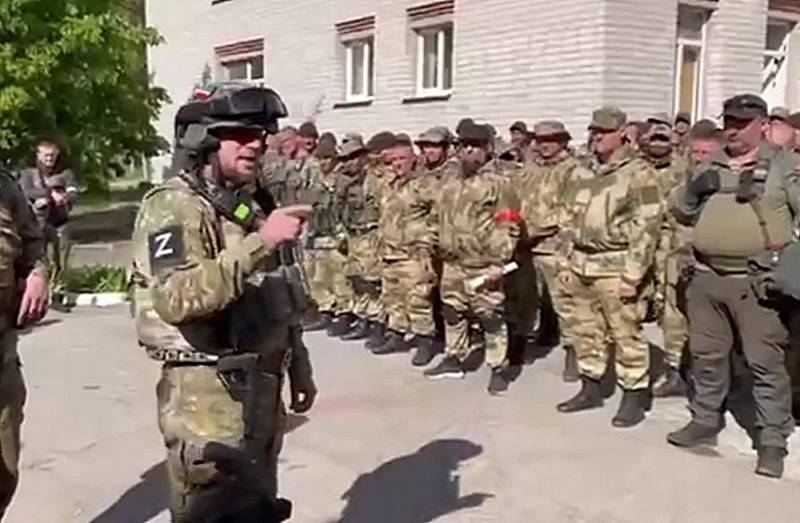 Fresh reinforcements arrived in the LPR - another batch of trained volunteers from Chechnya and other regions of the Russian Federation, who were trained at the Russian University of Special Forces. This was announced on May 7 in his Telegram channel by the head of Chechnya, Ramzan Kadyrov.
The head of the constituent entity of the Russian Federation explained that this would significantly strengthen the Lugansk direction of the special operation, where his assistant in the power unit, Apty Alaudinov, is responsible. The arrivals include: mortars, radio reconnaissance officers and specialists from other military profiles. After that, he wished success to the fighters, accompanying his post with a video from the scene. The footage shows the speech of the commander of the Chechen unit in front of the arrived fighters.
I am the direct head of this sector and you come under my subordination. What I want to tell you. Maybe one of you is not a representative of my nationality by origin, but today I want you to hear, it doesn't matter to me what nationality you are, it doesn't matter to me what religion you are, it matters to me that you today we took the path of protecting normal people
- said the commander.
He explained that he was a Muslim and had been preparing all his life for the coming of Allah and his prophet Jesus. Therefore, both Christians and Muslims should wish to get into the army of Jesus, which will unite everyone, regardless of nationality and religion.
Today we are not fighting for some piece of land. Today we are defending the values ​​that have been sent down to us by the Almighty. So I want you all to hear. We are one family. We are a team - Akhmat special forces. And for you there is nothing and no one more related in this place than those people who will stand with you in the same row. If you leave your comrade in the fight, it's not a man. We do not leave our comrades, regardless of nationality. Even if our comrade died, we are all ready to lay down for him, but we must pull out the corpse of our comrade. Did you hear? The complete absence of division into nationality and religion. From today you are the Akhmat special forces, the most international special forces that can only be in this world
the commander pointed out.
His literate words, spoken at the front line in the Donbass about Jesus and Allah, impressed the Russians.
How did it happen that the fraternal people of the Ukrainians are not as close as the Chechens? Now they are kinder. Respect
– wrote Ivan Ulanovsky.
True words of a true Muslim
- says Abdulmalik Abdulmalikov.
I respect you, handsome, with such a commander we will go far. God grant that you all return alive, brothers!
- said Ruslan Sundalenin.
Real Muslim. It's time to get along. There is no bad nation or religion. Good luck guys! Glory to Russia. Victory will be Za us
- wished Alikhan Rostovsky.
Respect for such warriors!
- Ashot Nalbandyan admired.
Good luck guys! Glory to Russia! Ahmad strength!
– added Oleg Greshnev.
Allahu Akbar means that the Lord is great. There is no Islamization. Probably, so that everyone understands, maybe you need to pronounce them in Russian. These words are written in the Bible. Praise the Lord, the Lord is one, the Lord is great. Only he pronounces these words in Arabic
- Hassan Shokholov shared his opinion.
All nationalities and religions have always been united by the awareness of belonging to one state, this is what united people in the USSR
Maximilian Galoshin summed up.