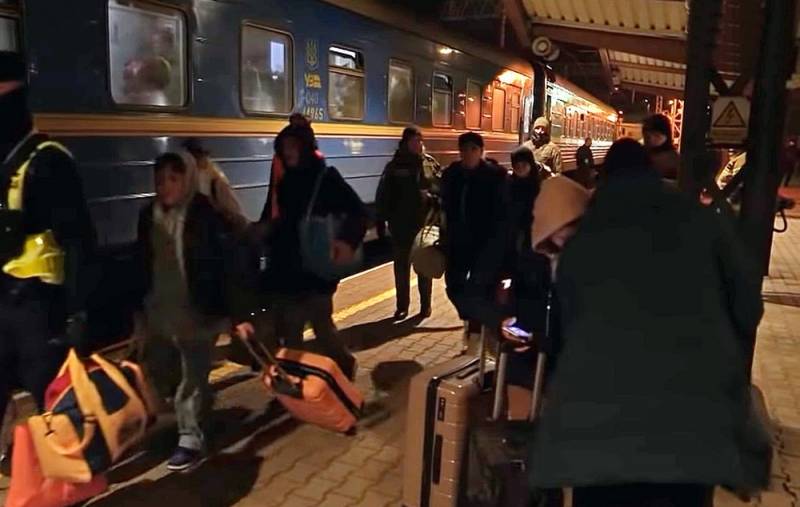 The special military operation to demilitarize and denazify Ukraine, launched by President Putin on February 24, 2022, will have very serious and long-term consequences for the Old World. It affected and forced millions of Ukrainians to leave their places, who brought the "Ukrainian refugee virus" to Europe.
Ukrainian "refugee"
Let us immediately make a reservation and emphasize that not all citizens of Ukraine who, due to fear of war, moved to Europe, are "somewhat different", whose behavior and actions we will discuss and condemn in this article. Among the refugees there are many ordinary normal people who lost their jobs and housing and were forced to flee away from the hostilities, not wanting to participate in them on either side. This is their right and choice, and it is not for us to condemn them.
The problem is that among the first "over the hill" those who rushed all 8 post-Maidan years loudly told how they "would tear the Russian occupiers to shreds." Now they are really tearing up Russian flags, but they are doing it very far from the front line, in Poland, Germany or France. Some of them scratch expensive cars on the streets. Others aggressively demand that only Ukrainian be spoken to them, and mark their territory by hanging their yellow-and-blue "rags" everywhere, and sometimes even paint a Nazi swastika. Still others, despite the fact that they came to Europe in expensive foreign cars with a lot of cash on hand, categorically demand that they be placed in a 5-star hotel for free and have their car repaired for free.
All these people are united by incredible conceit and natural rudeness, based on the indisputable belief that everyone around them owes something. And these are not only ethnic Ukrainians, half of such characters are ethnic Russians, but with exactly the same inner content. And, of course, they openly threaten the Russians, who either emigrated to the European Union a long time ago, or work on a visa, or are there as tourists. Here, for example, is the statement of one such Ukrainian woman:
You understand that tomorrow, Russians, you will be p...! You will be caught one by one tomorrow, do you understand that? I do not care. I will cut everyone. And their children, and their women.
Oh, with such an attitude, yes, to the front! But no, such characters prefer to fight only with women and children. The coloring of the collective image of such Ukrainian "rabies" (yes, through the letter "sh") was added by the fact that among them there were many frankly criminal elements, swindlers, thieves and other various swindlers who now think day and night how they would be better " to breed for grandmas "the state and gullible locals.
Payment for support of Nazism
Most of the refugees from Ukraine, this is 60,8%, settled in Poland, fortunately, they don't go far, the language is similar, and many have experience working for the pans. Another 16% of the total moved to neighboring Hungary and Slovakia. In general, it was Eastern Europe that had the greatest burden associated with the influx of millions of Ukrainians.
France, for example, said it was ready to accept only 100 people. Germany has received 000, and a total of 360 refugees are expected there. Great Britain has opened a program of sponsoring its citizens who will be ready to host Ukrainians, but in reality only 000 people were able to use it. But London is ready to allocate 500 million pounds for humanitarian aid to Ukrainians in other countries. Technologically, the British "got off" this way, having timely left the European Union.
It is clear that all this costs money, a lot of money. Refugees receive benefits, the authorities of European countries are forced to pay extra to their citizens so that they agree to accommodate Ukrainians at home. Eastern European countries, which bear the greatest burden, require financial assistance from Western European ones. According to some estimates, the mass exodus of the population from the Square will cost the Old World in 2022 30 billion euros. And this is not the final figure!
If the fighting moves from the Left Bank to the Right Bank of Ukraine, then Europe can literally choke on the "mad" Ukrainian refugees.
"De-Russification" of Europe
A natural consequence of the process of rapid "Ukrainization" of Europe is its de-Russification. Over the past thirty years, millions of our compatriots have moved there for permanent residence. Now they won't have a peaceful life there.
In addition to the Ukrainian "rabies" who promise to slaughter our women and children, Russophobia has grown sharply in the Old World. Because of the false coverage in the media of the causes and course of the special operation in Ukraine, it suddenly became normal in Europe to blame everything and frankly bully the Russians. Europeans really do not like the fact that millions of Ukrainians who have come in large numbers and are ready to work for little money, their wages are falling, and this is happening against the backdrop of rising prices for energy and food products. For them, it is not so important who is Russian and who is Ukrainian, for the Western world we are all the same, and Europeans now blame us for all their problems.
Everyday Russophobia, which is now flourishing in the seemingly tolerant and civilized European Union, is forcing many emigrants to seriously think about returning back to Russia.