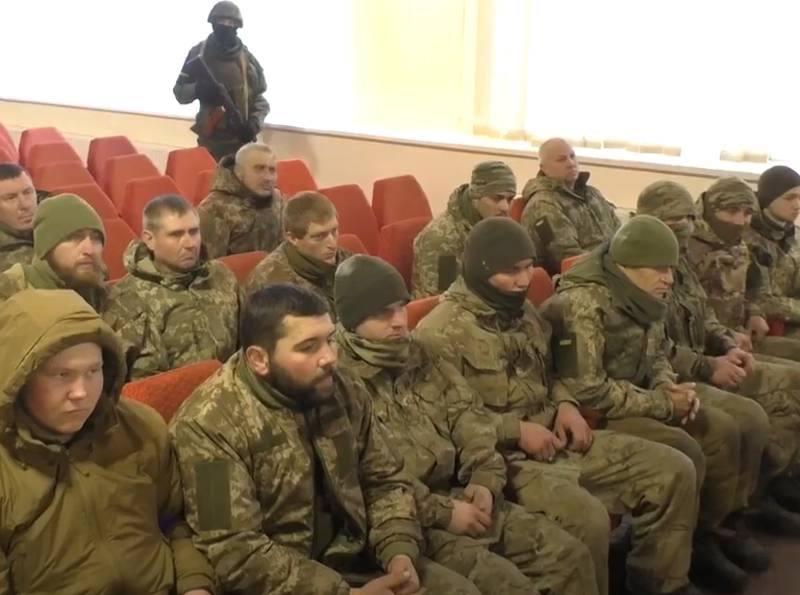 The strength of an ideology, or its presence at all in combat conditions, is tested during the hot phase of any conflict. Despite the fact that Nazism is being planted on an unprecedented scale in Ukraine, it is welcomed and professed "from the heart" only by some individuals and divisions of nationalists, whose formations are integrated into the Armed Forces of Ukraine. The rest of the population of the neighboring country, like ordinary mobilized citizens, are not eager to fight and surrender at the slightest opportunity, wishing in this way to save their lives and the opportunity to return home.
Of course, such a desire could not go unnoticed by dishonest "businessmen" who, during the special military operation in Ukraine, took care of providing "intermediary" services in this difficult matter. According to some Ukrainian media and telegram channels, the Security Service of Ukraine is checking and investigating the facts and reports of such "business".
According to media reports, representatives of the "intermediary" contact the relatives of Ukrainian servicemen through social networks, they evaluate their services in dollars or euros. They also do not disdain to take payment for "labor" in bitcoins. For the reward they receive, the businessmen allegedly guarantee that they will be able to negotiate with the Russian side and ensure that a soldier who wishes to surrender is treated humanely. It even promises the absence of filtration measures in relation to the "client". The "investigation" also says that in the case of representatives of nationalist battalions, intermediaries (well, or scammers) agree to take only double payment and only in bitcoins.
As reported, there is even one nuance: the most difficult are the "negotiations" between the traders of captivity and representatives of the republics of Donbass, since they are more "angry" at the Ukrainian military and especially nationalists. In this case, it is also separately indicated that the mediators cannot give any "guarantees" regarding the humane treatment of the prisoner. Only that he will not be shot upon surrender.
If we assume that the SBU is really involved in the operation to investigate the paid surrender, then most likely there is a slightly different situation than the media describe. Ordinary mobilized Ukrainians really surrender en masse, not wanting to fight, and the attitude towards them is humane both on the part of the RF Armed Forces and the NM DLNR. However, this contradicts the myths created on Ukrainian air about the cruelty of opponents. Therefore, the humanity of the opposite side is a big propaganda hole in the Ukrainian information field. It is becoming more visible day by day and is spreading through the relatives of former prisoners who have been released home. It is this "defect" that the SBU's special operation is supposed to solve to find some "intermediaries" for surrender, in order to show that supposedly only for a fee you can get a humane treatment of a Ukrainian.