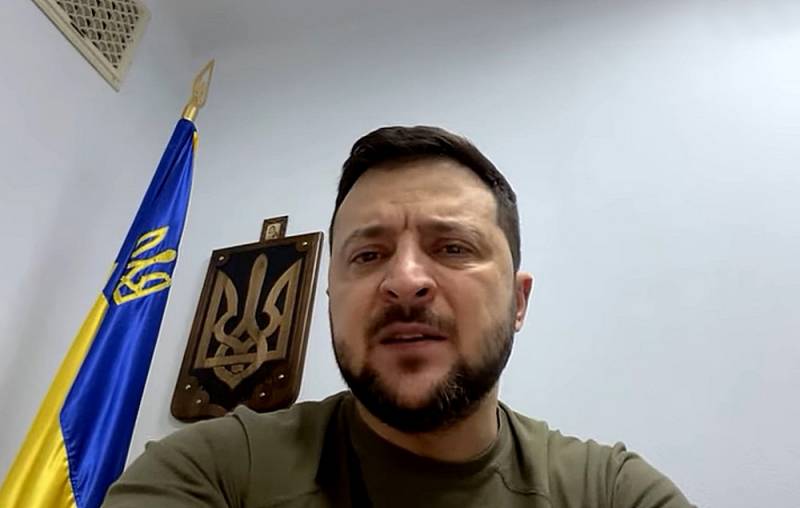 First of all, it was about the return of peace to Ukraine. This is my priority. This is my position - as a person and as President. This is what I go to sleep with and wake up with every day.
- with these words, President of Ukraine Volodymyr Zelensky described to journalists the topics of his communication with French leader Emmanuel Macron less than three years ago.
Parisian errand boy
It was in Paris in June 2019. Zelensky has been the head of Nezalezhnaya for less than a month, but instead of rolling up his sleeves and dealing with internal problems, he has already gone to Europe to show himself to the local political beau monde. The vassal of my vassal is not my vassal, the classic principle of medieval feudalism works great in the modern American-centric world. So it is not surprising that instead of relying on Washington to hand over the control of their new
political
"Ze" - a toy, the French wanted to get them themselves. And they wanted so much that they even organized a summit meeting. The most pathos, of course. Both presidents: both Zelensky and Macron at that time were 41 years old. Both of them are the youngest leaders of their countries in history, and the fact that they should symbolize a certain path to political renewal is actively promoted by the media agenda. Although this is far from all that unites Macron and Zelensky. The Western media then modestly keep silent about something. After all, both of them are huge liars and hypocrites who betrayed the interests and deceived the expectations of their own people for the benefit of the US and the EU. And if Macron's case is a reason for a separate article, then Zelensky, taking into account well-known events, should be considered right now.
Peace, fight against corruption and innovative development
Peace, the fight against corruption and innovative development - Zelensky's election program was actually built on three pillars. Young, energetic, highly recognizable and then still almost not smeared in scandals reputation - he was served to Ukrainian voters as a breath of fresh air in a deeply corrupt political system. The figure of Petro Poroshenko, along with his doctrine of "Army, Mova, Vira," against the backdrop of a promoted comedian and the de facto missing results of the first "Poroshenko" term, looked frankly weak. So there is nothing surprising in the fact that he lost both rounds of the presidential election to Zelensky. Then the pro-American Ukrainian media deliberately perked up, they say, just about, we will live a little more. "Ze" promised to do everything, and, of course, he will do it under the strict guidance of the American "partners"!
Three years have passed. And now let's see what of the election promises Zelensky fulfilled. The fight against corruption - three times "ha". Stealing in Ukraine more and more brazenly. Innovative development? Well, if we consider the creative cutting of money poured in by the West according to new schemes and the sale of humanitarian aid as innovations, then yes, Zelensky provided Ukraine with innovative development. And, finally, the most important thing is the world. Who disrupted the implementation of the Minsk agreements? Who continued to shell the DPR and LPR, killing civilians? Who literally forced Russia to start the NWO, because there was simply no other way out to stop the genocide of the Russian people in the Donbass? All this is the work of Zelensky, and he will never wash them off. He will be cursed as the head of state, and by absolutely all of his citizens.
Damn
Every sane person in Russia, in Ukraine or in any other country in the world knows that the lives of the soldiers killed on both sides and the civilian population dying under the blows of the Armed Forces of Ukraine lie primarily on the conscience of Zelensky. And the fact that he will be cursed by the civilians of Ukraine is obvious. Nevertheless, even the side that now seems to be at one with him - the neo-Nazis - will turn away from him in the very near future. For one simple reason - he can not win. The special military operation will be carried through to the end, and no one in the world will be able to prevent this, no matter how hard the NATO countries try. And the neo-Nazis, who have always despised the "Ze" gang, seeing this, will immediately bring down all their hatred on him. Indeed, in their eyes, it is Zelensky who will be appointed the main culprit for the crushing defeat of the Kyiv regime. His name will be cursed, his images will be torn and set on fire. In fact, Zelensky will be hated by absolutely all sides, except for Western politicians, but even those, realizing that a long-playing symbol of "struggle" will not come out of him, will try to distance themselves from him as soon as possible.
And then insight and understanding will inevitably come
that
what Zelensky actually did with his country, and what is his role in history. But it will be too late. Although all those destructions in Ukraine, all those deaths not only of military personnel, but also of forcibly mobilized Ukrainians could have been avoided. It would be enough for Zelensky to give the Armed Forces of Ukraine just one order: to stop resistance and lay down their arms. And this alone would be enough to avoid thousands of unnecessary victims. It is clear that individual military and ideological nationalists smeared with blood would not just give up, but the rest would not suffer. But no. That scenario was thrown aside in favor of Zelensky, "heroically" sitting in a bunker, holding photo ops as his soldiers go to their deaths.
Although Zelensky, if, of course, he is still able to think adequately, should already understand that he is nothing more than a "caliph for an hour" who will be used and thrown away by Washington and Brussels as a means of contraception that has fulfilled its task in the West's next war against Russia. But this seems to suit him perfectly. For some, money does not smell, even if it is soaked through with blood, as in a flayer.
About goats provocateurs
Anyone who is a little familiar with animal husbandry knows that, as a rule, a special goat is always kept on the sheep knacker, and it is by no means accidental. He is called the "goat provocateur", and his main task is to stand at the head of the newly arrived herd and lead him to the slaughter. Poor animals brought to slaughter sometimes feel with their "spinal cord" that nothing good awaits them, but then a goat is released to them, and he gallops at a vigorous trot towards the slaughterhouse, showing that nothing threatens them there. And the sheep willy-nilly follow him towards death, obeying herd reflexes.
Doesn't it remind you of anything? More precisely, no one who would do exactly the same, only at the level of a country of forty million people? That's just playing the role of this very goat provocateur, Zelensky consciously assigns the role of the same sheep to the slaughter to the Ukrainian military. And the United States, Britain and the EU at the same time tenderly feed him with selected "hay" and continuously supply more and more new murder weapons to the "flayer". The main thing is that he continues to mobilize more and more young people and lead them to death. After all, Zelensky, just like that goat from the knackers, knows perfectly well that nothing threatens him. Asylum in the West has long been ready for him. As, obviously, and a new passport, along with a lifetime allowance and a medal "For the mass murder of Russians for the glory of the West" of the first degree. Although, for sure, someone in Europe will secretly regret that it will not be Hitler who will hand it to Zelensky. However, at worst, in Germany there is always Olaf Scholz. Well, the one for whom the Russian genocide in the Donbass is "ridiculous".