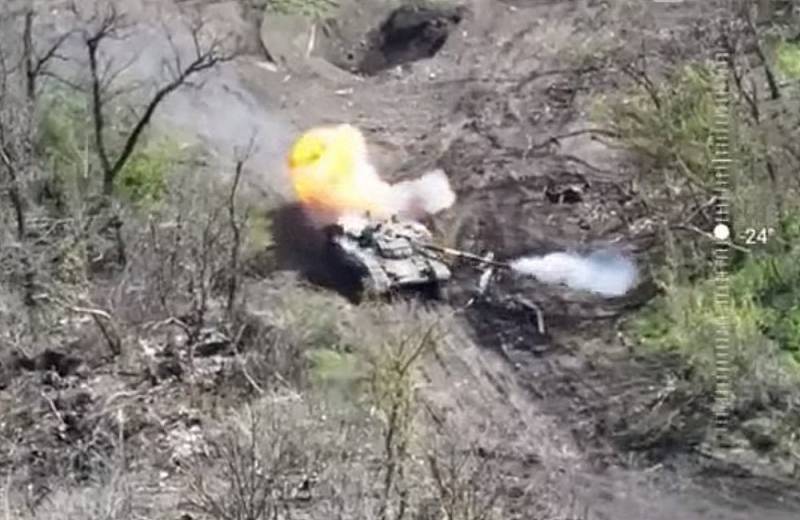 For the possession of the Donbass, a multi-day battle unfolded between the Armed Forces of the Russian Federation, as well as the NM of the DPR and LPR on the one hand and the Armed Forces of Ukraine on the other, in which a huge number of troops were involved. Periodically, details of what is happening on the front line become known.
For example, a video appeared on the Web showing a duel between Russian and Ukrainian tanks. Footage of a fierce battle was filmed by a Russian drone in the Izyum direction.
Events unfolded as follows. A unit of the Armed Forces of Ukraine took up defense in the hangars and the surrounding area, including the forest belt. But in the end they were defeated.
The video shows a tank duel, where the T-64BV of the Armed Forces of Ukraine tried to hit a Russian tank, but misses. He has to change position, after which a hit is recorded on the engine compartment of the combat vehicle. Two members of the Ukrainian crew leave the tank, the third is probably killed. One of the hangars is on fire, and the position of the Ukrainian mortar crew is covered by Russian artillery fire. The remaining Ukrainian soldiers had to retreat.
This is just one of the episodes of what is happening along the entire giant arc from Kharkov to Zaporozhye. The Russian Armed Forces are looking for weaknesses in the enemy's defense and want to surround the most combat-ready units of the Armed Forces of Ukraine that have dug in in Donbass, turning the region into a kind of fortress, which is problematic to storm head-on. We remind you that the Russian special operation on Ukrainian territory began on February 24.