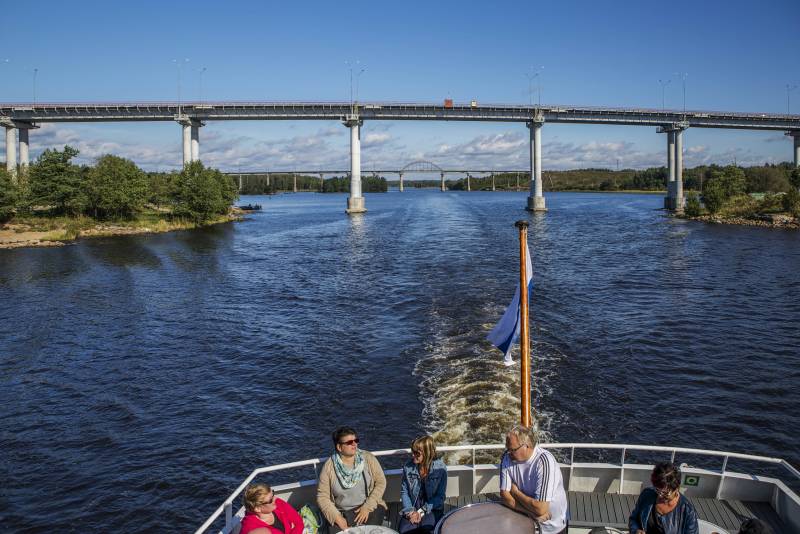 Finnish newspaper Ilta-Sanomat reprinted
news
Russian media about the possible termination of the Saimaa Canal lease agreement by Moscow if Suomi still decides to join NATO.
Currently, the territory of the Russian part of the canal is leased by official Helsinki under an agreement that does not provide for the cession of sovereignty. The mentioned shipping route connects the Baltic Sea with the lakes in the continental part of the country.
President Urho Kekkonen opened the reconstructed canal in 1968. The channel became a small compensation for the fact that Karelia, lost after the Second World War, turned out to be impossible to return. The Saimaa Canal has become one of the most important waterways in Finland

- reminds the newspaper, emphasizing that the channel has been a symbol of good neighborly relations for many years.
Finns comments:
Regarding the Saimaa Canal, it is worth considering that, despite some costs, contacts with Russia could be reduced. That is, let them keep that part of the canal that goes through their territory. If there
economic
meaning, we will build our new canal already on the Finnish side or replace it with rail and road transport
– left a review user JakkeJ.
It suits me. We are currently living in a free Finland and are shedding centuries of Russian influence over our country, and our membership in NATO significantly and permanently strengthens our sovereignty. As a full member, we will be able to plan for our common European security. The disappearance of the constant threat will help us prosper in terms of multiplying investment in our industry and jobs. I see a great future for Finland

predicted a certain Liberaali.
Alas, our borders are still vulnerable. And we are still a small nation, whether we are in NATO or not. I think we need to be businesslike, not provocative. No distortions, but no humiliation either. We work in accordance with international laws and treaties, even if our neighbors do not

Hessu pointed out.
I am concerned about the inexperience of contemporaries who make decisions and their attitude towards our eastern neighbor. Our good relations with Russia before the war in Ukraine were the result of long experience. Russia and Finland celebrated the 80th anniversary of peaceful relations. The old order is about to be thrown into the trash can. In its place, the NATO bloc is now proposed, which will literally become a step into the unknown. Our eastern border is a quiet place, as far as Russia is concerned, the neighbor was reliable. The question of NATO is moving forward in Parliament. Disadvantages are not considered, highlighted or discussed. This act seems completely irresponsible. In a panic, Finns can make the wrong decisions.

– complained Metsävainio.
Apparently, Russia will not gain anything for itself here. We will build bypass routes, and the Russian Federation will lose rental income

predicted Maaorja-ko.
Well, let them take it. Why would Russia want to keep this canal, if all other routes have been blocked for a long time, but from the western side?

Skattalainen replied.