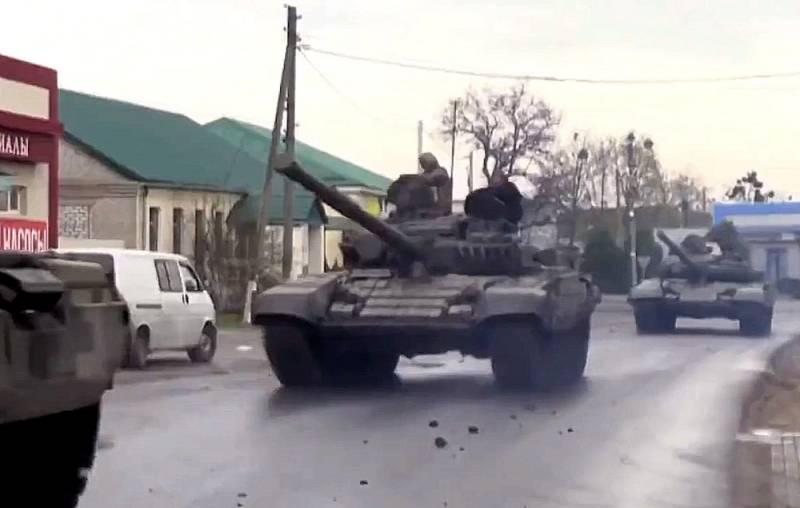 NATO countries continue to supply Ukraine with various weapons systems to counter Russia. For example, in the Donbass, the T-72M1 tanks transferred by Slovakia are already fighting on the side of the Armed Forces of Ukraine.
A video appeared on the Web showing the movement of a group of such tanks. Footage taken April 18-20 in the Luhansk region is said to show the movement of a Ukrainian T-72AMT tank (the first in the convoy in the video), followed by two Slovak T-72M1 tanks (the second and third in the video).
In the second video, an eyewitness from Poland documented how T-72 tanks were being transported on tractors towards the eastern border of his country. Warsaw recently promised to transfer 100 units of such tanks to Kyiv.
In addition, in the near future, Ukraine expects to receive a large amount of military equipment from its Western allies.
equipment
and ammunition.
So, Canada promised to supply 4 M777 howitzers of 155-mm caliber and high-precision long-range artillery shells M982 Excalibur with GPS guidance to them (these ammunition have an effective firing range of 40 km, with a circular probable deviation from the target of no more than 5 meters, but their number not specified). The United States is transferring 90 M777 howitzers with tractors for transportation and about 140 thousand shells for them, as well as 12 M142 HIMARS MLRS. Estonia will give 9 D-30 howitzers. Slovakia - 18 self-propelled guns Zuzana. Great Britain - 20 AS-90 self-propelled guns (155 mm) and 10 thousand shells for them.
Belgium will provide up to 24 M109A4BE self-propelled guns. France - 12 CAESAR self-propelled guns. The Netherlands promised up to 24 PzH 2000 self-propelled guns. The Czech Republic is ready to transfer more than 20 DANA and DANA M2 self-propelled guns (this is an "addition" to the already transferred 20 RM-70 MLRS). Poland allocates MLRS BM-21 "Grad" (the number has not yet been determined, but the Poles have 227 of them, and before that they transferred to Kyiv 5 thousand rockets for them of 122-mm caliber) and 20 Gvozdika self-propelled guns.
And this is not a complete list. In fact, the West is rearming Ukraine.