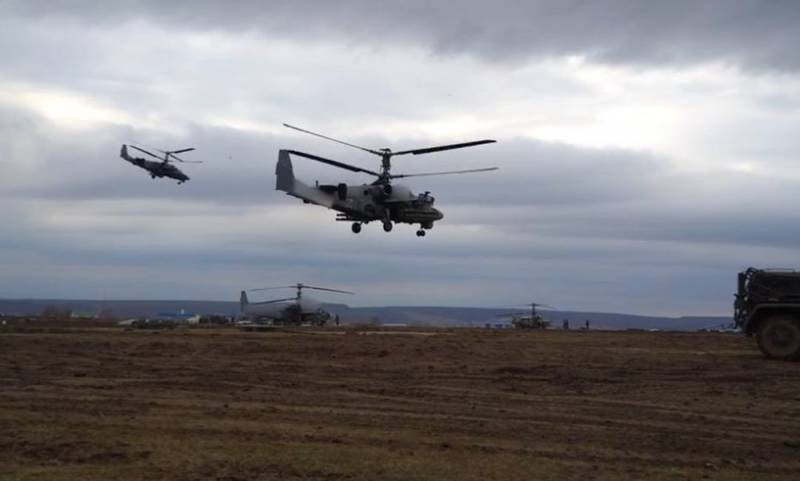 On April 23, the Russian Ministry of Defense showed footage of the combat work of the crews of Ka-52 attack helicopters of the Russian Aerospace Forces, which were filmed during a special operation of the Russian Armed Forces in Ukraine. The video shows the actions of rotorcraft in pairs.
Missile strikes were recorded on identified armored vehicles and disguised positions of the Armed Forces of Ukraine. As a result, the Russians destroyed: a tank, an infantry fighting vehicle and a fortified stronghold of the enemy.
In addition, in the morning report, a representative of the military department spoke at a briefing about the progress of the NMD on Ukrainian territory. According to him, over the past night, the Russian Aerospace Forces hit 11 military facilities in Ukraine with their high-precision missiles, of which 7 are strongholds and places of concentration of manpower and military
equipment
APU. The enemy lost up to two companies of military personnel and 25 units of various armored vehicles and vehicles.
The army and operational-tactical aviation of the Russian Aerospace Forces carried out strikes on 66 military targets in Ukraine overnight. Including hit: 58 places of concentration of manpower and military equipment of the Armed Forces of Ukraine, 3 command posts, as well as 3 warehouses of missile and artillery weapons near the settlements of Aleksandrovka, Komar and Bogatyr.
During the day, rocket troops and artillery carried out 1098 strikes. 3 Mi-8 helicopters were destroyed in the Chuguev area and 3 Osa-AKM air defense systems near Barvenkovo ​​in the Kharkiv region, as well as 16 weapons depots, 33 command posts, 919 strongholds and areas of accumulation of manpower and military equipment, and 124 artillery firing positions APU in other places.
Russian air defense systems near Novaya Dmitrovka in the Kharkiv region shot down a Su-25 attack aircraft of the Air Force of the Armed Forces of Ukraine. Moreover, 15 enemy UAVs were destroyed during the night, including one Bayraktar TB2 (Bayraktar TB2) of Turkish production over the village of Novaya Zarya in the Nikolaev region. In the area of ​​​​Chernobaevka in the Kherson region, the Pantsir-S air defense missile system was shot down in the air 2 flying to the Tochka-U OTR airfield and 3 MLRS rockets.