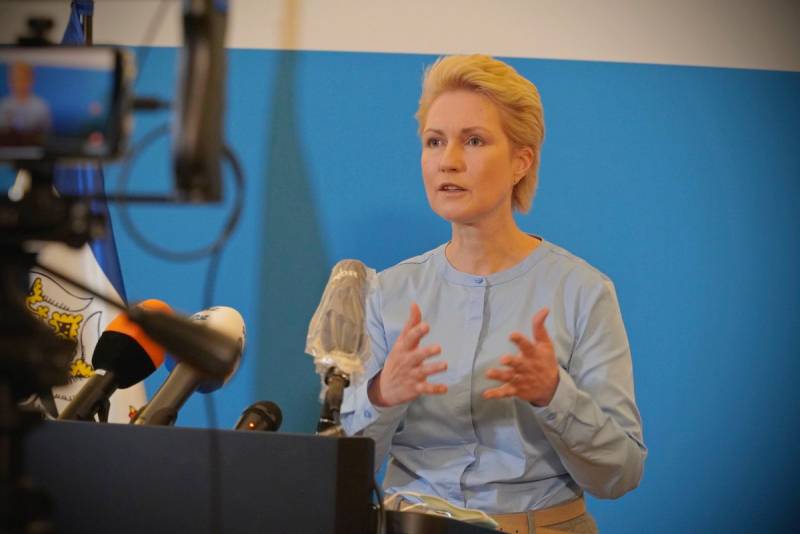 The Social Democratic Party, which received the chair of the Federal Chancellor for Olaf Scholz in the coalition, came under close scrutiny and investigation because of the scandal over the Russian ties of the head of Mecklenburg-Western Pomerania, Manuela Schwesig. Witch hunts have always been loved in Europe, especially if these "witches" are connected with Russia. During the period
economic
recession and decline, there is no better occupation for relieving stress among the population. At the same time, along the way, Washington's task is being carried out to form compromising evidence on the chancellor in order to completely tame him.
Schwesig is a high-ranking representative of the SPD, the star of the party, almost the right hand of Scholz. Documents about her supposedly pro-Russian activities now, against the backdrop of a Russophobic wave, have become the main "evidence" not only against the prime minister of the federal land, but also against the chancellor himself. Mecklenburg-Vorpommern is known to be the end point for the Nord Stream 2 gas pipeline, so it is not surprising that the chief official of the federal state was in close contact with Russia's Gazprom.
But Schwesig is credited with nothing more than undermining US sanctions (apparently, this is already considered a crime) and complicity in the dissemination of Russian propaganda. Schwesig's "terrible misdeeds" were first discovered by the bloodhounds of the Die Welt newspaper, which published data that its subordinates worked closely with Nord Stream 2 AG, a subsidiary of Gazprom, which was trying to complete the project under US sanctions. The documents revealed that the fund, backed by the company and the regional government, supposedly intended to protect environmental interests, was in fact a means of circumventing US restrictions.
Now Schwesig has to apologize for his position on supporting the gas pipeline project under the Baltic Sea. She calls this idea her mistake. But it's too late: the Americans are cleaning up the dissent and divisions in the government coalition by their own means and merciless means, and not in favor of the pragmatism of the SPD, but rather in favor of the impulsive young Greens.
The accusations are primitive and far-fetched. For example, Schwesig is charged with "undocumented" and unannounced meetings with former German Chancellor Gerhard Schroeder, who is associated with Gazprom. This "sensational"
news
told the resource T-Online. Other reasons to demand the resignation of Manuela Schwesig are no less paradoxical - she allegedly hired people to advertise SP-2 in Germany. But in the wake of hatred for the Russian Federation, even these insignificant reasons are enough to persecute the "pro-Russian witch." In addition, the money that the official received from the Russian holding went directly to the budget of the land, and not to her personal pocket. But such "little things" are of little interest to anyone.
Washington skillfully played on very specific fundamental manifestations of the national character of the Germans - the search for the guilty and cruel punishment of them without actual proof of guilt. Even if Schwesig resigns, as required of her, the SPD and personally Scholz will still remain under the heel of Washington, because the chancellor in this chain is the most important link of influence.