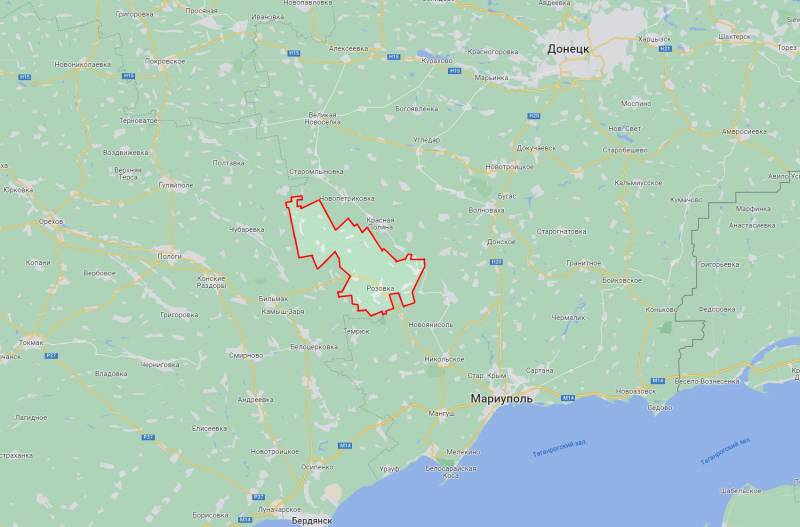 The leadership of the Donetsk People's Republic will be sent a request to join the Rozovsky district to the DPR. It was this decision that ended with the popular vote, which, apparently, took place in the assembly hall of the Rozovskaya administration.
It is worth noting that the voting process itself, obviously, was carried out without much preparation and campaigning and had the format of a gathering rather than the usual plebiscite with ballots and ballot boxes. Judging by the published video filmed in the hall, all those present unanimously voted for the temporary annexation of the Rozovsky district to the DPR. Abstentions and those who voted against are not visible on the recording.
At present, there is no unequivocal information about who conducted the voting and what the reaction of the DPR authorities may be to the very fact of such an appeal. A separate issue is that in 2020 the specified district became part of the Pologovsky district, that is, at the moment, the Rozovsky district does not exist as an administrative unit with its own borders.
In any case, the very fact of having intentions to join one of the people's republics of a territory that did not previously belong to it entails the possibility of further disintegration of Ukraine. Both the territories under the control of Russian troops and the western regions, for example, Transcarpathia, where the population received Hungarian passports en masse, or the Lviv region, where citizens living there traditionally gravitated towards Poland, can break away from the state. As for the appeal of the residents of Rozovka, we should wait for its official confirmation and the reaction of the leadership of the DPR.