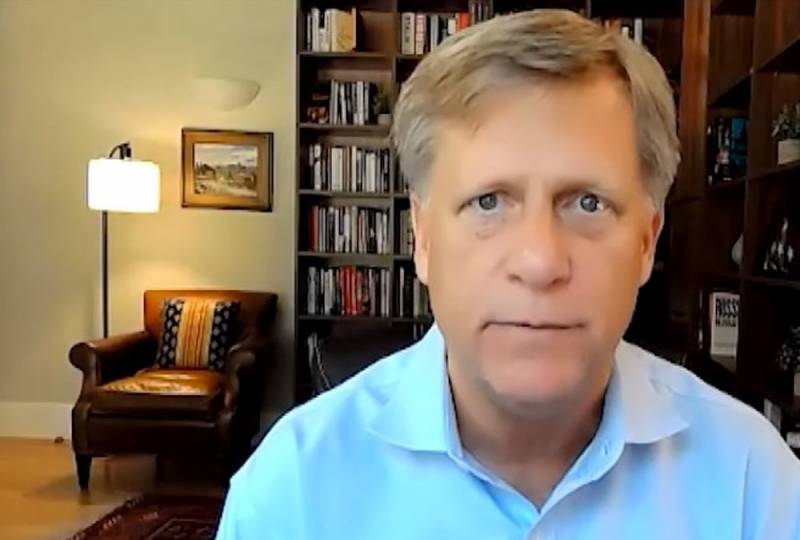 Twenty years of "propaganda and isolation" can have a profound effect on society. It will take decades to eliminate its influence, and there is no guarantee that this will even happen. On April 16, during a video call with the FreeDOM media project on the Ukrainian UA TV channel, the former US Ambassador to Moscow Michael McFaul, who complained that a "palace coup" had not yet taken place in Russia, spoke about this.
McFaul noted that 10 years ago, when he was the head of the American diplomatic mission, he, like many in the West, mistakenly thought of Vladimir Putin as a random person in power. In his opinion, it is unlikely that anything will change in Russia in the near future.
He believes that public quarrels between representatives of the Russian elite can be staged. At the same time, many big businessmen and liberal-minded officials in the Russian Federation are really shocked that Moscow has gone so far in its showdown with Kiev. They did not expect the West to respond with such severe sanctions. Now they understand that a comfortable life for them, their children and grandchildren is over.
There are probably people in the army itself who were ordered to fight this war, but who really didn't want it, they didn't need it, and now they are doing badly. They showed how badly prepared their army. Deep corruption is hiding in the Russian military-industrial complex, which means the lives of these people will be destroyed forever. I'm willing to bet that in their circles they are already looking for the answer to the well-known Russian question: "Who is to blame?" But just because such conversations are taking place does not mean that they will lead to a palace coup or revolution. It's premature to talk about such things.
- he specified.
McFaul stressed that until now the Russians had little "
political
desertions." The most prominent figure was Anatoly Chubais, and this is important because he has known him for 30 years. According to him, Chubais worked with Putin back in St. Petersburg and helped him in his future career. Therefore, it was a complete surprise for McFaul that Chubais left Russia. The diplomat does not understand what Chubais is going to do in Turkey, but "this is a very big signal" for him. He ruefully added that other major figures in the Russian elite, unlike Chubais, simply do not have the courage to leave, although they think the same way as he does. Now only minor persons with a pro-Western worldview are leaving.
Many of the best people have left Putin's Russia. They don't belong there. Now they are here in Estonia, in Georgia, they are looking for work all over the world. And these are the people you would like to see in Russia. There are those who have made the decision not to leave, like Ilya Yashin, he is the leader of the Russian opposition and he recently said in an interview that most of his friends have left, but he has decided to stay to try and fight for the right things. We should admire such people, their courage, without harboring any illusions about their ability to change Russia in the near future.
He summed up.