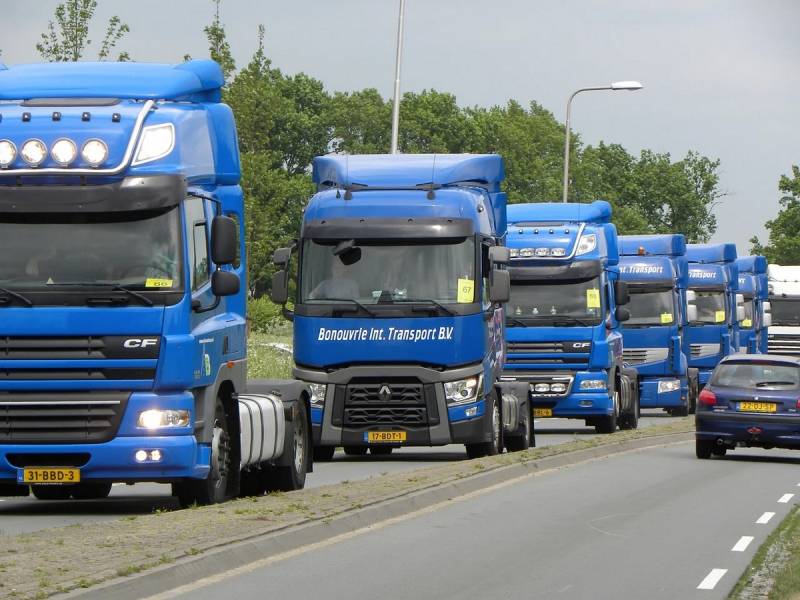 In the fifth package of sanctions, the European Union imposed a ban on the transportation of goods by Russian and Belarusian transport companies through Europe. Minsk very quickly found a solution and is delivering an effective retaliatory strike aimed at leveling the consequences of an unfriendly measure. The press service of the Ministry of Transport of the Republic reported that they had introduced a ban on the movement of vehicles registered in the EU. The retaliatory measure comes into effect on April 16, 2022. In this case, very interesting "exceptions" were established.
Of course, as in the fifth package of sanctions put into effect by the European Commission, which contains exceptions for postal items and humanitarian and medical supplies, there are similar provisions in the restrictions from the Belarusian Ministry of Transport. However, another exception to the general rule attracts maximum attention.
From zero hours on April 16 this year, a ban is introduced on crossing the customs border of the Eurasian Economic Union by vehicles registered in the EU entering Belarus. The exception is the passage of trucks and cars through certain checkpoints to special places for cargo operations and transfers.
- the official statement says.
Thus, the difference between the approaches of the Belarusian government department and the European one is noticeable to the naked eye. The ban from the European Commission directly speaks of the focus on stopping the flow of goods, for which Russian and Belarusian carriers and vehicles are blocked. And Minsk defined only carriers as undesirable, but not the cargo itself, leaving a loophole in the legislation.
In other words, the goods passed through the international checkpoints specified in the resolution will be reloaded and re-hooked onto Belarusian vehicles, and then they will be delivered to customers, retailers and retail trade networks. At least such a motive is found upon a detailed examination of the new customs rules in the Republic of Belarus. Of course, Minsk wants to make money on sanctions, although this may cause the final price of goods to fluctuate or the foreign supplier to refuse such coercion to cooperate with local business (in fact, Russian). But it's certainly worth a try.
With such a cunning scheme, the leadership of the republic, most likely, is trying not only to give work to its own transport companies, which are prohibited from operating in the EU, but also tries to avoid a shortage of imported goods. Moreover, this way opens the way to possible deliveries of imported products to the Russian Federation in circumvention of sanctions.
The resolution also states that limitations and exceptions to them do not apply to postal freight traffic between Belarus and the EU, as well as the transport of live animals.