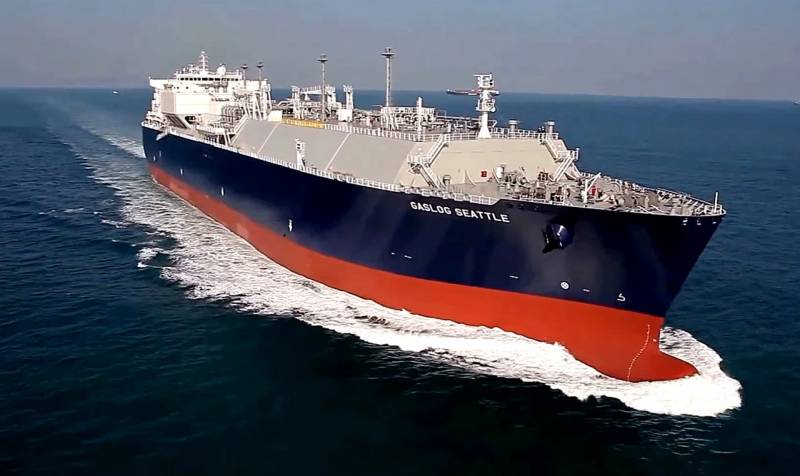 The deadline for reflection given to European consumers on the issue of switching to paying for Russian gas in rubles has already expired, but payments have not yet begun. For both Brussels and Moscow, this is now a matter of principle, and no one is ready to compromise. Meanwhile, deliveries of blue fuel to Europe continue virtually free of charge, and the question arises whether they will be terminated, and if so, when?
The question is really fundamental. With a share in a third of the European gas market, Gazprom can actually destroy the industry and social
economic
stability of the Old World by cutting off gas supplies. But it doesn't stop. Asking why? Are we going to shake our fingers again and then find mutually beneficial compromises with our "respectable partners"?
Turn to the East?
It would seem that it could be simpler, take it and turn off the valve on the main pipeline, and at the other end the price tag for 1 thousand cubic meters will immediately jump to 3-4 thousand dollars, and by autumn - up to 5 thousand and above, which in general can eventually lead to to the collapse of the European Union, when everyone will be saved on their own. But shutting off the tap is not enough, since it will be necessary to start a long process of conservation of deposits, and all the gas that has suddenly become "extra" will have to be burned. It's not easy and not fast, you never know, suddenly someone else comes to their senses?
But let's be realistic. We will no longer have good relations with the West. If suddenly someone did not understand, then the Third World War began. Having openly supported the Nazi regime in Kyiv with weapons and military experts, Europe became a direct enemy of Russia. This is if you call a spade a spade. In terms of sanctions, we are now even lower than Iran. Western countries will now "extinguish" all high-tech industries, refuse to consume Russian resources. Good relations are now possible only if our tricolor flies over Berlin and Brussels, and the Western grouping of the RF Armed Forces ensures peace and order in the Old World. Better not even a tricolor, but the red Banner of Victory, which must be accepted with a bow from the hands of that nameless grandmother from an unknown Ukrainian village.
But back to our sheep. For example, a strong-willed decision is made to completely stop gas exports to Europe, which is more than XNUMX billion cubic meters of gas per year. To conserve deposits, laying off workers, and burn "extra" gas? In principle, in a war, this is a completely acceptable option. But let's not forget that then gas rubles (gas dollars), which accounted for its lion's share, will fly past the federal budget. The Kremlin clearly does not want this, so on the eve of President Putin once again called for more active construction of alternative pipelines to Europe:
Among other things, it is necessary to provide for the construction of new oil and gas pipelines from the fields of Western and Eastern Siberia. Exactly what we just talked about at the end of our meeting.
It must be assumed that we are talking about the Power of Siberia - 2 gas pipeline, which should connect the fields of Western Siberia with the Celestial Empire. It will be possible to pump up to 50 billion cubic meters of gas per year to China through it. This is just under a third of all our exports to the EU, but better than nothing. However, there are nuances.
At first
, the construction of the main pipeline has not even begun yet and will take more than one year.
Secondly
, while there is no signed export contract with China, and Beijing will take advantage of the difficult situation in which Moscow finds itself with great pleasure in order to knock out maximum discounts for itself.
In general, one should not expect a particularly generous flow of gas yuans from China. Then what else remains as an alternative to empty gas flaring?
LNG!
The most rational in our situation is the bet on LNG. It is enough to pump liquefied natural gas onto a tanker, then it will change its owner at sea, and it can go to any point on the planet where there is an LNG receiving terminal. At the same time, unlike an expensive pipeline system, exporters will not be dependent on transit countries and tied to a specific point of sale. In the same China, liquefied gas can be sold at a higher price than through Power of Siberia - 1 and Power of Siberia - 2.
Understanding this, on April 11, 2022, our "Western partners" imposed large-scale sanctions against the Russian gas industry. The fifth EU package contains a ban on the supply of equipment and
of technologies
needed to liquefy the gas. And this is a very painful blow, since it calls into question the future of not only promising, but also already launched LNG projects in our country.
Under the sanctions were "Arctic LNG - 2" and "Baltic LNG" companies "NOVATEK" and "Gazprom". Already contracted equipment will not be delivered now. This primarily concerns installations for the separation of hydrocarbons in the production of LNG, cryogenic heat exchangers and pumps. The first Arctic LNG-2 platform is 98% ready, the second stage of the plant is 40% ready, the construction of the third has not yet begun. Baltic LNG from Gazprom is at the initial stage of implementation. Now the timing of their launch is shifted to the right indefinitely.
And it cannot be said that Russia did not prepare for this at all. After the events of 2014, they abandoned the use of heat exchangers from the American Air Products, replacing them with the German Linde. Moreover, a joint venture between Linde and Severstal was created, where Germany has a 74% share. Work has begun on import substitution of foreign equipment for the fourth line of the Yamal LNG plant of NOVATEK. The project contractors are Rosatom, Kazankompressormash and Cryogenmash. Unfortunately, things don't go as smoothly as we would like.
The German Linde refused to continue cooperation with Russia due to sanctions, and the level of localization of production is insufficient to simply solve the issue of nationalization. The head of NOVATEK, Lev Mikhelson, swears at the quality of imported equipment, which does not work efficiently enough, which leads to periodic shutdowns of the entire fourth line.
Nevertheless, in the current geopolitical environment, we do not have much choice. It is good that the process of import substitution nevertheless began after 2014. Domestic producers will have to learn from their mistakes, bringing LNG equipment to perfection. And faster. In fact, the whole future of Russian gas exports and the lion's share of budget revenues depend on this.