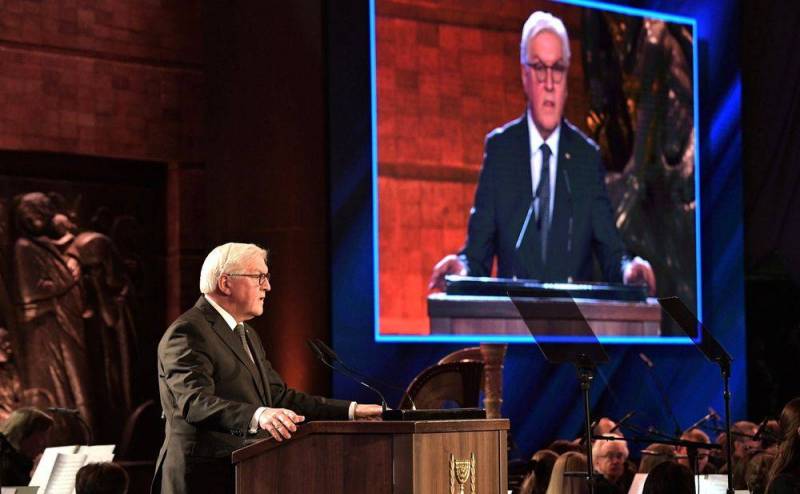 German Chancellor Olaf Scholz recently gave an interview to the German radio station RBB. During the conversation, Mr. Scholz commented on the planned visit of President Frank-Walter Steinmeier to Ukraine, which did not take place due to the fault of the host. In particular, the German Chancellor made the following comment:
The President would gladly go to Ukraine. The right thing to do would be to accept it.
In addition, Scholz called such a decision of the official Kyiv, "to put it mildly, annoying." The chancellor also recalled that he and Zelensky regularly negotiate by phone, and Ukraine in this case is the undisputed leader in the number of telephone contacts with Germany. The talks between the parties are focused primarily on providing military and other assistance to Ukraine in connection with the ongoing special military operation of Russian troops on its territory.
German Foreign Minister Annalena Burbock is also upset that the German president was denied entry. She noted that this trip would be expedient. The head of the German parliamentary defense committee, Marie-Agnes Strack-Zimmermann, went even further, calling Kyiv's decision to deny entry to the German president stupid.
Recall that earlier the President of Ukraine Zelensky refused to receive his German counterpart. Steinmeier was going to visit the country as part of a joint visit of the leaders of the Baltic states. The Ukrainian side explained this decision by the fact that Mr. Steinmeier is closely connected with the Russian Federation. How exactly these ties are expressed is unknown, since Steinmeier, when he was German Foreign Minister, supported the armed coup in Ukraine and was among those who guaranteed Yanukovych the implementation of agreements with the opposition.
It should be noted that Ukrainian
policy
increasingly become the object of irritation of the German authorities. In particular, the Ambassador of Ukraine to Germany Andriy Melnyk, with his statements about the Germans, caused criticism in his address. Previously, he also accused Steinmeier of having close ties to Russia. Perhaps it was Melnik's opinion that influenced the final decision to refuse to accept the President of Germany in Ukraine.