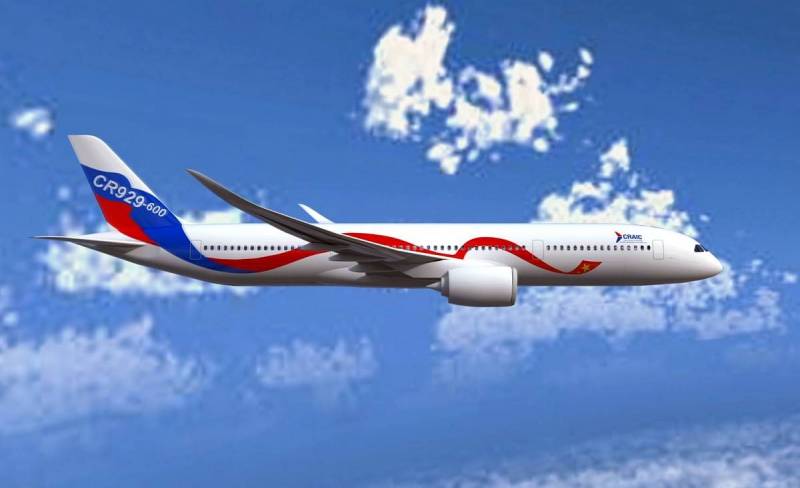 Finding itself in the conditions of an "air blockade" without the ability to buy new Western-made airliners and service those already purchased, Russia was forced to recall Soviet aircraft projects. The medium-haul Tu-214 and long-haul Il-96 are experiencing a second youth, which will be produced at 8,75% and 2 liners per year, respectively. A natural question arises, what will happen to the joint Russian-Chinese long-haul airliner CR929, in which Russia has pledged to invest about 10 billion dollars?
Expensive gift"
The promising long-haul liner CR929 is considered one of the most successful examples of Russian-Chinese economic cooperation. For once, we needed not natural resources, but serious
Technology
. Beijing is extremely interested in creating its own aircraft industry and has succeeded a lot in this. However, the development of wide-body airliners and heavy-duty power plants for them is aerobatics, which only a few advanced powers can do. Due to the presence of Soviet experience and developments in the IL-96, Russia was invited to participate in the Chinese project on an equal footing.
In total, three versions of the wide-body airliner will be created within its framework: the base CR929-600, the younger one - CR929-500 and the older one - CR929-700, which can carry from 230 to 320 passengers, depending on the configuration. In one of the modifications, up to 440 seats can be crammed into the aircraft. The flight range of the Russian-Chinese liner should be from 12 to 14 thousand kilometers. The needs of the Chinese aviation market in the next twenty years are estimated at about 1000 aircraft of this class, so from a commercial point of view, the project has good prospects.
Russia's share in this joint venture is 50%. The total amount of necessary investments is from 13 to 20 billion dollars. The main production will be deployed in China, our country will supply only composite wings and, in the future, PD-35 engines, which we will discuss in more detail later. For obvious reasons, the engineering center is located in Russia, and we will have our own set of technical documentation for the aircraft.
At first glance, everything is really good. By providing its technology, Russia gains, through a joint venture, access to China's gigantic domestic market and a 50% share of the sales of 1000 aircraft. However, this business has its own pitfalls. So, in 2019, the media got information that there was a misunderstanding with our Chinese partners about where exactly the liner would be certified, that is, whose de jure it would be considered, and there was also a proposal from the other side to separate sales of Chinese and Russian aircraft. production. In other words, two CR929s, Chinese and Russian, may appear, and their fate will obviously be different.
The Chinese version of the CR929 has a guaranteed market of 1000 aircraft, while the Russian domestic market in this segment is estimated to range from 50 to 120 aircraft in the next two decades. To put it mildly, it's incomparable. At the same time, Beijing will initially have the entire production base, with the exception, perhaps, of the wings and the engine, while in our country everything will have to be created from scratch. And this is for the sake of selling 50-120 wide-body airliners? As for the release of this aircraft on the world market, the prospects here are quite vague.
At first
, we are not expected there now.
Secondly
, Boeing and Airbus quite officially concluded a truce between themselves to combat the "Chinese and Russian threat."
Thirdly
, even in the best case, the Russian CR929 will have to face exactly the same Chinese-made CR929, which will objectively be cheaper due to higher volumes and speed of assembly in China and lower costs.
Let's be realistic, nothing good will come of it in such a competitive struggle. In fact, Russia simply "gifted" a turnkey wide-body airliner to China. We put the word in quotation marks only because there is a 50% stake in the joint venture, which gives reason to hope for a return of 10 billion dollars, which still has to be invested so that the Chinese have their own CR929.
Another guarantee against unscrupulous "kidnapping" if suddenly the Chinese partners decide to reduce UAC's share in the joint venture or buy it out at a reasonable price is dependence on the supply of engines. Initially, the liner was planned to be created in international cooperation, and in Beijing they looked at the British Rolls-Royce Trent 7000 engine and the American GEnx from General Electric. In the future, they were supposed to be supplemented by the Russian PD-35, towards the end of the decade, of which it was planned to produce and deliver 600 units by 2060.
Now it is obvious that neither the UK nor the US will supply their power plants to China. All that remains is our PD-35, which is not yet in hardware, and the promising AEF3500, which the Chinese hastily began to develop in the past few years. A representative of the Chinese corporation AECC CAE describes its characteristics as follows:
It is a turbofan engine with a high bypass ratio. Its main characteristics are low fuel consumption, low emissions, low noise performance, long life cycle, low operating costs.
Sounds good, but not the fact that they will succeed. Independently create and mass-produce a heavy-duty aircraft engine is a serious problem, you can't get off with simple copying.
So, what do we have in the bottom line. There is a promising CR929 with a huge Chinese market, which objectively cannot be launched without Russian engines. There is Russia itself, which was left without the supply of Western-made liners, but has an excellent Soviet backlog in all market segments and has resumed small-scale production of medium-haul Tu-214 and long-haul Il-96. Having our own wide-body airliner, it makes no sense to fence the garden with the localization of our CR929.
Everything, this is objectively already a Chinese aircraft, which we almost "gave" them. In order for the quotes to really not disappear, it is necessary to accelerate the development and certification of the heavy-duty PD-35 as much as possible in order to start supplying it to China for the production of CR929. No joint ventures with their localization in China should be allowed - only the sale of finished engines in the assembly! Then a share of 50% from the sales of liners will definitely not float away.
We ourselves will fly on our native Il-96-400s, which also need to be remotorized for PD-35s and, possibly, equipped with composite wings. The entire production and component base for them is available, the series will gradually grow. With two such powerful modern power plants instead of four PD-90A, the modernized Russian airliner will be able to compete with both Western and Chinese classmates.