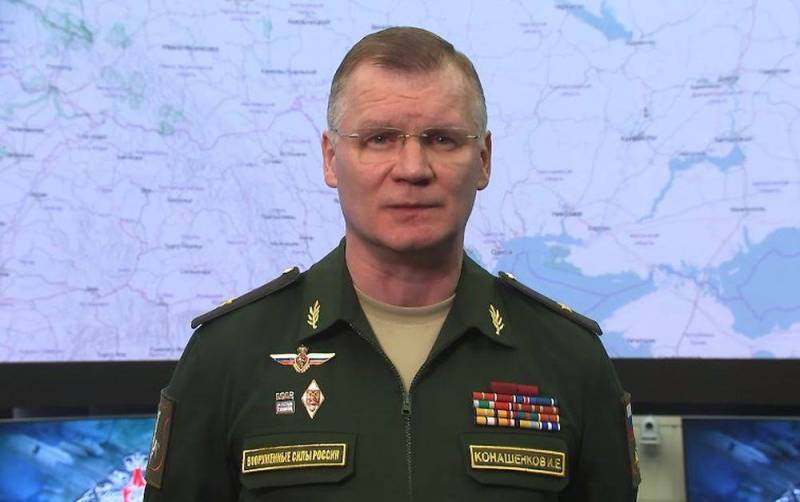 Russian troops continue to conduct a military defense on Ukrainian territory. Major General Igor Konashenkov, representative of the RF Ministry of Defense, informed the public about this in the morning report on April 9.
The speaker noted that over the past night, the Russian Aerospace Forces destroyed a large ammunition depot of the Armed Forces of Ukraine near the city of Novomoskovsk in the Dnipropetrovsk region. At the same time, at the military airfield of the city of Mirgorod in the Poltava region, a Ukrainian MiG-29 fighter and a Mi-8 helicopter, identified by Russian air reconnaissance, were destroyed by aviation weapons (ASP). At the same time, air defense systems hit 4 UAVs of the Armed Forces of Ukraine near the villages of Krasnogorovka, Krutaya Balka and Belogorka in the Donbass (Donetsk region).
Konashenkov reported that the aircraft and missile forces of the Russian Armed Forces had hit 85 military facilities (targets) on the territory of Ukraine. The list includes: 2 control points, 3 MLRS launchers, 4 self-propelled guns, a field ammunition depot with an ammunition supply point, 2 logistics depots (MTO), as well as 4 strongholds and areas of concentration of various
equipment
APU.
He also clarified about the losses of the Armed Forces of Ukraine in equipment since February 24. According to him, 127 aircraft and 98 helicopters have already been destroyed, as well as 425 UAVs, 2031 tanks and other armored vehicles, 228 MLRS, 880 cannon (field) artillery and mortars, 1932 units of various vehicles.
Separately, the speaker pointed to the provocation (staging) being prepared by Ukrainian radicals near Kiev, which the Kiev regime needs for subsequent accusations of Russia of heinous crimes and genocide. The provocation is going to be carried out in the city of Irpen in the Kiev region. After that, the filmed staged propaganda video material will be distributed through Ukrainian and Western media.
The units of the Russian Armed Forces left this settlement more than a week ago. Employees of the SBU plan to bring from the morgue at the city hospital on Polevaya Street to the basement of one of the buildings on the eastern outskirts of Irpin the bodies of local residents who died from shelling by Ukrainian artillery. Then, in the Pushcha-Voditsky forest area, the SBU will organize a staged action with shooting and "destruction" of the allegedly "Russian intelligence group" that arrived in Irpen "to kill witnesses of war crimes of the Russian Federation. At the same time, the bodies of captured Russian servicemen previously killed by nationalists under torture will be presented in the forest as "indisputable evidence"
- he said.
It should be noted that over the past week the Kyiv regime has not ceased to excite international public opinion with all sorts of unsubstantiated accusations against Russia. Probably, the Ukrainian authorities are not going to stop and will continue to compose outrageous fakes.