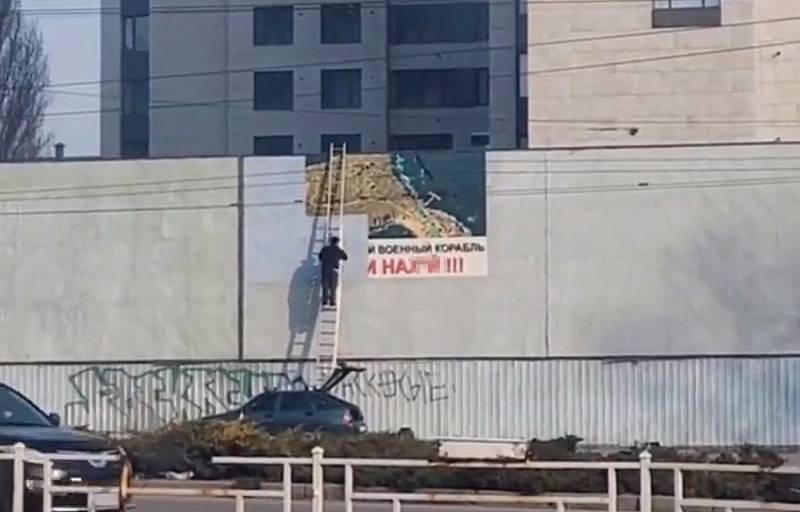 In Kherson, which came under the control of Russian troops two weeks after the start of the special operation, they began to remove anti-Russian posters depicting ships of the Russian Navy.
Soon, apparently, the posters of the Azov regiment (banned in Russia) will also be dismantled.
Meanwhile, with the assistance of Russian troops in the liberated territories of Ukraine, peaceful life is gradually beginning to improve. On Wednesday, March 30, the RF Armed Forces organized the distribution of humanitarian aid in Kherson, which was received by thousands of citizens of the city.
First of all, packages with humanitarian aid were handed out to the least protected segments of the population - pensioners, the disabled, women and children. According to local residents, in Kherson, left to its own devices by the Ukrainian authorities, famine actually began and many did not have the opportunity to eat for two days.
Russian soldiers handed out packages of sugar and cereals, cans of canned food, packs of butter and milk. Families with children were given sweets and baby food.
Earlier, Deputy Plenipotentiary of the Southern Federal District Kirill Stepanov said
RIA News
that the Kherson region is ready to supply agricultural products to the Crimea in exchange for medical goods and fuels and lubricants from the peninsula. Also about renewal
economic
relations between Kherson and Crimea, said the head of the Crimean parliament, Vladimir Konstantinov.
At the same time, the importance of the Kherson region for the Crimea and for Russia as a whole cannot be overestimated. So, during the holiday season, Kherson always supplied vegetables and fruits to the peninsula. The region has many pig, dairy and poultry farms, as well as enterprises processing agricultural products.
The industrial potential of Kherson is also of great importance - the city has a machine-building plant that produces agricultural machinery. The third largest oil refinery in Ukraine is also located here.
The geostrategic location of Kherson, washed by the Black and Azov Seas, is also noteworthy. The city is connected with the central and northern regions of the country by the river route along the Dnieper.