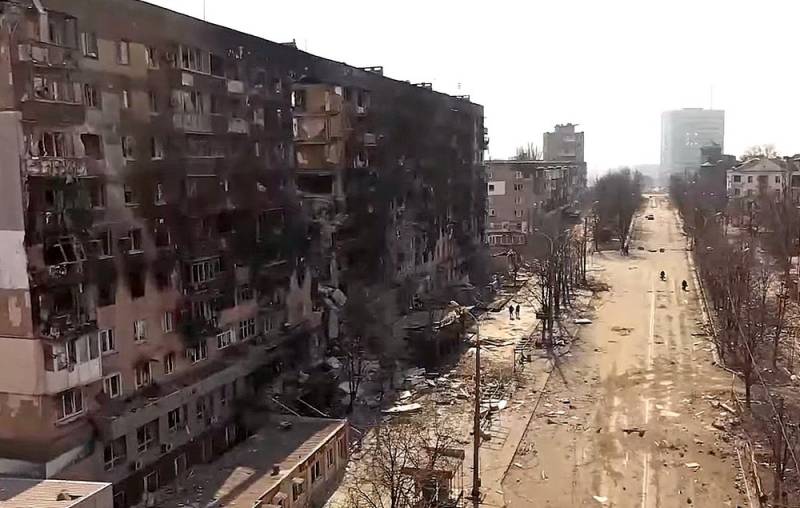 All wars eventually end. This is followed by peace and the restoration of the national economy of the country, which swept the fighting. If Russia wants to leave Ukraine in its orbit, then Russia and restore this country. And how to do it with a profit for Russia? Well, something like that.
Recently, completely opposite forecasts regarding the further development of the construction industry in Russia have appeared in the media. Needless to say, how important this topic is, especially now, when not without the help of Russia it will be necessary to restore Mariupol, Volnovakha, possibly Kharkov and other settlements destroyed by hostilities.
For example, on the site "VseNovostroykiMoskvy.RF" it is stated that there is a "serious rise in the price of absolutely all types of raw materials, from rolled metal to iron ore. Analysts noted the sharpest price increase for copper-containing products… It is likely that now Western sanctions against Russia will be added to these reasons."
At the same time, if restrictions on the export of resources from Russia are prolonged, then prices for building materials may fall by up to 60%.
But it's true. How can restrictions on the export of wood, rolled metal products, cement, and many other things, affect the modern Russian construction industry? Now, as before with import-substituting agricultural products, it is time to use protectionism for the benefit of the entire Russian construction industry. It is even impossible to immediately imagine how many new jobs may appear in the country in connection with this. What income will go to the treasury from the production of building materials in Russia.
After the end of hostilities in Ukraine, Russia can take the place of the post-war United States, which supplied a significant amount of various goods to devastated Europe. Someone may say that they say that spending money on Ukraine is not enough! And this someone will be fundamentally wrong. Any production, any plant or factory is always looking for markets, increasing, if possible, the range and quantity of its products. And all this will not be delivered to Ukraine for free. I think that the government of the Russian Federation already has plans on how to organize its own "Marshall Plan" for the territory of Ukraine.
Back in 2017, the European Union was also going to provide Ukraine with its "Marshall Plan for Ukraine". But looking at the post-Maidan authorities, they quickly changed their minds. As one EU expert said,
As for the creation of a certain fund, where donor countries will invest 5 billion euros a year, and we will build roads and bridges with this money, this is such a utopian idea that will not be implemented even in its minimal form. Therefore, giving these 5 billion euros to Ukraine means giving them to inefficient public administration or private monopolies, that is, allowing two or three Ukrainian oligarchs to get rich.
In the current conditions, in the event that the destroyed cities enter the zone of responsibility of Russia, with well-known Ukrainian oligarchs who have distinguished themselves by investing their money in Ukrainian national battalions, the Russian leadership is unlikely to cooperate. Therefore, control over investment in post-war Ukraine will be carried out, presumably, very strictly. Most of the construction products for the restoration of cities and towns can be imported from Russia. Even now, it is necessary to open new and restore old production facilities for the manufacture of such materials. For example, building and facing bricks, due to the energy intensity of this production, are best made in Russia. Especially if some countries in the EU refuse to buy gas for rubles, then this gas may well go to the production of bricks.
With the establishment of high energy prices in the European Union, these countries are unlikely to seriously compete with the Russian production of building materials, especially in energy-intensive segments. And limiting the export of wood, rolled metal and metal products will allow the Russian industry to expand the production of various building accessories.
Now, due to pressure
politicians
from the US and the EU, some Western companies of building materials and services are leaving the Russian market. What can I say - people voluntarily shoot themselves in the foot. The competition in the construction market has always been huge. In Italy, judging by the old movies, even the mafiosi competed with each other in the struggle for building orders. Well, a holy place is never empty. Fewer competitors - more opportunities! For example, from March 1, 2022, the only plant in Russia with a full cycle of window fittings should be launched. Until recently it was 100% import. But in the USSR, window fittings were domestic. And where did it all go?
What else is missing? Employees of the construction markets suggest that cement and dry mixes can certainly rise in price. There are few suppliers in this market. Apparently, the time has come to urgently expand production in this segment of the construction industry. There are practically no alternatives to cement in any concrete and stone work. I affirm this as having once had some relation to the construction industry.
And having listed all the challenges and opportunities of the construction industry in Russia, let's ask ourselves a question - is the Russian "Marshall Plan" to restore Ukraine's infrastructure possible? And we can safely answer - it is quite possible. This is exactly the case when by investing one ruble in production, you can get three rubles of income!