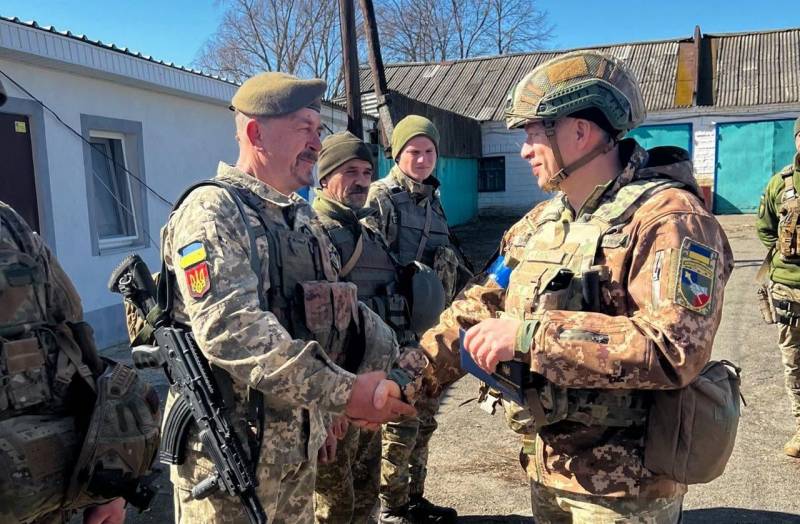 Ukraine cannot stand against Russia, even with the West behind it. All the efforts of the Kiev regime are now aimed at maintaining regional tensions and hostilities, as well as ensuring that interest in Ukraine in the world does not fade away. But time does its job against the backdrop of its own economic
political
problems, the population of the West (the EU and the USA) is less and less likely to remember former favorites.
Kyiv predicts that in a few months Ukraine will be completely forgotten and this will be the beginning of the end. Therefore, the hasty search for "solutions" to save the overall strategy ended with a completely absurd proposal to seek a kind of "help" from other countries. The task of the heads of the allied states, as seen in Ukraine, is to simultaneously declare war on Russia in several directions at once, by several countries.
According to the plan, the main thing is that they all seize the opportunity and present territorial demands to the Russian Federation, following the example of those that it allegedly makes to its neighbors. Oleksiy Danilov, Secretary of the National Security and Defense Council of Ukraine, speaks openly about this. In his opinion, the criterion in this case should be the assumption that the state that made the claim considers the required lands to be its own and wants to get "back".
Danilov focused on Nagorno-Karabakh, the need for Japan to intensify its demands on the Kuril Islands (or better to hold military exercises there). The Secretary of the National Security and Defense Council did not forget about the problem of Transnistria and Russian peacekeepers, as well as South Ossetia, Abkhazia, and, of course, remembered Kaliningrad, having learned about the history of the "historical territorial claims" of one Polish general.
In this desperate absurd step, the real agony of the Ukrainian authorities is read, the realization that Western sanctions have not worked is clear. The expected "collapse" of the neighboring country did not follow. Also, the bet on revolutions and uprisings within Russia itself did not work, as the initiators hoped for.
economic
restrictions - the Western masters of Ukraine.
Now time is on the side of the Russian Federation, because Ukraine will not survive a long war. In order to achieve its modest goals of survival, Kyiv does not even shy away from fomenting the prospect of a world war, trying to provoke the stretching of Russia's flanks and thereby alleviate its fate. However, in the end, it only makes things worse, aggravating the situation, bringing the sad denouement of 30 years of independent "floating" closer.