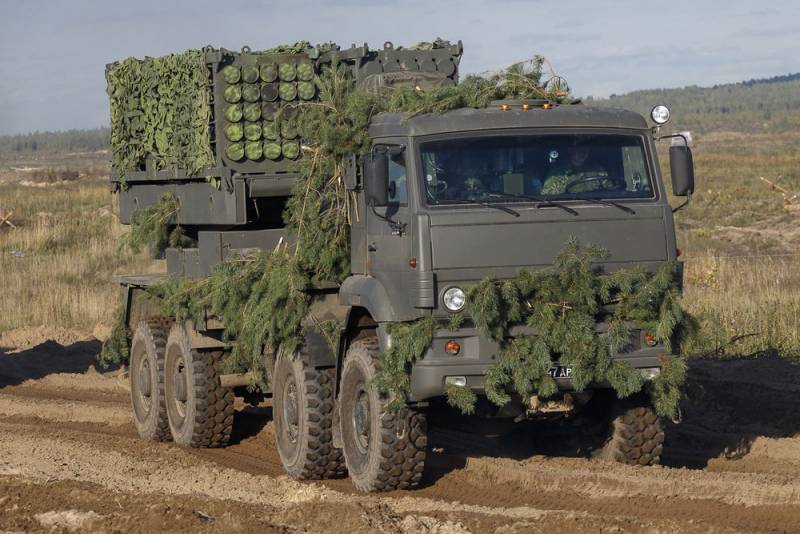 In the course of the Russian Armed Forces conducting a special military operation in Ukraine, the Russian military involved the latest engineering systems for remote mining (ISDM) "Agriculture". The work of a pair of these newest complexes was noticed on the territory of the Kharkov region.
A video has appeared on the Web showing the process of remote setting minefields. It may seem to many that the footage shows the work of the Grad or Tornado-G 122-mm caliber multiple launch rocket systems (MLRS) that have long become familiar.
From a distance, the indicated ISDM really resembles the MLRS. The "Agriculture" also uses 122-mm ammunition, only they have a different "stuffing" - various types of mines. The state corporation Rostec announced the start of deliveries of this mine-protective system to the troops in December 2020. The first owner of "Agriculture" was the division of the 11th engineering brigade of the Southern Military District in 2021. The main task of the ISDM is the prompt laying of minefields in the most dangerous directions at a distance of 5-15 km.
The complex includes launchers (PU) on the KamAZ eight-wheeled chassis, a transport-loading vehicle (TZM) and transport-launch containers (TPK) with ammunition. Each launcher is equipped with two blocks of 25 missiles (ammunition with mines) each. This is an excellent tool for preventing any enemy ground attacks.