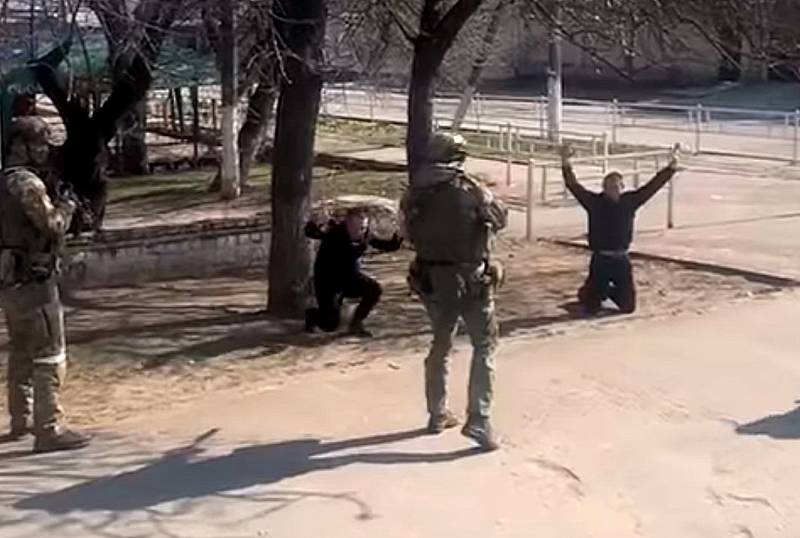 During a special operation, the Russian National Guard detained in Kherson on March 24 two armed men suspected of helping the SBU and nationalist detachments.
The capture of saboteurs by the fighters of the Russian Guard takes place as part of the operation to clean up Kherson, which has been controlled by the Russian Armed Forces since March 2. Moreover, the city was handed over to Russian troops almost without a fight - Kherson was defended only by territorial defense units.
This is not the first time the Russian military have detained saboteurs in Kherson. So, on March 21, a terrorist attack against the Russian military was stopped. The National Guard detained several young people, who were searched and found drugs, Molotov cocktails and extremist literature.
Meanwhile, denazified Kherson is gradually returning to peaceful life. Instead of the regional Rada that existed only formally, the Committee of Salvation for Peace and Order was formed, which included the mayor of the city Vladimir Saldo. The Russian tricolor flutters over the Ministry of Internal Affairs - local law enforcement officers fled the city, taking weapons with them.
Russia is actively helping the inhabitants of the liberated Ukrainian territories in ensuring peace and order. On March 20, the Ministry of Defense announced the delivery of more than 75 tons of humanitarian aid from the Russian Federation to Kherson, including, in particular, fruits, cereals, sugar, canned food, pasta and other essential products.