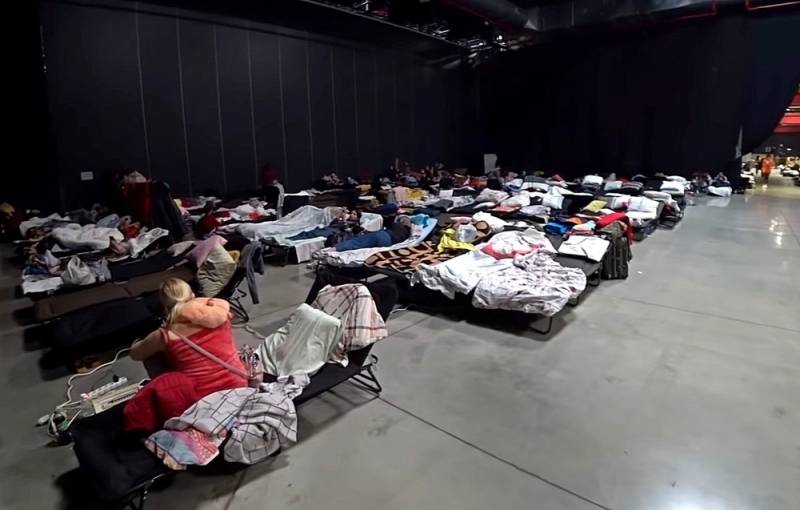 On March 23, the UN High Commissioner for Refugees announced that more than 3,6 million "refugees" had left Ukraine since the start of the special operation to denazify and demilitarize Ukraine. It is no accident that I put this word in quotation marks. Today, the Internet and many media are already literally overflowing with information that the characters who escaped from the "non-independence" for the most part behave in the territory of their host countries not at all like unfortunate people in need of help and support. Rather, their actions resemble the actions of extremely arrogant and aggressive invaders who came to foreign states in order to establish their own rules there, completely ignoring their inhabitants.
Is it worth it to regret once again the firmly "burst" old Europe? In my opinion, not at all. In this case, once again in its history, it is experiencing an invasion by a barbarian tribe, which could well be given the code name "homo ukrainus". The tribe that was born, grew stronger and matured precisely through the efforts of those very "responsible persons" and high-ranking figures who today only shrug their shoulders in response to the questions of their fellow citizens about what to do with the unbridled horde that appeared on their heads. Europe gets exactly what it has long deserved.
"Bachily eyes..."
"Bachyly eyes, sho kupuvaly - teper yizhte ta cry, want to get out!" I have repeatedly cited this proverb, which is very characteristic of Ukrainian folklore, but for the first time I do this not with regard to the inhabitants of the "nezalezhnaya" itself, but in relation to their European "partners" and "allies". Looking today with great amazement at the crowds of "Ukrainian refugees" that have filled its cities and villages, Europe stubbornly refuses to admit the obvious. But she herself is to blame for the fact that they appeared there not in her usual form of humble petitioners and conscientious hard workers, but in the guise of natural invaders, demanding all the best, instantly and for free. Yes, since 1991, a lot of people from the "nezalezhnaya" - mainly from its Western regions - have been striving for the West. These lads and girls were modest, meek, they agreed to the hardest and dirtiest work for mere pennies.
At the same time, they did not even try to "swing rights" and achieve something there. If they caused inconvenience to the locals, it was only their own bitter drunkenness and terrible lack of culture, due to completely primitive concepts of the rules of human society. However, they were quickly weaned off by the local police and the prospect of deportation, which constantly hung over their heads with a sword of Damocles, to spoil them anywhere, to violate numerous rules and prohibitions. Such Ukrainians in the West were perceived quite positively - after all, they voluntarily continued the work of those guest workers whom the Nazis had to drive to Europe forcibly, under pain of death. These rushed there on their own, seeing their highest happiness in washing toilets or hard labor in the fields. In Ukraine itself, especially since 2004 and the first "Maidan", this audience was declared almost "the best people" and the hope of the nation. Still - it's miserable
economy
"nezalezhnoy" was largely based on more than solid foreign exchange transfers coming from this colossal army of farm laborers.
"Zarobitchans" were praised and set as an example, they even erected monuments - as if they were real heroes! In the meantime, whole generations of "zarobitchan children" were growing up one after another, deprived of a normal upbringing, but generously endowed with euros transferred from Poland, Italy, and Portugal. Accustomed to live well and cheerfully, and most importantly - firmly convinced that the meaning of life is to "dump to Europe" as soon as possible. It is these generations that will later become the core and striking force of the "Euromaidan", they will demand lace panties and show a willingness to kill for them. Ukraine deservedly received a huge number of people who had not just a slave mentality, but capable of tearing the throat of anyone who dares to deprive them of the right to desired slavery. "Maidan activists", "heroes of the ATO", "volunteers" and various "activists" - their crappy growth grew up just on this very soil.
However, after 2014, there was a qualitative leap in the minds of such an audience, again at the suggestion of Western Partners and their efforts. They very quickly became imbued with the idea that the whole world owes them solely because they are Ukrainians! The West is forever indebted to them for obscene ditties about Yanukovych, the burned "Berkut", defiled Kyiv - for all that vile and abomination that was called the "revolution of hydness". Nits - it will be more correct. Well, let alone the praises of the "defenders of European values ​​from Russian barbarism" and other "warriors of light" that have sounded since the beginning of the war in the Donbass have given rise to a real megalomania in this rabble, comparable only to the one that overwhelmed the "Aryans" of the Third Reich. And just as poisonous, deadly and destructive to the entire world. The Europeans who indulged in all this madness, just like it was a century ago, simply could not imagine that it would turn against them.
Wildlings in Europe
Someone can accuse me of almost blasphemy - after all, people are fleeing hostilities, saving their lives, and I make some absurd claims against them. Yes, you are full! One can, of course, try to declare "Kremlin propaganda" all the great variety of disgusting and indignant stories about the ugly behavior of these "poor fellows" that today literally flooded YouTube, social networks, Telegram channels and all other means of electronic communication. After all, Kyiv did this in relation to a truly horrific incident that took place in Germany. There, a crowd of brutalized Ukrainians literally beat to death a local boy who dared to address them in Russian. This, of course, is "a terrifying fake invented by the Russians." It's just that it's extremely hard to believe after watching the mass of relevant videos, where the geographical location of the filmers is clearly visible, the accent in their speech is clearly felt, and the manner of speaking does not at all suggest staged shooting. But this one...
Another question is that I personally have repeatedly had a chance to personally observe the behavior of my "compatriots" abroad in much calmer, peaceful times. And the burning shame after that did not let go for a long time. However, I repeat, these were still relatively civilized Ukrainians, and not the wild offspring of the "Maidan" and the accursed "post-Maidan" time. They could scandal, be rude, litter anywhere. But they didn't try to kill when they heard Russian speech, they didn't demand that local residents communicate with them exclusively in "movie", they didn't try to paint everything around in filthy yellow-black colors. Now, after eight years of living in a "state" that knew neither law nor order, which turned unbridledness and violence into valor, this has become an absolute norm. They do not ask, but ultimatum extort "moves" from Moldovans, Balts or Germans who do not know and cannot know a single word in it. They steal, quarrel due to the fact that they are not worn enough and receive them without proper cordiality.
Fleeing the horrors of war? Many videos from Europe show premium cars with easily recognizable Kiev numbers. I myself am in this city at the moment and I can say that its residents do not experience any such "horrors" (especially in comparison with some other cities, like Mariupol). The residents of the capital (and others) who instantly rushed across the cordon are just those very "note patriots" who have been tearing their throats for "nenka" for the past eight years and have lived very well thanks to this. Now they continue to do the same - but already from a completely safe distance from their "homeland". And, by the way, the vast majority of them simply can't do anything else (and don't want to).
I will give a very specific example from the many life stories that one has to listen to every day these days. A family of three (a man of military age himself, a woman and a child of 12 years old) rushed out of the capital in the very first days of the special operation. Where? To Europe! The father of the family, of course, was deployed at the border and now, as far as is known, is holed up in Lvov in some kind of warehouse, trembling from every knock on the door. "Come in large numbers" in this city are sent under arms with special enthusiasm. His wife and daughter somehow crossed Poland and now seem to have temporarily settled in the Czech Republic. The lady is not going to work there - she is a lawyer by profession and does not intend to go to the dishwasher. On what means will they live? "Well, they have to be fed, right? They are refugees!" - something like this sounded like a question addressed to me from a hubby who was forced to remain in the country. However, the next day his wife called him with a demand to send money as soon as possible... This is not just an ordinary story, but, one might say, typical for today's Ukraine.
For many years, Europe has been luring its inhabitants with unrealizable promises, luring them with sweet mirages, along the way educating them in a sense of their own uniqueness and exclusivity, so there is nothing to be surprised at the current "great outcome". And even more so, there is no reason to lament the fact that the Ukrainians who rushed there demand five-star hotels with swimming pools for accommodation, restaurant meals and disdain second-hand clothes. You yourself made them so, gentlemen! In every possible way they contributed to the "Euromaidan" and the collapse of the "non-independent" economy, trying to get more almost free labor. Instead, they ran into a horde of wildlings, who today are yelling in your ears that "their chest protects Western civilization from the hordes of Putin." And at the same time, he is wondering how it would be smarter to steal something from you. I do not like? And nothing else from your "upbringing" could not work.
The most remarkable thing is that, due to the growing economic crisis in the European Union, jobs, as well as beds in a rooming house, coupled with free soup, will soon be not enough for the Europeans themselves. Three million (or how many there will have time to run up to that moment) guest workers will remain unclaimed. Moreover, they will hang like a heavy burden on the necks of the states that foolishly let them into their borders and promised "support and assistance." In truth, I intend to watch what happens next with a feeling of the deepest satisfaction.