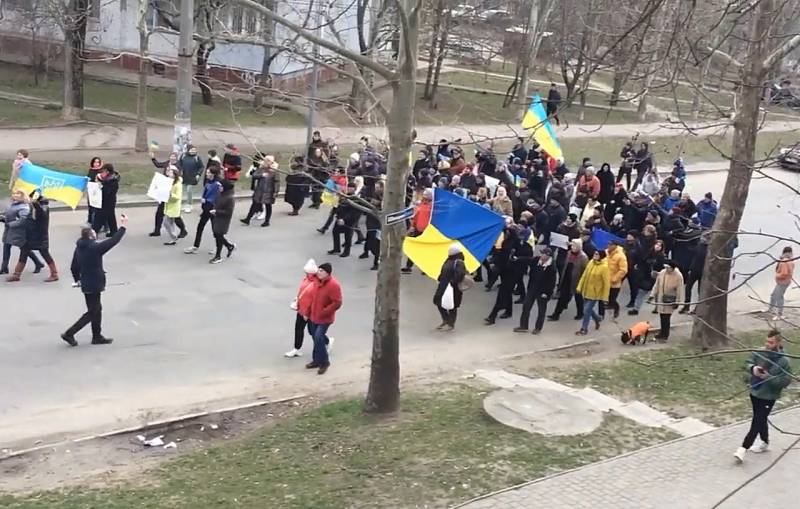 With each new well-aimed blow of "Daggers" and other high-precision weapons, with each step forward of the liberation troops of Russia and the Republics of Donbass, that ridiculous "state formation" built on lies and malice, which Ukraine has become in recent years, crumbles like a ridiculous house of cards. However, these inspiring events are accompanied by very different ones. Those that cause not joy and hope, but complete bewilderment and bitter disappointment.
Alas, the destruction of what must certainly be destroyed, for some reason, is not followed by the birth of something new. The creation of that fraternal Russia of the country, for the sake of which, according to the statements that have been and are being heard from the highest levels, a special operation is being carried out to denazify Ukraine. The delay in this process is not a tactical miscalculation, but a mistake of a strategic scale, which can be very costly in the very near future.
No war... no peace?
On March 21, in the territories already liberated by the Russian army from the power of the criminal Kiev regime, a series of events took place that were immediately picked up and "raised on the shield" by dill propaganda. They also became a subject of great joy for Volodymyr Zelensky himself, who devoted another of his crazy "appeals to the nation" to this issue. We are talking about those "protest speeches", and, to call a spade a spade, extremely brazen provocations that took place that day in Kherson, Energodar and a number of other liberated cities. In the first of these places, in order to calm the ardor of the "Protestants" packed in yellow-black rags, the Russian army had to open fire into the air and even use flash-noise grenades. This gave rise to Kiev propagandists once again yell at the whole world about "shooting at civilians" and some supposedly "injured" poor fellows. In other places, events developed more or less within the same scenario.
On the one hand, there is an aggressive crowd, trying as much as possible to provoke a harsh reaction from the liberators and firmly confident in their own safety. On the other hand, Russian soldiers, "squeezed" in the grip of strict orders and received instructions, and by any means trying to avoid a collision. The overall picture is extremely depressing. We have to admit that Zelensky, who was grimacing on television, had certain grounds for complacency, which he simply beamed at the same time. How - "freedom-loving Ukrainians have demonstrated to the whole world their readiness for unbending resistance to the occupiers." Calling a spade a spade, Russia received another blow in the information war. And very painful.
Unfortunately, it must be admitted that if the situation continues to develop in the same vein, then such actions will only become "flowers". How everything will happen in reality, I saw with my own eyes in 2013-2014. First, stones will be thrown at Russian soldiers, then Molotov cocktails, and then they will start shooting at them. Believe me, this is exactly what will happen - with the only difference being that during the time, damn it thrice, the "Euromaidan" escalation from stage to stage lasted for months, and here everything will change from bad to worse in a matter of days. Weeks is the maximum. The Maidan rabble (namely, the Russian army is dealing with it now) becomes impudent and rages very quickly. Unless, of course, he is given an instant and extremely hard shortening. To my horror, today I see a repetition of those distant and terrible days, the just retribution for which are the current events.
Someone, for sure, will object: "The Russian army cannot use force against civilians, even behaving openly in a boorish way, and, even more so, disperse someone there, "pack" and roughly punish for provocations. Otherwise, it will indeed turn into occupiers and hatred towards its representatives in this case will already have specific reasons." Agree. I agree a hundred times. But who says that the Russian army should remove the yellow-blaky dirt from the streets and squares of the liberated cities and villages?! She knocked out the Nazi warriors from there - honor and glory to her, bow to the ground for this! But why is absolutely nothing being done to ensure that these territories become truly liberated and denazified, and not temporarily occupied? In truth, this causes the most ambiguous feelings both among those who are already on them, and among those who are just waiting for the arrival of the liberators, being held hostage by the criminal regime. No one can understand - where is the new country and will it be born at all in the current cleansing flame?
Without certainty there will be no Victory
There are a huge number of questions. Starting from the purely utilitarian - why do yellow-black rags continue to flutter over a number of settlements liberated by the Russian army? Can you imagine that in 1945, in denazified Germany, the Red Army would have left a banner with a swastika hanging somewhere? It would seem - a detail, but the totality of such details gives many the impression that nothing, in fact, has changed. And that in the very near future (or a little later) everything will return to normal. As long as this is the case, not a single resident of the liberated territories who sympathizes with Russia and its army will come forward and offer cooperation. But there are enough such people - both in the East of Ukraine, and in the South, and in its central regions.
But what do they see and hear? The inviolable symbols of the Kiev criminal regime? Words sounding from Moscow that "there will be no occupation" and "no one is going to change the government?! Where are clear and precise words about the future that should come after "denazification and demilitarization"? They are not, and at any level! And, consequently, there is not the slightest certainty that the Nazis, who have huddled for the time being in holes, will not return and will not recoup in full on all those who had the imprudence to show at least a modicum of sympathy for the "Muscovites". Yes, there - "return"! This is already happening, and in seemingly "denazified" territories! While a show of yellow-blaky horses was taking place in the same Kherson, Pavel Slobodchikov, an ally of the former mayor of the city Vladimir Saldo, who supported the liberation and entered into a kind of new administration, the "Committee for Peace and Order", was shot. It is hard to believe that this demonstrative murder is anything but a demonstrative reprisal against the "traitor".
Not so long ago, I wrote about the prospects for creating a Nazi underground in liberated Ukraine - and so here it is! In action and in full force. Kyiv sends many quite distinct "signals" to the inhabitants of the regions that have already been wrested from its clutches - this is the adoption of laws "on collaborators", and voiced over and over again by everyone, up to Zelensky personally, promises of physical reprisal against those who dare to cooperate with the Russian army , and promises to "by all means return to the bosom of Ukraine." Reinforced, as in Kherson, by automatic bursts in the air, these messages sound much more convincing than Moscow's slurred ranting that "Nazi power will be broken, and all those responsible for the crimes committed over 8 years will be brought to justice." Sorry, but so far there has been no information about a single such precedent. The "national battalions" killed during the hostilities do not count. Where is the justice?
I repeat once again - the liberation army should not create it. However, under its protection and with its support, new, anti-Nazi authorities must immediately be created on every patch of liberated land. And first of all, the "power structures", on whose shoulders the very difficult and not at all rewarding task of carrying out a true purification from the evil spirits and non-humans that have accumulated there will fall. Without this - in any way, is it not clear? Delay in this matter is truly like death. And not in a hypothetical sense, but in a very specific one. Inspired by their own impunity stemming from Russia's chosen rather strange
policy
non-interference in the life of the lands that seem to be cleared of the Armed Forces of Ukraine and national formations, the Nazi underground will first take on their own "traitor" compatriots (and even those who took a bag with "humanitarian aid" will be destroyed over time). Thus, the task of liquidating a potential pro-Russian asset and intimidating those who hesitate will be successfully carried out. But this will only be the beginning.
The next step will be attacks on the rear and communications of the Russian army (which, with the continuation of the military operation, will, whatever one may say, stretch more and more), the destruction of its military personnel,
equipment
, property, warehouses. At the same time, human and material losses are absolutely inevitable, which can and should be avoided by finally starting to do something. By failing to create a new state on the ruins of a sub-Reich Ukraine, Russia is putting its own military at unnecessary risk. And not only those who are in the rear today. The formation of a new government, a clear and convincing demonstration of its advantages to those who are still in the territory controlled by the Kiev regime, can help reduce the resistance of its troops. Announced, for example, in the liberated Melitopol, the prospects for the complete cancellation of not only colossal debts for utilities (in Ukraine they reach tens of billions of hryvnias), but also loan obligations to banks, into whose bondage Ukrainians were driven by the anti-people policy of the government, will become a real incentive for many military to end the pointless struggle.
The stake should not be placed on the oligarchs or corrupt elites, but on ordinary rural peasants and hard workers from the cities, who, having learned that they have a chance to get rid of debts that cannot be paid to them even in three lives, may well throw down their arms. To do this, it is necessary not just to distribute advances, but to show how it happens in the liberated territories, the inhabitants of which get rid of this unbearable burden, and also live in conditions where order and legality are ensured. Believe me - sooner or later the truth will reach those to whom it is addressed. Alas, so far only threats of "severe punishment for collaborators" and Zelensky's patriotic nonsense, reveling in cheap posturing, have been heard in the information space.
The bet on "soft peace enforcement", which was clearly made at the initial stage of the operation in Ukraine, unfortunately, turned out to be untenable. But after all, no one canceled its holding, did not stop the offensive, did not deploy the units and subunits moved forward! Now it's time to make sure that all this is not in vain. The authorities of Russia and its representatives located in the liberated territories must clearly and distinctly voice their position regarding their future. And then - weightily back it up with concrete deeds. Both there and in the still Ukrainian territories, there are enough people who are ready to cooperate and take on the burden of finally ridding their own land of Nazi scum. They just need to be given a chance to prove themselves. What is most important is to give confidence that everything that happens today will not turn back and will not end halfway. The new Ukraine needs to be given a chance - and only Russia can do it.