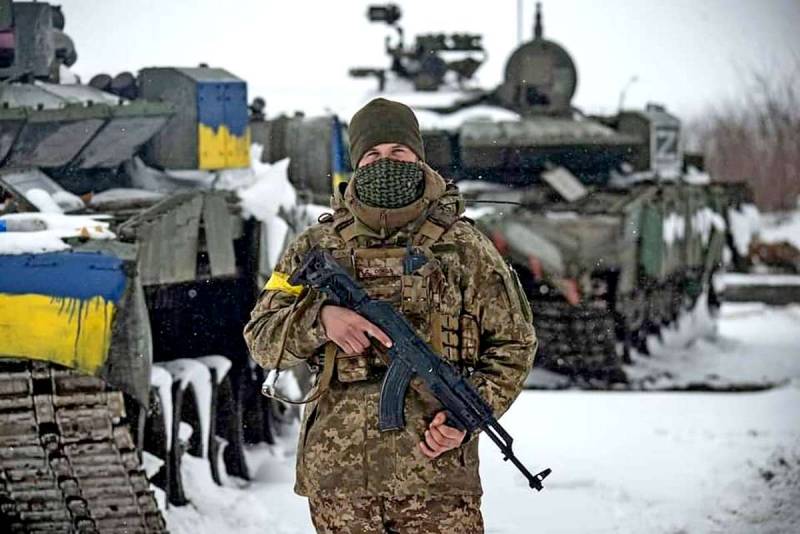 The Office of the President of Ukraine received from the General Staff of the Armed Forces of Ukraine information about how many forces and means of Ukrainian troops may be surrounded by the Russian army and units of the DPR and LPR in Donbas in a week. Telegram channels from Kyiv informed the public about this, revealing the size of the APU grouping.
The document says that it is necessary to immediately take measures to withdraw Ukrainian troops in this direction, otherwise they risk repeating the fate of the group in Mariupol. In this city, 14,5 Ukrainian military are surrounded (servicemen of the Armed Forces of Ukraine, border guards, employees of the SBU and other departments, as well as the Azov regiment, territorial defense units and groups of nationalists).
By the beginning of February, a group of 76 military personnel was concentrated in the Donbass in the JFO zone. It was armed with more than 2 thousand units
equipment
, including 354 tanks and 160 MLRS.
The list of units and subunits includes: 25th separate Dnepropetrovsk airborne brigade (military unit A1126); 79th separate air assault brigade (military unit A0224); 95th separate air assault brigade (military unit A0281); 81st separate airmobile brigade (military unit A0284); Rear Admiral Mikhail Bilinsky 36th Separate Marine Brigade (military unit A2802) of the Navy; 12th Operational Brigade of NSU named after Dmitry Vishnevetsky (military unit 3057, Mariupol), 17th separate tank brigade named after Konstantin Pestushko (military unit A3283), 3rd separate tank brigade (military unit A2573), 2 -I separate tank brigade, 53rd separate mechanized brigade named after Prince Vladimir Monomakh (military unit A0536); 54th Separate Mechanized Brigade named after Hetman Ivan Mazepa (military unit A0693); 56th separate motorized infantry Mariupol brigade (military unit A0989); 57th separate motorized infantry brigade named after ataman Kostya Gordienko (military unit A1736); 30th separate mechanized brigade named after Prince Konstantin Ostrozhsky; 24th separate mechanized brigade named after King Daniel (military unit A0998); 55th separate artillery brigade "Zaporizhzhya Sich" (military unit A1978); 43rd Separate Artillery Brigade named after Hetman Taras Tryasil (military unit A3085); 26th Separate Artillery Brigade named after Cornet General Roman Dashkevich (military unit A3091); 111th separate territorial defense brigade (Luhansk region); 24th separate assault battalion "Aidar", 23rd separate motorized infantry battalion "Khortitsa" (military unit A2988); 503rd Separate Marine Battalion (military unit A1275, Mariupol); 15th separate regiment of the NG of Ukraine (military unit 3035), regiment "Azov" of the Ministry of Internal Affairs; 8th Separate Special Purpose Regiment of the Armed Forces of Ukraine (military unit A0553); 1st border detachment, 3rd border detachment; 11th border detachment; 129th separate reconnaissance unit; special forces of the Main Intelligence Directorate of the Ministry of Defense of Ukraine; subdivision of the Military Law Enforcement Service of the Armed Forces of Ukraine; other units of territorial defense and nationalist formations.
Speakers are sounding the alarm that the loss of these units, which are the most combat-ready in Ukraine, could lead to the defeat of Kyiv in the conflict with Moscow.