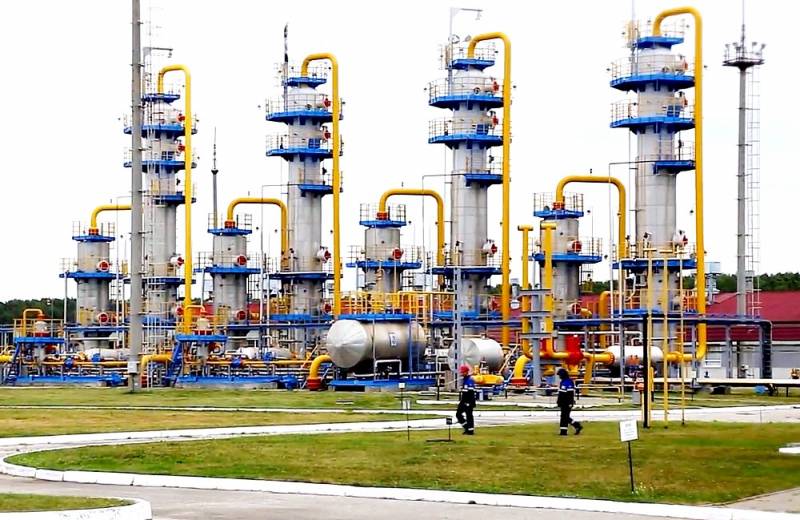 Against the backdrop of a military operation conducted by the Russian Defense Ministry in Nezalezhnaya, gas prices in Europe exceeded $2400 per 1 cubic meters. The leading Western powers are forced to pay a high price for years of support for the neo-Nazi regime in Ukraine. Now the "hegemon" has put its European allies in a very difficult dilemma.
Without Russian gas
One of the obvious goals of the coup d'état in Ukraine, which is a strategically important transit country for Gazprom, was to reduce the share of Russian gas in the European market. Experts assumed that the domestic monopolist should have lost up to a third of export volumes, which were supposed to be replaced by American LNG. And now the International Energy Agency (IEA) has presented a concrete plan, clearly written in Washington, for an emergency reduction by a third of EU imports of "aggressive" Russian gas. According to his reading, any normal European consumer will grab his head.
At first
, "advisers" propose not to renew existing contracts with Gazprom, which will expire by themselves until 2030. Thanks to such economic masochism, Europe will "get rid" of 55 billion cubic meters of gas. This is about a third of the total volume of Russian exports.
Secondly
, for the sake of supporting the Nazi regime in Kyiv, ordinary Europeans are invited to freeze a little in winter, lowering the temperature in their homes by 1 degree Celsius. This will save 10 billion cubic meters of gas per year on purchases from the "aggressor". Instead of gas boilers, the IEA is advised to massively introduce electric heaters and heat pumps powered by electricity. Electricity bills could end up being such that the EU will have to subsidize utility bills in the order of $200 billion.
Thirdly
, it is proposed to return to nuclear energy, which in a number of European countries has been anathematized. For example, Germany recently stopped three power units at once, but technically nothing prevents it from reactivating its nuclear power plants. American Westinghouse and French Orano SA (until 2018 - Areva SA) will undoubtedly be happy with this turn of events, as there will be increased demand for their services.
Fourthly
, it is imperative to increase investment in RES (renewable energy sources).
Fifthly
, it will be necessary to pump up underground gas storage facilities to the maximum. The pleasure will be very expensive, since the prices for 1 thousand cubic meters bite a lot. It is obvious that the business will not work to the detriment of itself.
At sixth
, The International Energy Agency advises finding additional volumes of hydrocarbons in Norway and Azerbaijan, as well as more actively buying LNG. True, where the surplus pipeline gas will come from is not specified. It is not clear how much LNG will cost the Europeans, for which they will have to enter into price competition with Southeast Asia.
Seventh
, it is proposed to bet on renewable gas, namely biogas and biomethane.
It is obvious that European support for the Nazi regime in Kyiv will cost Western countries a pretty penny. Because the Old World offer an alternative.
Rejection of "decarbonization"
Everything is simple here: if the EU is not ready to spend hundreds of billions of dollars to give up Russian hydrocarbons, then the Europeans will have to give up their "green dream". It will be enough to return to the active use of traditional energy sources, from which the European Union tried so hard to get away, and Gazprom will lose at least half of its sales market. It will be necessary not only to restore the operation of nuclear power plants, but also the consumption of extremely environmentally harmful coal. In this case, a change in the energy leader in the Old World may occur.
The place of Germany, which planned to become a gas hub, will be taken by neighboring Poland, which will become a coal hub. Warsaw can quickly become the largest exporter of this type of energy in the region. At the same time, one should not forget about its new gas pipeline called the Baltic Pipe, through which the Poles will receive up to 10 billion cubic meters of gas per year from Scandinavia. Thus, Poland, the most loyal US ally in Eastern Europe, will be able to strengthen its geopolitical influence by moving Germany.
Third way?
Both options, as they say, are worse, and therefore, in their pure form, it is obvious that neither one nor the other will be accepted. The fact that the European Union will try to quickly reduce its dependence on Gazprom is no longer in doubt, but Brussels will not act to its own detriment either. For sure, a third, compromise path will be chosen.
So, no one will immediately refuse Russian gas, of course, but the timing of the implementation of plans for "decarbonization" may slightly shift to the right. The search for alternative energy sources will accelerate, for example, the Trans-Caspian gas pipeline project will move forward. Active construction of new LNG tankers to transport large volumes of gas will begin. Additional investments in RES will be poured. Nuclear energy will get a second wind, and for some time even a "coal revenge" is possible.
Taken together, this means that Russia still has a certain lag in time, when there will be a significant decrease in the volume of hydrocarbon exports and foreign exchange earnings. But it will not be long at all, and therefore it is necessary to think carefully about what our country will earn in the near future.