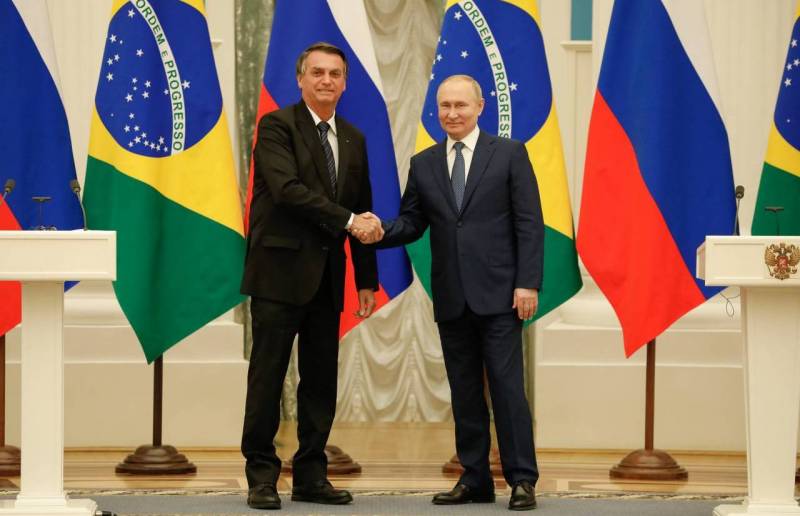 Standing against the United States and making an official trip to Russia right at the time of Europe's biggest security crisis in decades, Brazilian President Jair Bolsonaro is trying to adjust his outward
policies
writes the newspaper Brasil de Fato.
The visit itself was planned back in 2021, but it has taken on new meanings in connection with the escalation of tensions between Ukraine and Russia. The United States claims, without providing evidence, that the Russian military can strike at any time and has called on its citizens to leave Ukraine. The Kremlin denies such intentions.
A number of foreign countries hinted to the Brazilian authorities about the need to cancel the trip of the head of state to the Russian Federation, and there were reports in the press that the US White House had warned that this visit could be interpreted in terms of supporting the Kremlin's policy.
Bolsonaro and his foreign ministry, however, did not fall for this ruse. On the contrary, unnamed government sources told the O Globo newspaper that one of the goals is precisely to show that Brazil is not a "puppet" of US President Joe Biden and is not subordinate to Washington.
Brazil is Brazil. Russia is Russia. I have good relations with the whole world. If Biden invites me, I will come to the USA with great pleasure.

Bolsonaro said on February 3.
Russia is also the largest supplier of fertilizers for commercial agriculture in Brazil. In 2021, the Russians sold Brazil this raw material for 3,5 billion US dollars, which is 23,3% of total imports, ahead of China (14%) and Morocco (11%). Also, the Russian group of companies Acron has acquired a plant for the production of nitrogen fertilizers from Petrobras. The purchase was announced recently.
Agriculture also plays a leading role in Brazilian exports to Russia. Soybeans (2021%), poultry meat (22%) and coffee (11%) were the top three shipments in 8,4.
Flávio Rocha de Oliveira, an expert in the field of international relations, touched upon the trade side of the negotiations between the two countries.
One reason is to ensure Brazilian agribusiness has access to fertilizer. If he does not have these fertilizers and at a good price, farmers will have to start buying from other suppliers, and there they have to pay more. And this means a drop in profits for our agriculture.

Oliveira says.