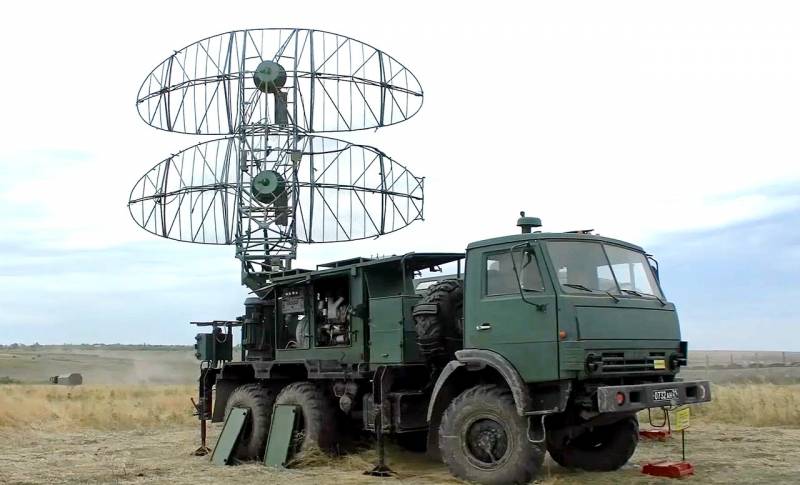 Information has appeared on the Web that radar stations have appeared on the border with Ukraine, which clearly notice Turkish operational-tactical drones Bayraktar TB2 (Bayraktar TB2), including those in service with the Armed Forces of Ukraine. Eyewitnesses and monitoring resources discovered several such places in Russia and Belarus.
In particular, 13 km from the Ukrainian border lines, near the village of Nikolskoye (Belgorod region of the Russian Federation), the Russian Kasta-2E2 (39N6) radar was detected. The Telegram channel "Hunter's Notes" even bothered to show in the figure the target detection zone of this radar.
Kasta-2E2 (39N6) is a Russian mobile three-coordinate radar station of the decimeter range of a circular view of the standby mode. It is designed to control the airspace, determine the coordinates and identify air targets, and issue information to air defense systems. Moreover, it can be used as an air traffic control and airspace control radar in airfield areas, as well as operate at an ambient temperature of +50 to -50 degrees °C.
Also, just 25 km from the Belarusian-Ukrainian border, the presence of a P-18 Terek type radar was documented. Similar and modernized versions of the radar are in service with both the Russian Federation and the Republic of Belarus, so it is not known who exactly it belongs to. These radars are mobile two-coordinate radar stations of a circular view of the meter wavelength range, designed for the timely detection and tracking of air objects (even "stealth"), within the visibility zone, determining their nationality and issuing their coordinates to consumers of information about the air situation.
Thus, the situation in the border sky will now be more calm.