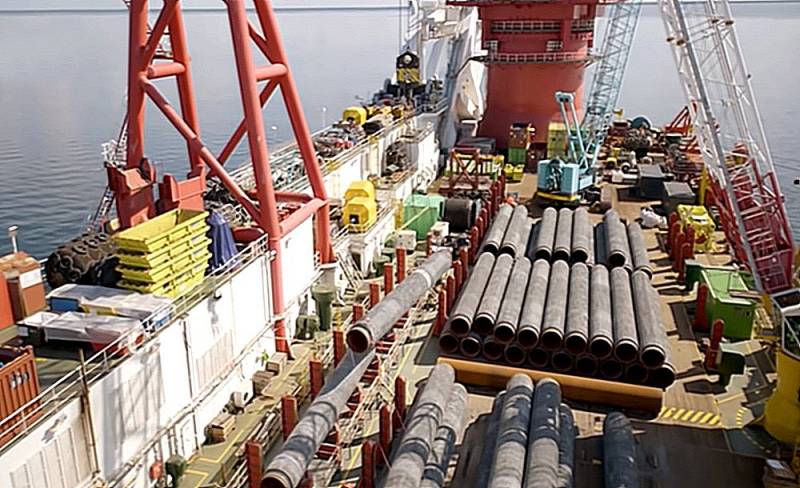 A few days ago, the Spanish edition of La Vanguardia came out with a publication on the possibility of resuscitation of the almost forgotten Midcat gas pipeline. The pipeline-interconnector should connect Spain with France, linking Southern and Central Europe into a single network. Since this project is positioned as a competitor to our Nord Stream 2, and is also being promoted along the lines of the North Atlantic Alliance, domestic experts immediately swooped down on it and "pecked" it as unusable. But is everything as simple as it seems? What could be the true purpose of the "NATO gas pipeline"?
Not a competitor to Nord Stream 2?
According to the original plans, Midcat was supposed to connect Spanish Barcelona with France and Germany and pump at least 7 billion cubic meters of gas per year. Of course, the volumes, when compared with Russian exports, are simply ridiculous. In 2019, the project was shelved as unprofitable against the backdrop of growing general "environmental extremism" in Europe. Why is he remembered now?
On the one hand, the decision of the European Commission to recognize gas and peaceful atom as "temporarily green" energy sources against the backdrop of abnormal energy prices made such projects interesting again. The cost of building this interconnector at a rather modest $400 million makes it quite feasible. On the other hand, domestic experts ask many well-founded questions about
the economy
midcat.
At first
, absolutely nothing is clear with its resource base. Spain produces microscopic volumes of gas, and itself is forced to import it from Algeria. Three pipelines run from North Africa to Southern Europe: to Italy and two to Spain, but only one of them is currently operational. This is the Medgaz gas pipeline, laid directly from Algeria to the Iberian state, and the second, the Maghreb-Europe (MEG) pipeline, was stopped due to a conflict with transit Morocco. However, Rabat himself is thinking of setting up the export of regasified LNG through it, so that the pipe does not rust just like that.
Algeria does not have excess gas volumes, in addition to pipeline supplies, it also sells LNG. Turkey is its largest buyer today. Export volumes from Qatar have long been contracted. The United States is considered as a real alternative, which could supply LNG, but it is more profitable for American exporters to sell gas in Asian markets.
Secondly
, even if Washington accepts
political
solution and will be able to establish stable LNG supplies to Europe "to spite" the Russian "Gazprom", it is not clear why it is through Spain. There are receiving LNG terminals in France, where it is easier to supply gas directly, instead of pumping expensively from Spain.
Thirdly
, the position of Berlin, which is interested in tying up the process of redistributing gas flows to itself, and not in forming some kind of American-French-Spanish alliance, is not taken into account at all.
It turns out that we have just proved the complete failure of the Midcat gas pipeline as a competitor to Nord Stream 2. But is this its true purpose?
Competitor to Ukrainian UGS facilities?
In our further reasoning, let's take into account the general geopolitical context. What is Germany's mandatory requirement for the future of Nord Stream 2? Berlin insists that transit through the Ukrainian GTS should continue, right? And why do the Germans need this dilapidated pipe when there is a brand new Russian pipeline without problems with transit through Nezalezhnaya?
The point is the giant Ukrainian underground storage facilities, the total capacity of which is 30 billion cubic meters of gas. Underground gas storage facilities are needed by Europe for the safe passage of the heating season as a means of balancing the energy market. Of greatest interest is the Western (Carpathian) UGS complex, located just 200 kilometers from the border with the EU, but other Ukrainian storage facilities can also come in handy.
And what do we see? The Russian army and navy are concentrated along the entire border of Nezalezhnaya, and the Kremlin clearly does not rule out even a military option. Serious problems may then arise with the supply of fuel to the European Union. And what is NATO doing? So far, nothing, but information about the possibility of reviving the Midcat gas pipeline has leaked to the Spanish press, and Madrid has refused to comment on this information. So what can a "useless" gas pipeline give to Europe, which cannot compete with our Nord Stream 2?
It might be worth looking at Midcat from a different angle. Let's remember that Spain plays an important role in the EU, since it is there that 30% of European UGS capacities are located. In the north of the country there are 2 underground gas storage facilities: Gaviota ("Enagas", with a total capacity of 2,7 billion cubic meters) and Serrablo ("Enagas" - 1,1 billion cubic meters). In the central part of Spain there is another UGS facility - Yela ("Enagas") with a capacity of 2 billion cubic meters. Very serious power. Plus, Madrid planned to open another storage facility - the Castor offshore UGS facility, but the project was suspended due to a series of earthquakes in Valencia.
In other words, Spain has not only ambitions, but also a sufficiently high potential to become a major regional gas hub. By connecting Southern Europe with Central Europe, Midcat will make it possible to pump "blue fuel" into Spanish UGS facilities for storage and subsequent use by Germany and France during the heating period through this interconnector. If this is true, then NATO's Southwest Stream does not compete with Nord Stream 2, but with Ukrainian UGS facilities as their possible alternative.