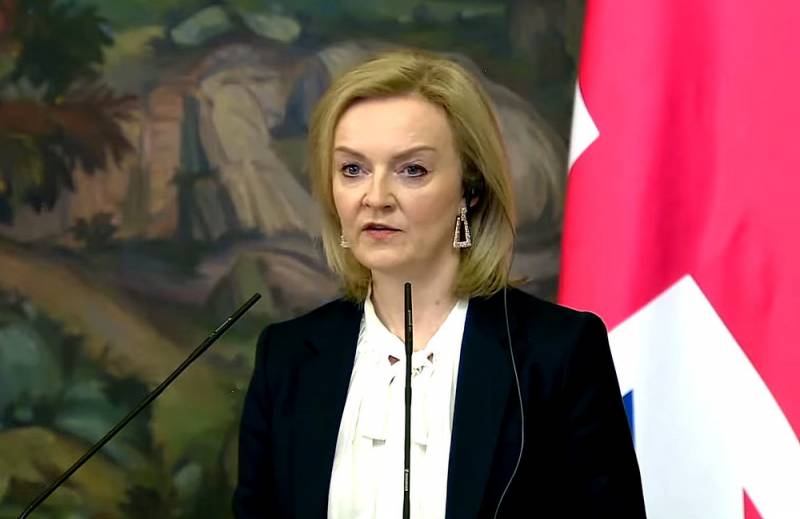 On February 9, British Foreign Secretary Elizabeth Truss flew to Moscow for talks with her Russian counterpart Sergey Lavrov. The next day, during a joint press conference, the British minister was asked a series of questions from media representatives from different countries.
The RT journalist asked two questions. First, he reminded Truss that in the 90s, Great Britain openly supported the Chechen separatists, who committed a lot of terrorist attacks in Russia. Moreover, London at one time received the leaders of Chechen fighters at the highest level, emphasizing their "legitimacy".
Why did Britain then support the Chechen separatists so much, although it knew that they were carrying out terrorist attacks, and now do not provide such support to the separatists in eastern Ukraine?
the journalist asked.
Boris Johnson, your boss, recently said that talking to Sergey Lavrov and Vladimir Putin is pointless - "it's a mission doomed to fail." Have you changed your mind or are you still here participating in a mission that is doomed to failure?
– the journalist immediately asked the second question.
Truss did not actually answer any of the questions, trying to get out of an uncomfortable position with a set of formulaic answers.
I am trying to convey to the Russian government that Ukraine will fight, and it will be a very protracted and long conflict. For the safety of our people and Europe as a whole, we must do everything we can to prevent a war in Ukraine. That is why I am here. Russia and Great Britain are permanent members of the UN Security Council. I believe that there are better ways and I hope that on behalf of Boris Johnson I can do something in this direction.
she replied.
The journalist was not satisfied with this answer, and once again asked the British Minister to comment on the questions asked earlier.
Prime Minister Boris Johnson is indeed in favor of a diplomatic settlement in cooperation with NATO allies. That is why I am in Moscow today, to make as much progress as possible and to move these negotiations forward. I have made this very clear. I will not go into details of what happened in the past (speaking of London's support for Chechen fighters), we live in the present, and in the present we have the Minsk agreements on Donbassthat have been coordinated and are gradually being implemented. The first step is to achieve a ceasefire. Russia must withdraw heavy weapons from the region and then we will make progress
she said.
It should be noted that Lavrov skeptically called the talks "a conversation between the deaf and the dumb."