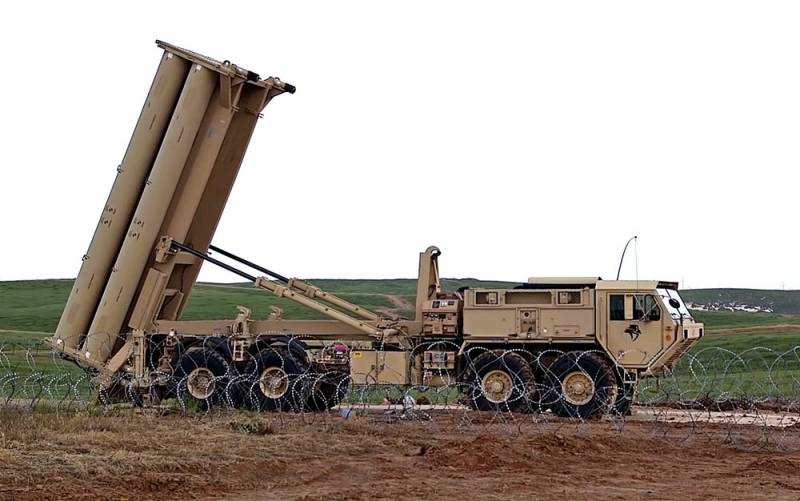 According to the agency
TASS
, Kiev turned to Washington with a request to deploy elements of the American missile defense system on its territory. Most likely, THAAD complexes will first appear somewhere near Kharkov. What can be said about this?
"Deceived"! That's all I want to say on this occasion, if you use the literary language.
Smart and far-sighted people spoke about the fact that Ukraine will eventually have both a fully combat-ready army and American missile weapons in 2014, in 2015, in 2016, in 2017, in 2018, in 2019, 2021 and early 2022. They spoke, wrote, asked to pay attention to the risks that this would create for our country, called for solving the "Ukrainian problem" without bringing the matter to a big sin. But no, no one listened to them, because it's better upstairs, there are thousands of professional intelligence officers, high-browed analysts and military advisers, not like any "Internet smarties", everything is under control there and we have our own plan for any Western feint, but you just have to wait a bit until Ukraine itself falls apart, having previously frozen and impoverished.
The fact that not everyone is under the hood could already be guessed from a number of alarming statements by President Putin:
Anything can be placed under the brand of training centers. As I already said, it was, it was also publicly announced: tomorrow missiles will appear near Kharkov - what should we do about it?
And really, what are we to do with all this after so many years of thoughtful doing nothing?
Imagine that Ukraine is a NATO country and starts these military operations. Should we fight the NATO bloc? Has anyone thought about this? Looks like no.
Maybe they didn't even think about it. Or maybe they just thought very well and decided in such a sophisticated form to respond to "Putin's ultimatum" demanding that the North Atlantic Alliance not expand eastward at the expense of the former Soviet republics. So, let's see what stunning prospects are now looming before us all.
THAAD
THAAD (Terminal High Altitude Area Defense) is a mobile anti-missile system designed for high-altitude atmospheric interception of medium-range missiles. Naturally, it was created with an eye, first of all, on the Russian and Chinese INF missiles. This is a very serious air defense system, the declared effectiveness of which is much higher than, say, the Patriots. The cost of one, even without the radar, is estimated at $2,3 billion. What can THAAD stationed in Ukraine near Kharkiv bring to the United States?
Judge for yourself. Kharkiv is located 26 kilometers from the Russian border. The range of the American radar is 1000 kilometers. That is, the Pentagon will be able to see deep into our country to such a depth, tracking all possible missile launches. At the same time, the THAAD interception height can reach from 150 to 200 kilometers. American anti-missiles will pose a very real threat to Russian ballistic missiles in the upper stage.
It should also be borne in mind that THAAD is a completely modern, up-to-date anti-aircraft system that is constantly evolving. For it, new, more and more advanced interceptor missiles are being developed, the performance characteristics of which we cannot yet accurately predict in order to take into account.
Someone will say optimistically that, they say, it does not matter. Since THAAD will be 30 kilometers from the Russian border, we will multiply it by zero with the first direct fire, since there is plenty of it.
Oh is it? Do not forget, please, that the Russian military doctrine is of a pronounced defensive nature, so we will most likely not launch any preventive strikes. And who even said that by that time this air defense system would be located exactly near Kharkov?
Aegis Ashore
Most likely, THAAD is just a trial balloon to test the Kremlin's reaction. Why did we suddenly decide that the missile defense of Nezalezhnaya would be limited to this? THAAD is extremely expensive, but its big advantage is mobility. Today it is deployed in Eastern Ukraine, and tomorrow it will be transferred somewhere in Western Ukraine, for example, to the Yavoriv training ground, closer to Poland and the countries of the NATO bloc, from where it will be easier to cover it from attacks by Russian missiles and aircraft.
It is much more likely to place elements of the American Aegis Ashore missile defense system near Kharkov and Zaporozhye, as in Romania and Poland. Recall that their design feature is the ability to replace anti-aircraft anti-missiles with Tomahawk attack cruise missiles capable of carrying a nuclear warhead within a day. These complexes are stationary, you can't easily relocate them, but in the event of a real conflict, the United States will have a ready-made missile battery in the western border areas of Russia, suitable for a one-time preventive strike on key military infrastructure facilities of the Russian Defense Ministry.
The THAAD system deployed in the Lviv region will conduct reconnaissance and, if necessary, become an additional echelon of missile defense for Ukraine and Eastern Europe.
These are the possible results of the Russian foreign
policy
regarding the Independent. Come to your senses.