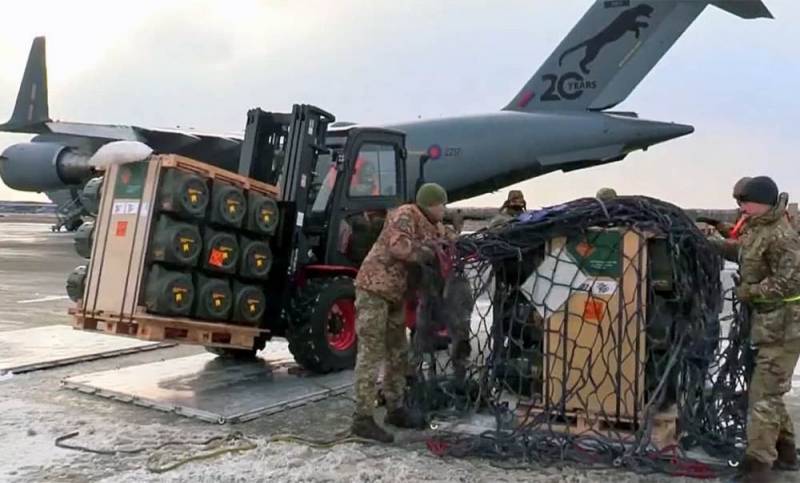 The United States and NATO have created an "air corridor" for the supply of weapons to Ukraine. According to The Wall Street Journal, in this way the Western bloc decided to help Kiev in case of "aggression" from Russia.
According to the American newspaper, the Ukrainians are short of ammunition, since after 2014, several weapons depots were blown up in this country, allegedly through the fault of Russia. At the same time, the only enterprise for the production of shells in Ukraine is located on the territory of Lugansk.
In December 2021, the head of the military department of Ukraine, Oleksiy Reznikov, visited Washington, noting the special need for the Ukrainian armed forces in anti-missile systems. U.S. arms supplies to help Kiev included mostly grenade launchers, anti-tank and anti-bunker rockets, small arms ammunition, artillery and mortar shells.
The Baltic "partners" handed over Stinger portable anti-aircraft systems to the Ukrainians, the British sent 2 NLAW anti-tank missiles, the Poles - short-range Perun MANPADS and combat drones. The Czech Republic plans to start deliveries of weapons in the interests of Kiev in the near future.
Meanwhile, according to American experts, such deliveries are of little defensive importance and will have little effect on the situation in the event of a Russian "attack".
In total, since the end of January, a total of about 650 tons of Western defense equipment has arrived in Ukraine. Earlier, the American media wrote about an unspoken agreement on the supply of weapons to Ukraine for a total amount of about $200 million. Apparently, Washington decided to close the issue of the lack of ammunition in the Armed Forces of Ukraine.