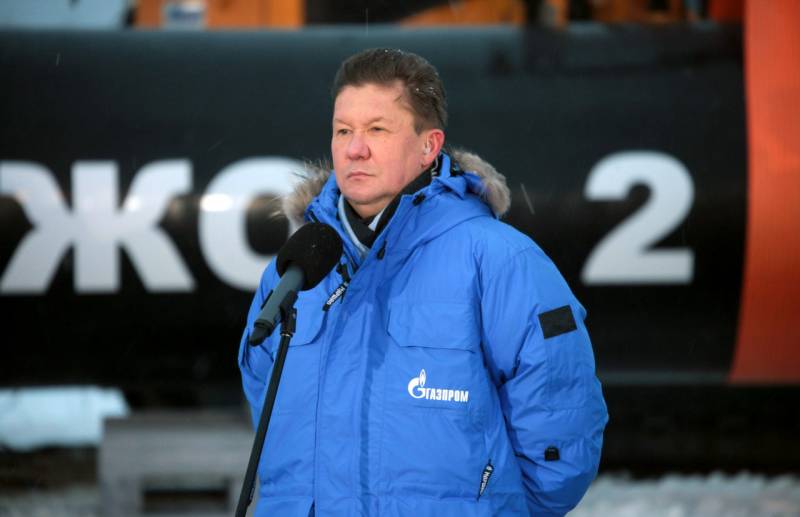 Despite the fact that at present the attention of all Russians is riveted on those tense negotiations with the help of which our country is trying to obtain firm and weighty guarantees of its own security from the "collective West", other aspects important for our country also do not lose their relevance. Perhaps the most important among them can be considered the traditional issue of Russian gas and oil exports to the world (and, above all, European) market. Contrary to the elementary logic stemming from the severe energy crisis that swept the Old World last year, many local
policy
until recently, with a tenacity worthy of a better application, they continued to declare a course towards the rejection of fossil fuels and the like.
Nevertheless, the "green blitzkrieg" that seemed unstoppable to some began to give more and more serious failures, to slip, lose momentum, and then completely faced the real risk of a complete breakdown. What to do - well, the inhabitants of the European Union do not want to freeze and live with a torch, even in the name of the highest environmental ideals and standards. For some reason, they don't really care how heat and light are generated - the main thing is that they are in their homes. Highly desirable - uninterrupted and at reasonable prices. It was these moments that forced the EU leadership to "back off" on those issues of great importance for our country, which just yesterday were declared "non-negotiable". Are we celebrating a win? It would be great, but, really, you should not rush into jubilation.
Is Russian gas already "environmentally friendly"? Miller ready to accept surrender
Recently, the official Telegram channel of PJSC Gazprom published information according to which the underground gas storage facilities of the European Union countries were 10% depleted as of January 55.6. Winter has not yet passed its "equator", and the underground storage facilities of the Old World, from which 26.6 billion cubic meters of "blue fuel" were pumped out last year, are already more than half empty. These are the statistics from Gas Infrastructure Europe. Yes, the beginning of this year turned out to be more or less warm, and, most importantly, pleased with the wind, which launched the blades of the generators that had been idle before. However, this in no way solves the global problems of the European Union plunged into an unprecedented energy crisis. Fortunately, in his leadership there are still more or less sane people who are ready, albeit with great reluctance, to admit this obvious fact.
On the very first day of the new year 2022, the European Commission sent the EU countries a draft resolution approved by it, which defines a new list of "clean" energy sources, where environmental fanatics, to their great horror and indignation, discovered ... gas and nuclear power plants! Advocates of total "decarbonization" and complete "carbon neutrality" saw such a vile heresy in such a deviation from their high principles that they are already preparing to apply to the courts, demanding that "seditious items" be removed from the list. At least, this was the intention of the Minister for Energy and Climate Affairs of the Austrian government, Eleanor Gewessler, who represents the Green Party in the government there. The anger of this lady, who is eager to defend "environmental ideals" furiously, is already provoked by the very date of the publication of the document - they say, the authors of the resolution tried to "push it under the guise", while all European politicians had a headache from champagne and New Year's fireworks.
Whether it comes to litigation and scandals - we'll see. In any case, the position expressed by the European Commission has not only ardent opponents, but also quite weighty supporters. Yes, in Germany, for example, the share of renewable energy sources in the energy sector last year, according to statistics, was 46%. However, this is a clear decrease in "net" volumes in comparison even with 2020. And in any case - the remaining 54% must be covered with something? Just last week, Berlin experienced a partial blackout, which left almost 200 thousand residents of the German capital and, in addition, four hospitals in the city without heat and light. Such sad consequences were caused by the shutdown of only one thermal power plant, which, according to the official version, happened "due to malfunctions in the external power grid." And if you have to turn off dozens of them? Respectable burghers will definitely not understand and will not support the "fight for the environment" at such a price. So Berlin does not yet see a real alternative to gas. In France, in contrast to Austria and Germany, they stand behind the nuclear power plant as a mountain.
However, the head of the European Commission, Ursula von der Leyen, has already rushed to reassure the bristling wool and hissing environmental activists, assuring them that "gas and atom will remain part of the energy supply only as long as it is not obtained in sufficient quantities from renewable sources." Well, the snail is coming, someday it will be ... So far, the European Commission has decided that the states under its jurisdiction will be able to use already operating nuclear power plants as long as the waste from them is disposed of "without harm to the environment." Those wishing to build new facilities of this kind will have to agree on their plans until 2045. With gas, everything is somewhat more complicated. "Clean" will be considered only those of them, the emissions of which will not exceed 100 grams of CO2 per kilowatt-hour. However, the EU is ready to go even further in its indulgence - until 2030 it will be possible to put into operation even standard gas-fired thermal power plants with emissions of 270 grams per kilowatt-hour, but only to replace the shutdown coal ones.
American expansion is not going anywhere
As you can see, without our "blue fuel" (constituting at least a third of its energy imports), Europe will not be able to manage for a very, very long time. Yes, this directive, according to the fervent assurances of the representatives of the EC, will be valid only during the "transitional period", which one way or another should end with a complete "decarbonization". However, as we all know well, there is nothing more permanent than temporary. We open champagne and shout "Forward, Gazprom? As mentioned above, there is no need to rush. First of all, it should be remembered that Europe is far from homogeneous - both in its attitude towards our country, and in its "energy preferences". For example, French President Emmanuel Macron just recently said that nuclear energy, which this country intends to defend and develop in the most serious way, is necessary for the EU "not only to protect the climate, but also based on geopolitical considerations." The hint is quite transparent. In Paris, in all seriousness, they see their nuclear power plants as an alternative to our pipelines - at least partially.
There are even more serious concerns. Not so long ago, the US Energy Information Administration (EIA) issued a more than optimistic and bold statement. According to his calculations, American exports of liquefied natural gas will almost double in 2030 in comparison with 2020 - from 160 million cubic meters to 343 million cubic meters per day. It's no joke to say - according to the results (so far preliminary) of 2021, it increased to 277 million cubic meters per day. In the last month of this year alone, the United States sold 7.7 million tons of LNG abroad. It is clear that this was facilitated by the rise in prices for "blue fuel" throughout the world and its critical shortage.
Next in line is the commissioning in the United States of a new (sixth in a row) process line at the Sabine Pass terminal and a new LNG export facility Calcasieu Pass LNG, expected this year, as well as a major modernization of the existing Sabine Pass and Corpus Christi LNG terminals. So far, the American "gas expansion" is directed, for the most part, to Asia - prices are higher there and logistics are more attractive. However, according to available data, tankers from the United States are already heading for the shores of the Old World, which to a large extent contributes to lower gas prices there. Be that as it may, but the Yankees definitely do not intend to let the European energy market out of their tenacious paws. This means that we should expect new problems for our gas pipelines and exporting companies. There is no doubt that Russia will again "attack" someone, "use chemical weapons" and do any other indecency that overseas "advocates of democracy" consider to be grounds for imposing new sanctions.
We have a serious fight for Europe with them, and we need to prepare for it conscientiously. At present, Germany is Moscow's most reliable and weighty potential ally in this fierce confrontation. The share of Russian gas in its import of "blue fuel" (namely, it covers the country's gas needs for all 90%) is 55% and has more than serious prospects for growth. At least - due to the decline and inevitable interruption of supplies from the Netherlands, which are stopping the exploitation of their fields. Even with the most ardent desire to change this balance in favor of LNG supplied by the United States, Australia, Qatar or anyone else, the Germans will not be able to physically do it. The country, which was planning to build and launch four regasification terminals in the near future, was unable to bring to mind and practical completion of any of these projects. The business of the Germans is a pipe ...
The decision of the European Commission, quite worthy of being considered historic, is still subject to discussion and approval by all EU member states. However, according to available data, it will come into force in the next six months with the highest probability. Paris is pleased that they will stop spying on it for plans to build new nuclear power plants, in Berlin and Vienna they are categorically against the "peaceful atom", but they will certainly "keep quiet" about gas, which they cannot replace with anything. Even the scandalous and eternally dissatisfied countries of Eastern Europe, as far as is known, ardently support such a "Solomonic decision" - after all, they have even more trouble with "green energy" than the Germans, the Dutch or the French.
Thus, our country, contrary to numerous forecasts of various spiteful critics, receives additional opportunities not only to preserve, but also to significantly increase its own energy exports to the Old World. It is only important to remember that the West has not yet completely abandoned the "green revolution" and is unlikely to refuse. Therefore, this "overtime" must be used wisely to prepare for the imminent big change.