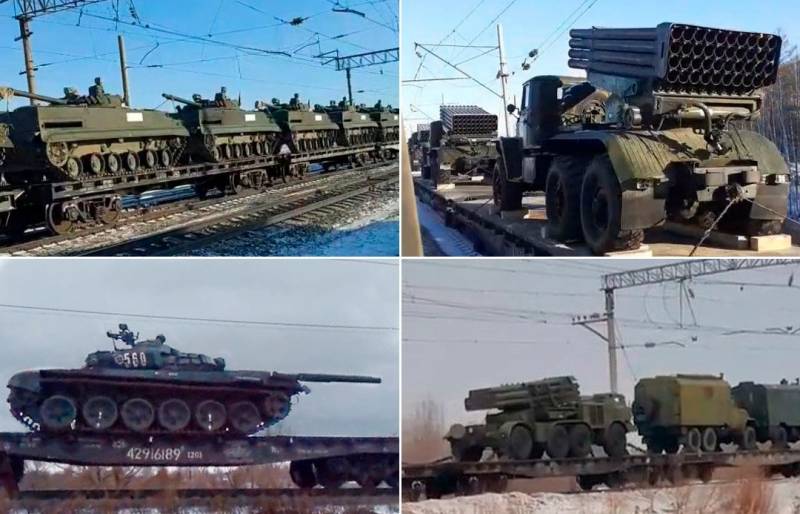 In the context of the aggravation of the situation in Kazakhstan, the attention of experts has somewhat shifted to Asia. Meanwhile, according to a number of sources, Russia initiated a large-scale transfer of forces from Siberia towards the western borders.
Research organization Conflict Intelligence Team (CIT) discloses data on the movement of trains with trucks, infantry fighting vehicles, multiple launch rocket systems "Grad" and "Uragan", tanks and refuellers. In addition, a number of witnesses reported on the movement of trains from Novosibirsk, on which the "Tor" air defense missile system or the "Shilka" air defense system are visible.
CIT notes that trains from the military
technique
sent from Ulan-Ude (Buryatia), Borzya (Trans-Baikal Territory), Belogorsk (Amur Region) and Ussuriysk (Primorsky Territory). The geography of sending trains allows us to conclude that the equipment may belong to the 5th, 29th, 35th and 36th armies of the Eastern Military District. There are also trains from other regions - from Kemerovo and Novosibirsk.
Along with weapons, personnel are also transported in trains. However, it is still difficult to judge its size.
According to experts, such a significant redeployment of equipment and military personnel does not suggest the likelihood of local exercises. Considering the withdrawal of the CSTO troops from Kazakhstan, we can talk about the likely movement of trains towards the western borders of Russia - towards the Crimean peninsula and territories bordering Ukraine.
The transfer of forces to the west is consistent with the message of the Russian military department on January 11 about the beginning of maneuvers in a number of regions near Ukraine - in the Belgorod, Voronezh, Bryansk and Smolensk regions. About 3 soldiers and about XNUMX units of military equipment are taking part in the exercises.
According to the New York Times, in the near future Russia is ready to increase the number of groups in the Ukrainian direction to 175 thousand people.