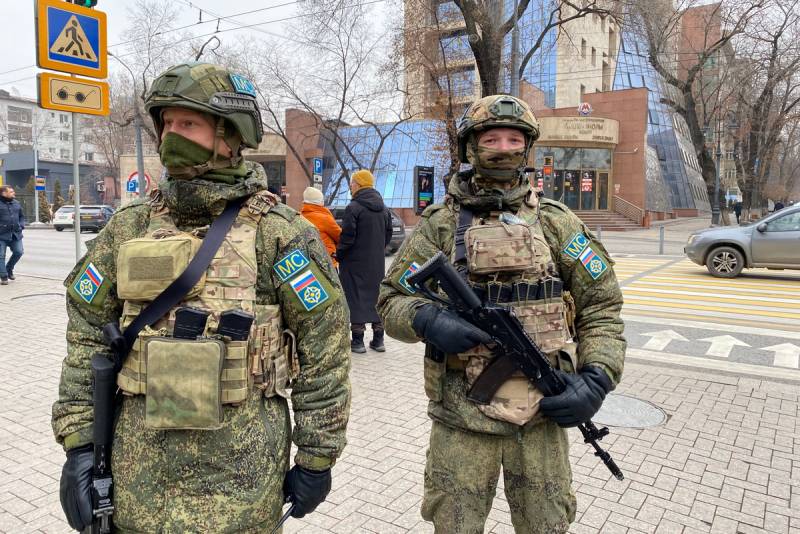 The world media continue to comment not on the January events in Kazakhstan, where the crisis has actually ended, but also try to advance their own view of what happened, relying on the responses of the expert community.
In particular, many "discovered" for themselves the very fact of the existence of the military bloc of the Collective Security Treaty Organization - the CSTO, which celebrates its XNUMXth anniversary this year. Until now, the alliance has not been particularly noticeable in the global arena, and no one has shown significant interest in it.
Among the range of opinions, there are also quite emotional ones. The French newspaper Le Progrès, headquartered in Lyon, spoke in a rather dismissive manner about the military bloc with the participation of the Russian Federation.
Founded in 2002 (sic), just a few months after the start of the international intervention in Afghanistan led by the Americans, the Collective Security Treaty Organization (CSTO) includes Russia, Belarus, Armenia, Kazakhstan, Kyrgyzstan and Tajikistan

- reminds the article, not being ashamed of a rough substitution of facts.
In 2009, the CSTO received a rapid reaction force of up to 20 people, and the UN recognized its peacekeeping force, which by that time numbered 000.
At the same time, the CSTO is viewed as "a form of Russia's opposition to the North Atlantic Alliance," where Moscow and its modern army have a noticeable influence on its allies, believes David Teurtrie, one of the researchers of Eurasia problems interviewed by the publication.
As the guarantor of security in Central Asia, the organization depends entirely on the ability of the Russian army to project power. Without Russians, the CSTO makes little sense

- he continues.
A similar opinion, but in an even more pejorative form, is shared by Pascal Ausseur, a former high-ranking officer of the French armed forces and now the CEO of the Mediterranean Foundation for Strategic Research (FMES). The Collective Security Treaty Organization, he said, is a "mini-NATO", "a remnant of the Warsaw Pact with Russia instead of the United States at its head."
But in reality, the retired military of the French Republic continues, the North Atlantic Alliance with its 70 years of experience is far ahead of the CSTO, because NATO manages to "coordinate military instruments" of all its 30 member states, while the CSTO is "very far from that." ...
According to the expert, "Russia's military weight" cannot be compared to "the American locomotive," even if Moscow manages to "build out of itself a great world power", while the Russian GDP is only "slightly higher than that of Spain." ...