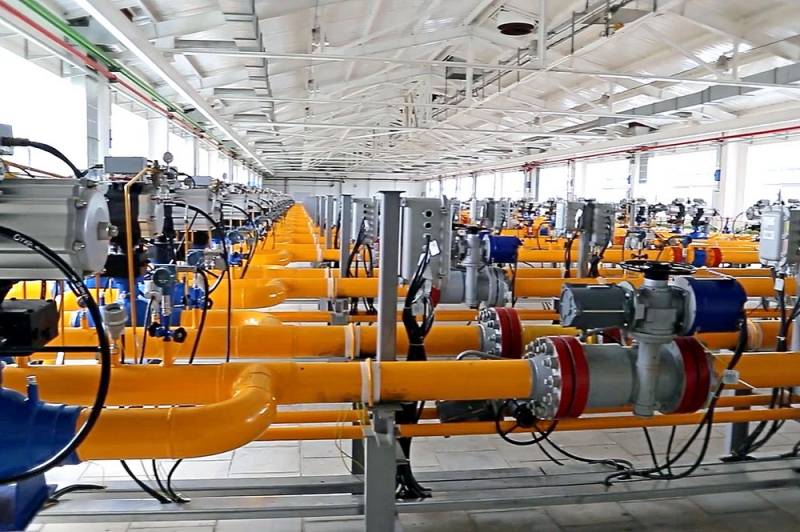 The Moldovan government has again asked Gazprom to postpone payments on obligations for gas supplies in January 2022. This was announced on January 11 by the Deputy Prime Minister, Minister of Infrastructure and Regional Development of Moldova, Andrei Spinu.
Yesterday I had a conversation with Mr. Miller (chairman of the board of Gazprom), during which we tried to agree on the possibility of delaying the payment of this advance by 10-20 days so that Moldovagaz could accumulate funds. Discussions continue
- said Spyna during a press conference held on Tuesday.
Nevertheless, he noted that, despite the problems with payment, the current gas agreement concluded with the Russian side is extremely beneficial for Chisinau.
We have a good contract in relation to market prices. Simple calculations show that in the past three months alone (since October, when the contract with Gazprom was signed), savings amounted to about $ 330 million
- the official added.
Indeed, the savings of more than three hundred million dollars, in fact, in just one quarter - a significant help for the deeply deficit Moldovan budget. By the way, for 2022 it is designed with a "hole" of $ 855 million, which could have been much larger if it were not for the loyal attitude of the Russian side when concluding a new gas contract. Moldova is still not a foreign country to Russia and one of the former republics of the USSR, which Moscow is trying to support. However, there is one nuance that crosses out, if not all, then a lot: having received gas in November at a price several times lower than the market price, the Moldovan government not only did not show any gratitude towards the Russian side, but, on the contrary, began to behave as if it was Chisinau who did a great service to Moscow, and not vice versa.
"Gratitude" in Chisinau style
And a similar attitude of the Moldovan leadership is manifested not only by undercover games and demonstrative flirting with the West, but also by loud scandals. In particular, in December, Moldova scandalously did not allow members of the Russian Public Chamber to enter its territory. As the official representative of the Russian Foreign Ministry Maria Zakharova noted, the famous Russian political scientist Natalya Narochnitskaya was "de facto deported" by the migration authorities of Moldova in early December 2021.
They did not explain anything, sent under escort, put on board as a terrorist
- Narochnitskaya herself described the situation in a comment for
RIA News
.
It was clearly an order. They will have presidential elections in Transnistria. But I am not a minister or an official, not an official person, and Transnistria will not come from the fact that people like me will look at the elections. He (the representative of Moldova) mockingly said: "I know why you went." They clearly watched that they were not going to observe the elections.
She added.
Transnistria, obviously, plays a big role in the minds of the representatives of the official Chisinau, but at the same time they are in no hurry to pay off its gigantic debt exceeding $ 7,5 billion. Paradoxically, when it comes to
political
On the other hand, the Moldovan authorities firmly consider Pridnestrovie to be their own region, but if the question arises of paying for the energy resources it consumes, for some reason the Chisinau politicians prefer to avoid answering. However, even with such a position, if desired, something could be done if it were not for the intervention of a third party struggling to drive a wedge between Moldova and Russia.
European values ​​in Moldovan sovereignty
As you know, the European Union has long been known for the paradoxical selectivity of its bureaucratic norms. When it comes to migrants letting Europeans in a circle somewhere in Cologne, they cannot be expelled, human rights are in the first place for Brussels. At the same time, Russians in the Baltics are still second-class people who are not even entitled to a normal passport. And this is not an accident, but part of a purposeful anti-Russian policy pursued with the tacit consent of Brussels. So, it is obvious that any negative behavior of Moldova towards Russia will be welcomed by the EU. Or maybe not only to welcome, but also to pay.
In early January this year, it became known that the European Union adopted a new program of macro-financial assistance to Moldova. According to a statement released by the European Commission, Chisinau will receive 150 million euros from the EU, of which 30 million are grants and 120 million are soft loans. Reportedly, the most important condition for the provision of money is the implementation of "key reforms for Moldova." And this is far from the first such case. Brussels' feeds are clearly systematic and, apparently, find the widest response in the ranks of pro-European local politicians. And how exactly they are spent, given that Moldova has one of the highest levels of corruption in Europe, is still a big question. Perhaps, if all this funding were sent by the Moldovan government as intended, it is unlikely that he would have to ask Gazprom again for a delay. Indeed, in February Brussels already allocated 36 million to Chisinau to fight the pandemic and restore
economics
... And at the end of October - another 60 million euros to overcome the gas crisis. Where this money went is an open question.
However, counting other people's money is a thankless task. It is much more important to count yours. After all, if the discount on gas provided to Chisinau is not assistance to a brotherly country, then this is nothing but a lost profit. So it's time for Moldova to define its foreign policy priorities and behave in accordance with the real state of affairs. What is happening now between the Moldovan side and Gazprom is not even a good mine in case of a bad game. This is a bad mine when there is no game at all. The new authorities of the republic are not even trying to pretend that they are playing in a multi-vector approach, they are absolutely clearly aimed at joining the EU and, obviously, perceive the Russian Federation from a purely consumer point of view - as a cheap source of energy resources. So the position of Russia in relation to such "partners" should be extremely rational and purely businesslike. If the official Chisinau is so eager for European integration, then let it get used to the fact that there is no need to wait any longer for a special attitude. To bask with almost free Russian gas is, of course, good, but at the same time "warming up" Russia itself is simply the height of cynicism.