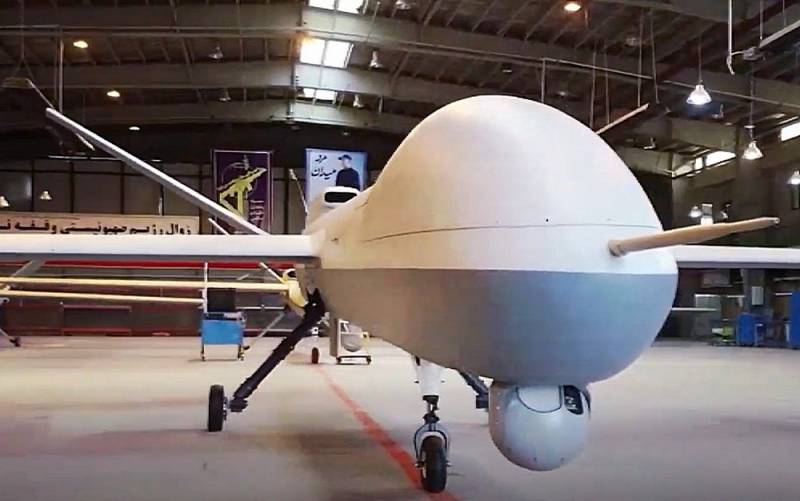 Today, it is customary to call Iran almost Russia's main ally after Syria in the Middle East. The claim is quite bold as the Islamic Republic is pursuing its sovereign
policies
which may or may not be the same as ours. But in the Syrian campaign, Tehran and Moscow found themselves in the same trench, and we have common geopolitical adversaries. Since the interests of Russia and Iran so far coincide, it is necessary to carefully look at how we can be useful to each other.
Aviation and air defense
Iran's main problem is the need to protect its nuclear facilities from air attacks by Israel and its allied United States. The Jewish and American states are frightened by the prospect of Tehran having its own nuclear arsenal, so they are seriously considering the possibility of a preemptive strike and even the beginning of a full-scale military operation. To protect their air borders, as well as to cover the military contingent in Syria, the Iranians need modern combat aircraft and air defense systems. The Iranian Air Force is represented by outdated aircraft models, and its own air defense systems have not yet reached the level of Russian counterparts in terms of tactical and technical characteristics.
Why are we talking about Russian weapons? Because Tehran has long planned to acquire them, and after the termination of the embargo, Moscow has now officially untied its hands. Moreover, after NATO's de facto refusal to comply with "Putin's ultimatum", throwing problems at the Americans and their allies in the Middle East by strengthening Iran will not be a bad decision.
There is information about the possibility of Tehran acquiring 24 Su-4 generation 35 ++ fighters. It is reported that 30 Iranian pilots will be sent to Russia to learn how to operate these combat vehicles. Moscow can also repair and modernize 20 MiG-29 fighters and 25 front-line bombers Su-24MK, already serving in the Iranian Air Force. In addition, the sale to the Islamic Republic of modern S-400 anti-aircraft missile systems is possible, which will be able to provide effective air defense of the country's nuclear facilities. The estimated value of the contract is $ 10 billion.
There are many insinuations in the domestic press on this occasion in the spirit that the "beggar" Iran has nothing to pay for this order, therefore it will demand discounts and allegedly provide part of the payment in the form of supplies of crude oil. May be. Or maybe not. Let's think if Iran has something that might be of interest to Russia besides "black gold".
Drone army
Oddly enough, there is. When the media talks about the United States, Israel, China and Turkey as leaders in the drone industry
of technologies
They forget to mention that Iran is at least fifth, if not fourth, in this ranking. Tehran faced American and Israeli UAVs for a very long time, so it was forced to start working in this direction. And he has managed to achieve impressive successes, despite the restrictive measures by the United States. Iranian drones are actively used in Iraq, Syria, Yemen, Sudan and even in distant Venezuela.
A few days ago, large-scale anti-Israeli military exercises started in the Islamic Republic. On January 4, 2021, the WorldView-2 satellite photographed a whole army of 154 UAVs of various types at an airfield in the desert near Semnan. The European Space Agency obligingly transmitted images to Bellingcat, which counted there: 3 types of Mohajer-6 drone with rockets, 6 Mohajer-4b drones, 4 Mohajer-4 drones, 2 types of Kaman-12 drone with rockets, 8 Mohajer-2N drones, 10 Nasekh drones, 1 early version of the Ababil-3 drone, 1 late version of the Abilbil-3 drone, 10 Segeh-2 drones, 16 Clan Arash drones , 9 drones of the Yasir (Sayed-2) type and 4 drones of the Chukar-2 type. Already from this list, it is clear that Iran is fine with unmanned aircraft, but in fact, the range of UAVs produced there is much larger. How did it happen that the Islamic Republic, which Israeli propaganda portrays as a backward barbaric state, was able to achieve such impressive successes?
Having found itself under Western sanctions, Iran was forced to independently develop its weapons, relying on unmanned aircraft. A qualitative breakthrough came when the Iranians were able to land and capture the secret American RQ-4 Sentinel reconnaissance UAV on December 2011, 170. Made according to the "flying wing" scheme, it looks very much like the Russian S-70 "Okhotnik". The RQ-170 Sentinel patrolled the skies over the western part of Afghanistan and violated the Iranian border, to which the "barbarians" responded by intercepting control over it and a forced landing using the 1L222 Avtobaza executive radio intelligence complex, which had recently been purchased in Russia. The Pentagon was so scared of the loss of secret equipment that at first they wanted to send the gallant special forces, then they thought about destroying the UAV with a pinpoint missile strike, and then just politely asked Tehran to return the property.
But the Iranians did not return, but instead dismantled the American drone into cogs, studied and created on the basis of the "Kandahar Beast", as it was called in the press, a whole family of their UAVs. These are, for example, vehicles with a jet engine "Shahed-161 Saeghe" and a propeller-driven "Shahed-161 Saega" with a piston engine. The last original solution made it possible to bypass the problem with jet engines, to reduce the cost of production and subsequent maintenance. Iranian UAVs "Saiga" can carry up to two guided aircraft bombs (KAB) "Sadid-141" (Sadid-345) or a pair of anti-tank guided missiles "Sadid-345" (Sadid-1) suspended under the hull. The development of this line was the Shahed-1 Saeghe-181 and Shahed-2 Saeghe-181 drones, equipped with a piston and jet engine, respectively. They represent a copy reduced to 2% of the prototype RQ-191 Sentinel. Saiga-2 now has the ability to place anti-tank missiles inside the hull, as well as 191 KAB under the hull. So far, the pinnacle of the Saiga family's evolution is the Shahed 2 Simorgh, an operational-tactical reconnaissance UAV, which is a full-size copy of the captured RQ-65 Sentinel.
All Iranian UAVs have been successfully tested many times in combat in Syria. The Swarm system was created and tested for automatic control of a swarm of attack drones. In 2018, the Iranian Shahed-171 Simurg drone was able to violate the Israeli border with impunity, the clearly over-praised air defense system failed to shoot it down, and it returned back to the territory of the SAR. It is not surprising that Chinese and Russian engineers also showed great interest in the "Kandahar Beast". It is even possible that our "Hunter" has some American-Iranian "genes".
In this regard, the question arises, why should not Moscow use Tehran's experience in the field of unmanned aircraft?
Yes, we now have this topic on the rise, but in reality only Orion is ready for mass production. Perhaps it is worth buying something from Iranian drones for study, or even agreeing on their joint production under license in Russia with the right to make improvements, install our engines and other equipment. Such an exchange can be mutually beneficial: we give Iran fighters and air defense systems, they give us drones for delivery.