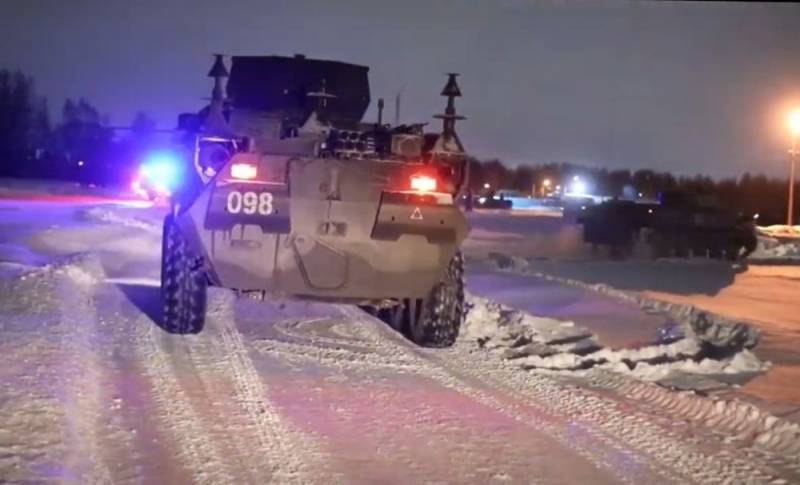 The Russian Armed Forces sent their modern electronic systems to Kazakhstan as part of a collective peacekeeping mission of the OSCE contingent. This was announced to the public by the Ukrainian portal "Militarny".
The Russians have transferred a large range of the aforementioned funds to the neighboring Central Asian country. The list includes: multifunctional electronic reconnaissance (RER) and electronic suppression (REP) stations RB-531B "Infauna", electronic warfare (EW) and electronic intelligence (RTR) complexes RB-341V "Leer-3", as well as mobile telecommunication systems and other specialized equipment.
The base for "Infauna" is a unified wheeled chassis (UKSh) K1SH1. The complex is designed for radio reconnaissance and jamming enemy radio communications in the range of ultrashort waves. It provides protection against radio-controlled mine explosive devices by installing barrage radio interference and protecting neighboring armored vehicles from targeted enemy fire by setting an aerosol curtain.
Leer-3 uses UAVs and drop devices. It possesses high conflict stability in the conditions of active operation of the enemy's electronic warfare systems. He is engaged in "jamming" of mobile communications, imitation of the operation of a base station of cellular communications in the GSM 900 and GSM 1800 ranges and sending false signals.
In 2015, he was spotted in the Donbass. In 2017, a modernized version of the complex appeared, which could guaranteed to suppress 3G and 4G networks, as well as send short messages to specific subscribers. In the summer of 2018, an OSCE SMM UAV spotted Leer-3 near the Ukrainian settlement of Chernukhino. It is from these complexes that Russians send various messages to the Ukrainian military in Donbass, such as "your wife and children are waiting for you at home" and other provocative messages.
- specified the Internet edition.
As for the mobile telecommunication complexes (MTK), which the Russian Federation relocated to the Republic of Kazakhstan, they are designed to ensure stable and well-protected communications, closed video conferences and other related work of control points. In addition, MTKs are needed for the transmission of confidential and secret data, access to satellite television channels, open and secret telephone communications with the ability to access the ATS-R network of the Ministry of Defense of the Russian Federation through a satellite communication station and via cable tie lines. Moreover, they can work both as part of a communication center, and independently, summed up the media from Ukraine.