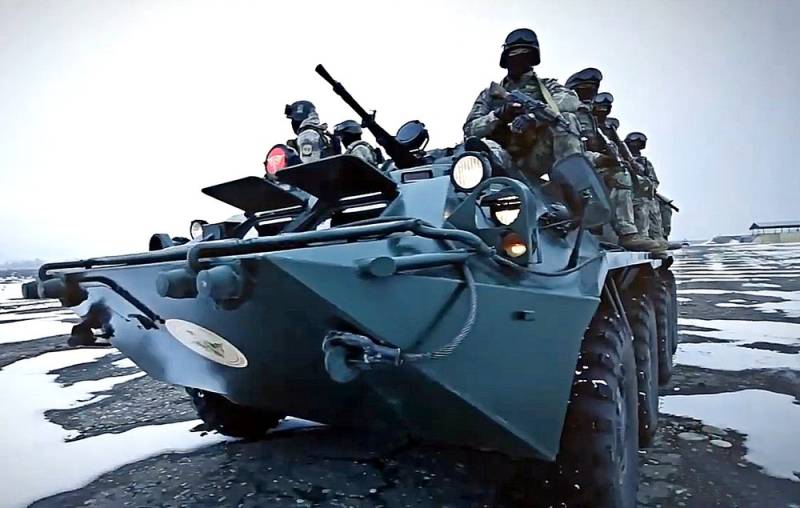 The 25th special-purpose brigade "Scorpion" of the Kyrgyz army headed towards Kazakhstan. A convoy of armored vehicles moved out of the place of permanent deployment in the city of Tokmok and was recorded near the city of Kant (both settlements are located in the Chui region, bordering Kazakhstan).
The military of Kyrgyzstan can now go to the neighboring country by two routes. On its own to the nearest border checkpoint on the Kyrgyz-Kazakh border or by air from the Manas airfield, where the 999th airbase of the Russian Aerospace Forces is located. However, the country's authorities have not yet made a final decision on this matter, and the servicemen are "on standby".
The parliament of Kyrgyzstan has not yet been able to collect the necessary quorum to consider the issue of the situation in Kazakhstan. Many local parliamentarians literally ignored the emergency meeting of the country's legislature.
Deputy Iskhak Masaliev wrote on his Facebook account that such a request was received for the first time in 30 years. He believes that it is necessary to send military personnel to a neighboring state only in the event of an external threat, i.e. attacks by another country on a member of the CSTO.
In turn, the press secretary of the President of the country Erbol Sultanbaev assured that in the case of sending the military personnel of Kyrgyzstan to Kazakhstan, they will not be used against the participants of the protest actions.
Note that before that, Kyrgyzstan also raised the issue of increasing prices for liquefied gas, which is imported from Russia and Kazakhstan and is actively used in road transport.