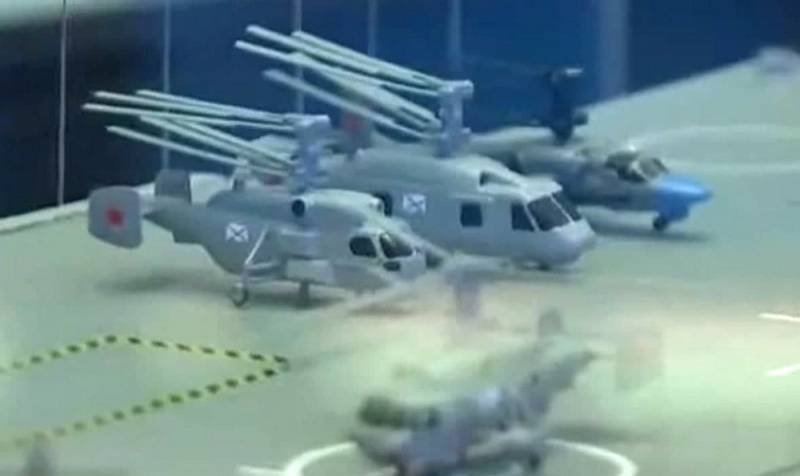 A model of a promising Russian carrier-based helicopter Ka-65 "Lamprey" was captured by the journalists. This happened on the territory of the NTsUO exposition in Moscow during the expanded collegium of the Ministry of Defense of the Russian Federation, when Russian President Vladimir Putin via video link took part in the ceremony of accepting the nuclear submarines "Prince Oleg" and "Novosibirsk" into the Russian Navy.
In the screenshot, the Ka-65 model is located between the Ka-27PS and Ka-52K helicopters. All rotary-wing aircraft are on the upper deck of the model of the Project 23900 universal amphibious assault helicopter carriers of the Ivan Rogov type being built in the Crimea.
Little is known about the Lamprey; its characteristics are shrouded in mystery. The Ka-65 should become a "submarine fighter" or "submarine hunter", in any case, it is for such a main combat mission that it has been trained since 2015, although there will be minor ones. This is a completely new helicopter - the first truly Russian development of JSC Kamov, and not a rethought Soviet
technique
... For clarity, the Ka-52 is a further development of the Ka-50, work on which was started back in 1976.
In the fall of 2020, the general director of the Russian Helicopters holding (part of Rostec) Andrei Baginsky announced that the first prototype Ka-65 would be created and would rise into the sky "in 2025 or 2026". The helicopter will be equipped with two Russian TV7-117VK gas turbine engines with a capacity of 3000 hp each. each (in afterburner mode, they can develop a power of 3750 hp). The rotorcraft will be able to reach speeds of over 300 km / h.
At the Ka-65, the rotor blades will fold. He will also receive improved anti-corrosion protection. Due to the widespread use of composite materials, the Lamprey will be lighter than the Ka-27, but it will be able to take more payload. It is likely that the Ka-65 will be controlled using the BARK-6 digital automatic system.