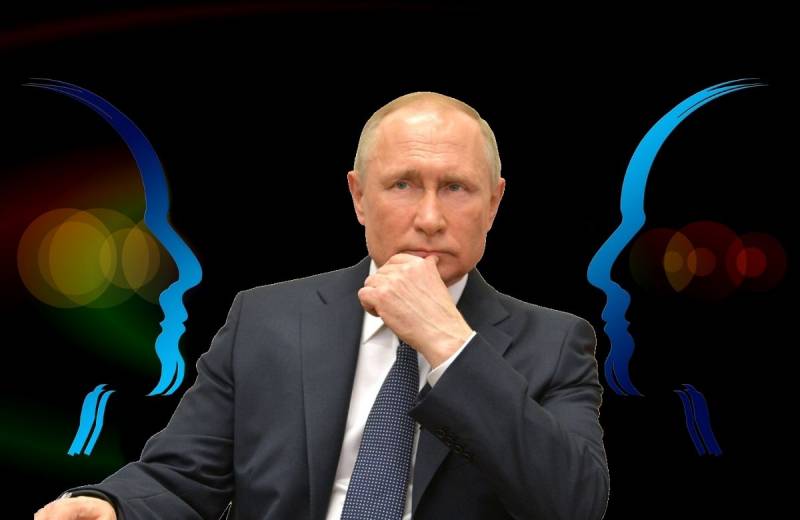 В
the first part
I talked about how Putin got into the ranks of contenders for the post of Yeltsin's successor, and why Boris Nikolayevich made a choice in his favor. Today I will finish the promised description of the VVP's psycho-portrait and summarize his contribution to History.
The personal qualities of Vladimir Vladimirovich should probably have been devoted to a separate text. How he takes out all that stream of garbage and outright slop that pours out on his head as president of the Russian Federation is a separate story altogether. Its impenetrability and endurance can only be envied. Qualities, for sure, brought up by years of service in the KGB. Whatever his enemies do, he only grows stronger because of this, and his asymmetrical answers have already become the talk of the town and his signature handwriting. Revenge is a dish served cold! Apparently, Putin does not like hot dishes.
20 years later, it is already possible to summarize some of the results that he achieved during this time. I am not taking on the role of an arbitrator, but the fact that all our enemies in the West are already counting days and hours until the day of the end of his presidential term, connecting with this date all their secret hopes of changing the tough and irreconcilable course of the Kremlin, in itself already says that Putin has coped with the task set before him. Tell me who else could have achieved this, and then tell me about the role of personality in History. The coming to power of Gorbachev and Yeltsin threw our country back for decades, almost shattering it into molecules. And only Putin was able to quietly collect it from virtually oblivion, when Russia was already standing with one foot in the grave. Only him
политическая
the will and cunning of the former intelligence officer allowed the Russian Federation to return to the major league of world politics. Therefore, it is not surprising that the West is already counting the days until his departure, pinning all their hopes on his possible successor, rightly believing that the bomb will not hit the same crater twice and there will be no other such Putin. After all, he was lucky with Medvedev, why can't he get lucky again? What exactly Putin did not please them, I will show below (a very rare combination of personal and business qualities, not that a phenomenon, but in this post just an ideal combination, analogs in world history are hard to remember, the closest known to us is Yosif Vissarionovich, and then, only in part, VVP is also an ascetic stoic, but without Stalin's paranoia).
Who is Mr. Putin?
There is such a science - socionics (we for some reason recognized as a pseudoscience), it postulates personality types and describes the relationship between them. In total, 16 psychotypes of personality are considered in it. Discrepancies with psychology in her occur on the basis of the fact that socionics considers personality psychotypes to be unchanged throughout life, and modern psychological science disputes this fact, believing that during life the psychotype can change under the influence of external factors. Socionics originated back in the 70s of the last century in the USSR, thanks to the works of the Lithuanian economist Aushra Augustinavichiute, who took Jung's typology and A. Kempinsky's theory of information metabolism as a basis. After that, this discipline began to claim to be an independent branch of knowledge lying at the intersection of psychology, informatics and sociology. Nevertheless, socionics is extremely rare in the West. There, this term implies interdisciplinary research in the field of distributed artificial intelligence systems and their applications to sociology. And completely in vain! Because if they had not neglected this science, they would have been able to understand Putin more quickly. There, in the West, a whole category of people has already formed, whom they call nothing other than "Putin Ferstein" (people who understand Putin), assuming by this that they themselves cannot understand Putin. I will help them with this. As a basis, I took the works of the successors of the case of Aushra Augustinavichiute, Ukrainian socionic scientists Viktor Gulenko and Alexander Molodtsov, or rather their two joint works "Introduction to Socionics" and "Foundations of Socioanalysis". The most difficult thing was to determine to which psychotype out of 16 presented the GDP belongs. I will give the characteristics of the psychotype I have chosen, and you yourself will recognize our president in them (and you will understand a lot for yourself, and finally stop blaming Putin for imaginary shortcomings that are higher than him, accepting them as a given inherent in this psychotype).
According to the classification of the above authors, according to his psychotype, Putin can be attributed to the category of ethical-sensory introverts (ESI) - the "Guardian" subtype (Dreiser, ISFJ). This is neither good nor bad - this is an objective fact! Why this fact has so alarmed our enemies, I do not know, but you can already see the result - there is a massive development of the object. Boorish attacks and blatant flattery are also used. They are pumped in all directions. It has already come to personal insults, they do not disdain anything, they have studied the psychotype well - they beat you in pride, it's not for me to tell you about the special vulnerability of people of small stature. Putin is still holding the blow. What does it cost him - I don't know! But the West has not yet achieved what it wants, rather the opposite. They got a tough nut to crack. You can sympathize - it's easier to kill. Believe me, this option is also being considered. But so far unsuccessfully (SBP FSO eats its bread for a reason). But the issues of safety of the first person are not my paraphia, but the psychological aspect is worth considering in more detail. Below I will give only some of the psychological characteristics of the object, and you will understand why the "Guardian" (Dreiser, ISFJ) so confused the cards of our enemies and what interested the KGB at one time.
1. R - Ethics of relations
(program function): Feels the interlocutor well (or, as they say, "sees" through him). Identifies falsity quickly. He is very critical of the behavior of others, but expresses his opinion only when he is very offended. From the first moment of acquaintance, he immediately divides people into friends and foes. Aliens, as it were, cease to exist for him, but he is strongly attached to his relatives and friends, feels responsibility for them. Follows only his own internal assessments of a person. Hard to persuade. He rarely makes compromises with strangers, but forgives his own people a lot. Always keeps the interlocutor at a psychological distance. Along the length of this distance, it makes it clear to the interlocutor how he relates to him.
2.F - Power sensing
(creative function): Clearly determines the strength of the impact on the enemy. He does not adapt to his counterpart, but imposes his own line of behavior. Withstand, rarely plays ahead of the curve, waits until the critical point comes, but after it he acts backhand, extremely tough. In all situations, he is able to stand up for himself and his loved ones. Does not tolerate coercion, as well as disproportionate use of force. His rebuff is always proportional to the degree of manifestation of aggression. Knows how to teach the offender a lesson, consistently increasing the force of pressure on him. Does not stop until he feels panic and a drop in the opponent's morale. At the same time, a moral victory for him is always more important than a physical one. He will never allow himself to be treated edifyingly. The spirit does not tolerate impudence. It is almost impossible to impose your opinion on him, you can only persuade him to change his mind. He cannot be intimidated or provoked (Lord, hasn't the West understood this yet ?!).
3. L - Structural logic
(role function): Objective, always seeks to assess the situation from all sides. In public, he mostly wears the mask of a dry and impassive person. In daily practice, he prefers to follow well-established norms and proven working methods. He approaches everything from the point of view of common sense and reasonable egoism. He himself always adheres to the established rules of the game and demands the same from others. Needs physical distance. It is hard to bear a large crowd of people (here Putin has to step over himself).
4. I - Intuition of possibilities
(pain function): Poorly tolerates a situation of uncertainty and understatement. He is critical of himself, comparing himself with those around him, is able to idealize his counterpart, as well as to overthrow him from the pedestal. Can't stand boasting. Will not indulge talented, but selfish and self-righteous people. Does not recognize abilities that are not complemented by labor. He never sticks out himself, waits for others to appreciate. He rarely praises others, but accepts compliments in his address with pleasure.
5. R - Business logic
(suggested function): Only a job well done can bring him real relaxation. Loves people who involve him in business activities. Minimalist. Practical in everyday life. Launches everything that is on its territory. Not inclined to luxury and frills, but loves functional and beautifully designed things. Ergonomic. Creates comfortable working conditions for himself and his environment. In work, he immediately takes on the most difficult. It is difficult to change the scenery (this applies to both work and lifestyle).
6.T - Intuition of time
(activation function): Impatient. Gusty. Does not accept red tape. Prefers instant solutions. At the time limit, it is activated, but does not accept fine control (only by reference points). Always ready for unforeseen circumstances. It is almost impossible to take him by surprise. He remembers well the mistakes and upheavals of the past, from which he quickly learns (this point should be studied separately by our "partners" in the West!).
7.E - Ethics of emotions
(controlling function): Empathic. Empathizes with others, but cannot publicly show these qualities due to personal characteristics of character. Tries to adapt to the mood of others. In a serious situation, he is always emphatically official, but in the circle of friends he even allows himself cynical witticisms. He loves cheerful people, because he himself does not belong to such people. Their company helps him to escape from painful thoughts. Avoids life dramas, remembering how hard they affect the psyche and health. However, he himself deliberately accelerates the resolution of conflicts and is inclined to dramatize the situation.
8.S - Sensory sensation
(reference function): Workaholic. Can't do without work. Idleness oppresses him. Constantly looking for something to do. Work serves him as a cure for all diseases. In public, he always strives to appear at his best, (this also applies to clothing and physical form). Very neat. Sympathizes with the sick and disadvantaged. Himself always for a healthy lifestyle and moral purity. People who profess opposite views are intolerant.
Didn't overload? A little bit more.
External signs
ESI is easily recognizable by its characteristic piercing gaze and tense expression on the face, on which readiness to resist is written. A prominent representative of ESI is the famous American actress Jane Fonda. When ESI thinks, he can sometimes stare and look at an object or person, while realizing that he is in a stupid position, he himself cannot do anything about it. If glances meet, ESI is the first to look away. Can be in one position for a long time. A distinctive feature of ESI is also lips - not narrow, but swollen, but tightly compressed. In public clothes, he prefers strict elegance with a touch of formality. He never relaxes, always collected, fit and tidy, even at home.
Manner of communication
ESI is critical in any business. First of all, it points to major shortcomings. He analyzes the situation from all sides, trying to be logical. He wants to understand everything objectively, without emotions. He is guided in his assessments by the concept of debt. He is very critical of the violation of ethical norms, on occasion he will always point to them, in his circle he will never be afraid to give a moral assessment to the actions of another person. He will always find something to answer to remarks addressed to him. He doesn't go into his pocket for a word. Inclined to paradoxical humor, can joke with a serious face. Needs physical distance. He does not like to be alone with one person for a long time. Strangers in the house annoy him.
Features of behavior
The most characteristic feature of ESI's behavior, which can be noticed when observing him, is the ability to actively defend himself and his loved ones. If ESI has already taken a person under protection, then it provides him with long-term patronage. If he has already decided to take revenge, he will hit the enemy's most vulnerable spot. Inclined to remorse, constantly living under the pressure of a sense of duty. Afraid of uncertainty, situations where you can't say yes or no. In such cases, it either starts to rush about, or dwells on the problem. Waiting and idle idleness is hard to bear. Labor is measured not by the end result, but by the amount of effort expended.
This is the GDP of a person! I think his inner circle has long ago studied these qualities of him, and they are trying to adapt. For many of you, this may have become a discovery, but believe me, it is these qualities of his that make him indispensable as the head of the Russian Federation, and that is why our sworn "friends and partners" curse the day when he sat down at the wheel of our "vacuum cleaner" (I am not very figurative?).
Therefore, have condescension to your President, do not forget that he is just a person with all the ensuing consequences and, like the others, goes to the toilet, and not only to wash his hands. And even if he is not as smart as Kasparov, and not as handsome as the late Nemtsov, and even less so talented as Makarevich, Yarmolnik, Bykov and Parfyonov put together, even though Putin is also power-hungry, vindictive and vindictive an introvert who does not forgive anyone anything and does not forget the wrongs inflicted (whether it is good or bad, we will not discuss here now, my personal opinion is how it can be bad for a person, how it turns out that it is not for the country!). But if it is this set of good and bad qualities that allows him to effectively cope with the responsibilities of the President of the Russian Federation, in fact, a crisis manager, assigned to him, then there is no need to interfere with this - even a blind person can already see that he is on the right path. Putin has proven with his 20 years of work that he is the perfect crisis manager. That is why it is so difficult to find a replacement for him, that is why he is so annoying to the West.
I am fully aware that my words will have no effect on those who have long and firmly hated Putin. They are fueled by other information, not seeing the forest behind the fence, perceiving all information exclusively from a negative angle, since they are not able to evaluate it critically. They have a critical analysis unit disabled or simply absent, so they are ready to believe in outright nonsense (in all sorts of Putin's palaces and his untold riches). That is why I rely more on people with doubting, rather liberal views. No need to smear everything with black paint. Believe me, the fact that Putin at this historical moment was in Yeltsin's field of vision, and his choice fell on him, is Russia's greatest success in the last 70 years, after the victory in the Second World War.
Every sofa analyst, who in his life cannot even move a closet without help, fancies himself at least the President ... And the result is always the same - the closet remains in place, and the caravan (country) moves on, not paying attention to the barking of dogs (dogs figurative, both local and foreign subjects) ...
The ending follows. It will discuss a possible successor to Putin and whether he will remain for another term.