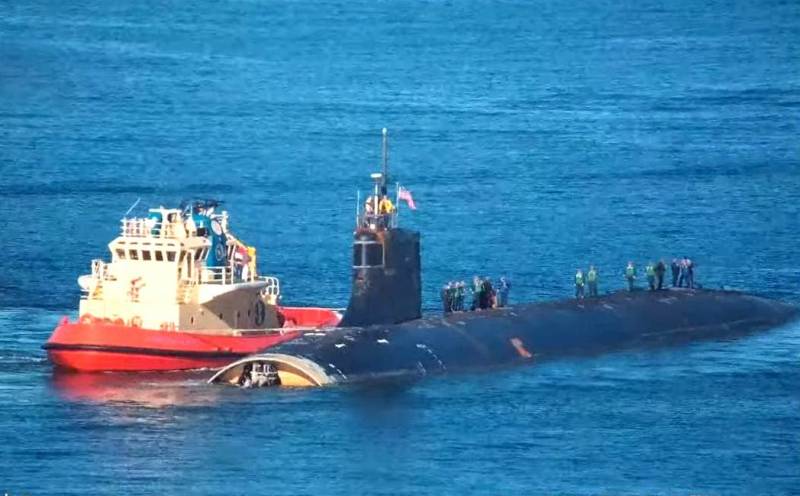 A few days ago, the Seawolf-class nuclear submarine USS Connecticut (Connecticut or SSN-22), which survived a collision in the South China Sea a few months ago, arrived on the US West Coast. The damaged submarine made its way on the surface from the island of Guam to the state of California, but after a few days left the port of San Diego. This is reported by the US media, referring to the footage from the webcams of this city.
An image from December 12 shows a pair of tugboats pulling the submarine into the port of San Diego after a 6200 nautical mile voyage. At the same time, the submarine lacked a nose cone (sonar dome) - in fact, it is a light element, behind which a solid part of the hull begins. Some American users sadly joked that the pride of the US Navy was literally carried on a stretcher to the main base of the fleet.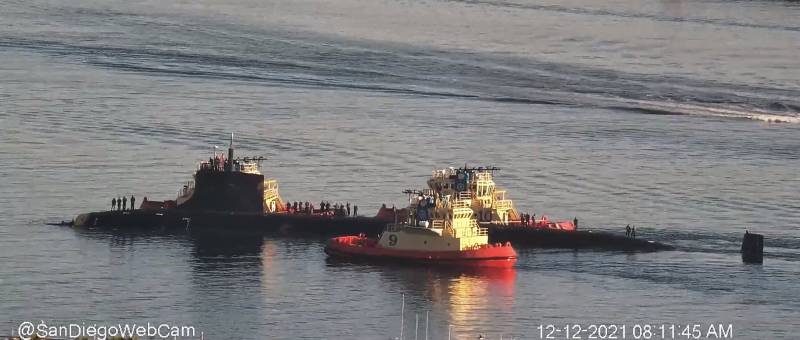 However, the Premier League did not last long in San Diego. On December 15, impartial surveillance cameras recorded two tugboats pulling the Connecticut out of the harbor and turning it toward the open ocean. Then the submarine without a bow began to move independently on the surface. At the same time, it is not yet clear where she went.
It should be noted that the nuclear submarine was damaged in early October, and its first images after the collision
появились
at the end of that month, when the submarine was discovered in Guam. Investigation by the 7th U.S. Fleet
has shown
that Connecticut collided with a seamount.