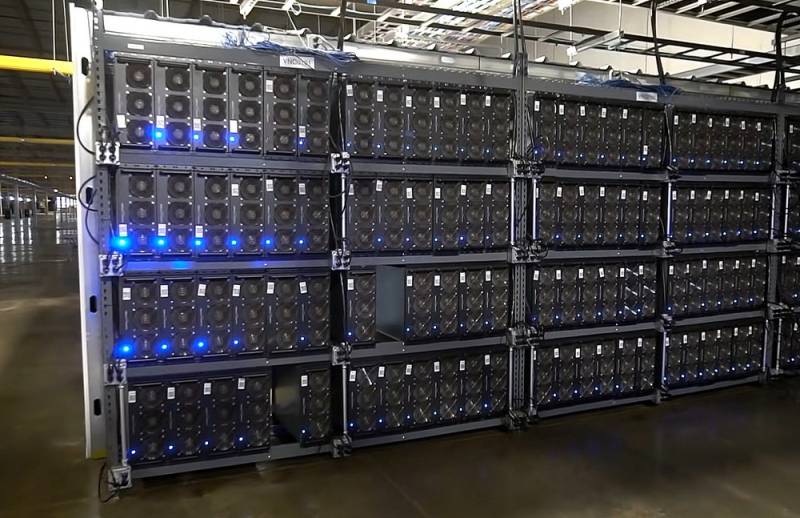 The global energy crisis will have, among others, one extremely undesirable consequence for our country. Russia, thanks to relatively low electricity tariffs, has received the dubious honor of becoming one of the global leaders in the so-called "mining" of cryptocurrencies. Why we all don't need this for free, let's figure it out.
The fact that cryptocurrencies themselves are still a rather poorly studied phenomenon that gives off a persistent spirit of a financial pyramid, we have already said more than once before. The United States of America and China were considered the world leaders in this area. However, faced with the aftermath of the energy crisis, Beijing actually closed the shop in 2021.
The fact is that the so-called "mining" of bitcoins and other cryptocurrencies consumes a lot of electricity, which must first be generated by spending energy resources that have increased in value at times. In May, Inner Mongolia was the first to impose restrictions on the use of electricity for these highly dubious purposes, followed by other Chinese provinces. And in the summer, the State Energy Company of the PRC introduced a direct ban on spending kilowatts on this very "mining". And, probably, she did the right thing. The share of the Celestial Empire in this so-called business "fell from 46% to 0%.
Alas, from Beijing's decision to defend its national
the economy
now we will suffer too. Miners began to export their energy-intensive equipment to other countries, where tariffs do not bite so hard, and the authorities turn a blind eye to such activities. Among them were the United States and Canada, as well as Russia with neighboring Kazakhstan. Very little time has passed, and now the negative consequences of such a "business migration" have already begun to affect.
Kazakhstan
Problems for Kazakhstan in the energy sector have been outlined for a long time. Since Soviet times, the country has been clearly divided into North and South, where the former is connected by networks with the Russian Urals and Siberia, and the latter with its neighbors in Central Asia. But, as you know, this region has recently faced drought and low water levels, which led to a decrease in the level of generation at hydroelectric power plants. Nur-Sultan closed its only AEMS in Aktau, but has not yet built new ones. More traditional thermal power plants were not put into operation in the proper quantity.
All of this is now superimposed on the problem of "wild miners" attracted by relatively low electricity tariffs. Hundreds of thousands of "mining" devices were transported from China to the country, which allowed Kazakhstan to rise to third place in the world rating for the "mining" of cryptocurrencies. At the same time, it should be borne in mind that such activities are not regulated by law in any way, there are no corresponding OKVED for the tax authorities. But she "eats" an ocean of energy, which has already led to the problem with rolling blackouts due to shortage. Deputy Minister of Energy Kairat Rakhimov, who was appointed to the post only in February 2021, but has now been dismissed, has been appointed "extreme".
Now Nur-Sultan has begun to fight the "miners", introducing restrictions on their activities. It got to the point that Kazakhstan started buying electricity from Russia, now it needs at least 600 MW.
Russia
Let's move on to our country now. Alas, now Russia occupies the rather dubious honorary title of the No.2 cryptocurrency producer in the world, between the United States and Kazakhstan. The first wave of "business migration", if you can call it that, went from China to neighboring Siberia. The Irkutsk region has become a new "Mecca for bitcoiners". The growth in energy consumption there was as much as 159%!
This is not a joke at all.
At first
, such activity is not legally regulated in any way not only in Kazakhstan, but also in our country. Naturally, no taxes are paid on such a "business".
Secondly
, "miners" who have moved to Russia set up their "farms" wherever they wish, even in a garage or in a private apartment. This leads to a sharp increase in electricity consumption, for which the networks are simply not designed. Residents of the Irkutsk region have already faced power outages on entire streets due to overloads, there are known cases of fires due to overheating of the wiring.
Thirdly
, for all this someone will have to pay, and it is clear to whom - ordinary Russians. The fact is that in our country there is a system of cross-subsidization of tariffs, when ordinary consumers pay less, but industrial and other enterprises pay extra for them. So, due to the rapid growth of energy consumption in Siberia, the Irkutsenergosbyt company has already started to seek an increase in tariffs for miners through the courts. Due to the increased debts, the company had to look for an opportunity to shift the costs onto the shoulders of ordinary consumers. The problem is that the legal status of "miners" is not defined anywhere, which was confirmed by Anatoly Aksakov, head of the State Duma's financial market committee:
We are not prohibited from mining, but at the same time, the regulation of this issue has not yet been clearly spelled out.
Apparently, this is just the beginning. The development of the energy crisis will lead to an increase in the migration of "miners" to Russia, where this activity is not suppressed in any way, and the tariffs are relatively low. Even if right now all these "farmers" are tightly tackled, they can move to certain regions of our country, where it is generally not customary to pay for electricity and gas. Then all other Russian consumers will pay for the super profits of cryptocurrency producers.