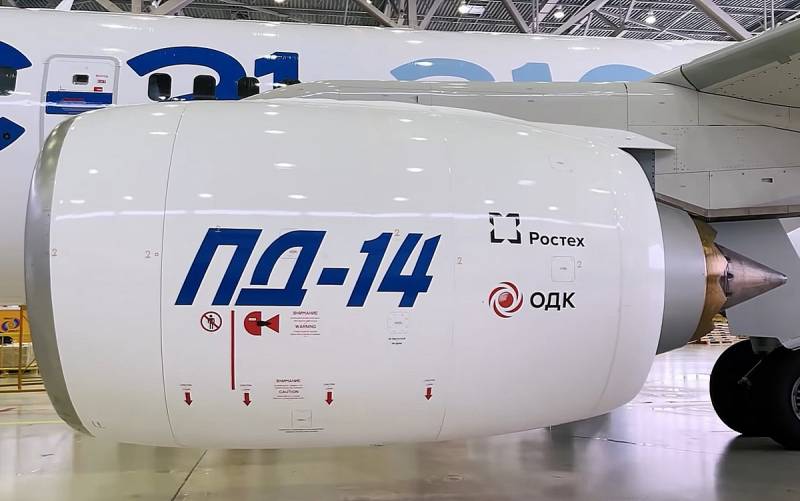 Exactly a year ago, the domestic airliner MS-21-310 took off from the runway of the Irkutsk aircraft plant. This flight became extremely important for our country, since for the first time Russian PD-14 aircraft engines were installed on the aircraft. Moreover, this power plant can rightfully be called the "engine of progress".
It is worth noting that the decision to create its own engine for the MS-21, which was made by the UEC, seemed to many to be adventurous and impracticable. Indeed, in order for the aircraft to compete on the international market, its power plants should not be inferior to counterparts from the same Boeing and Airbus, which create advanced engines.
Nevertheless, in 2008 the project was launched. Considering that the engine was primarily intended for the MC-21 family of liners, its estimated thrust ranged from 12,5 to 15,5 tons. The base was supposed to be a Prospective engine of 14 tons (hence the name PD-14).
The entire industry was involved in the work on the newest engine. Despite numerous difficulties and skepticism on the part of some experts, our engineers managed to make a real breakthrough. PD-14 became the first engine in the history of modern Russia, which was built from scratch.
But that's not all. The domestic power plant of the fifth generation can be safely placed on a par with the most advanced civil aircraft engines in the world. Moreover, it surpasses its predecessors in terms of specific fuel consumption by 12-16%, and in terms of harmful emissions by about 30%.
An important nuance in the PD-14 design is the presence of serious computers with complex software functionality that controls all processes. In addition, it actively uses new materials and
Technology
: lighter alloys, high temperature mechanisms, additive technologies, etc.
Finally, the most important thing. It is no coincidence that the PD-14 power plant is called the "engine of progress". After all, it was initially decided that a whole family of units would be created on its basis, ranging from PD-8 with a takeoff thrust of 7,9 tons and ending with a real "giant" PD-35 with a thrust of 33 to 40 tons.