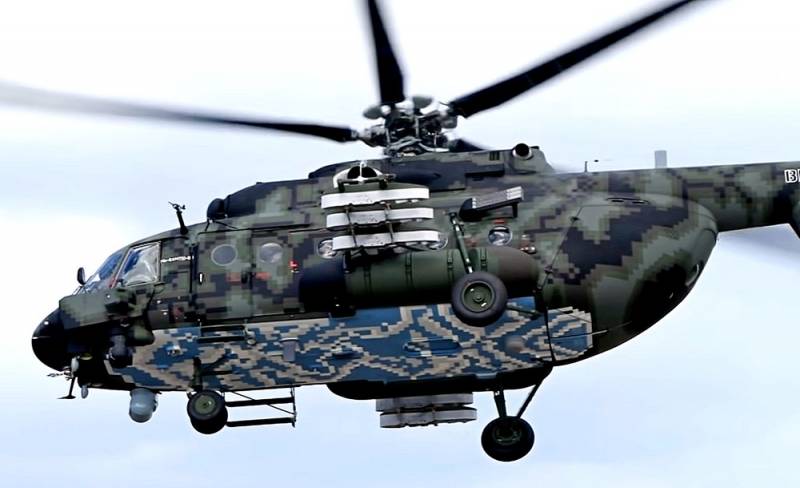 The Russian troops received the first batch of Mi-8AMTSh-VN Sapsan fire support helicopters, which is a modification created on the basis of one of the most widespread rotary-wing aircraft in the world.
The newest fire support helicopter was developed taking into account the experience gained during the counter-terrorist operation in Syria and is intended for special forces.
To begin with, the "Sapsan" can "boast" with a capacity of 2800 hp, which without any problems allows you to "throw" 37 paratroopers at a given point or evacuate 12 wounded soldiers on a stretcher. In addition, the helicopter is capable of taking a large weapon load.
Flight and navigation equipment allows you to effectively control the rotorcraft at night and control the air situation around 360 degrees. Another important feature of the new helicopter is that the crew and important units are reliably protected by titanium alloy armor, and the floor and sides are covered with Kevlar plates.
The peregrine falcons are equipped with a digital autopilot and the Vitebsk defense complex, which ejects false heat targets and interferes with enemy missile guidance heads.
Finally, about the weapons. The Sapsan carries a double-barreled 23-mm rapid-fire cannon, guided and unguided missiles, 250-kg high-explosive fragmentation bombs, and four machine guns: two course guns, one to support the landing and loading, and one in the tail of the vehicle. In addition, it is reported that the helicopter is capable of carrying Hermes-A supersonic missiles.
Considering all of the above, the newest Mi-8AMTSh-VN can be safely called a flying BMD with an impressive "destructive potential".