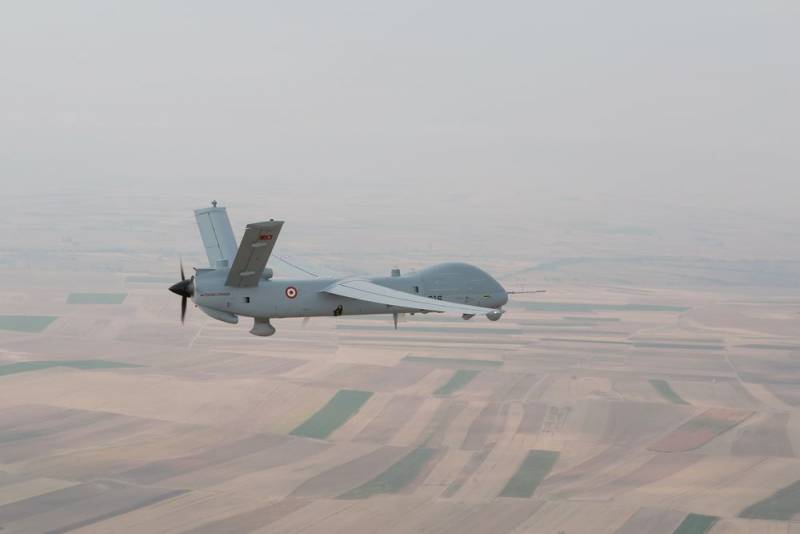 Military
technical
cooperation between Ukraine and Turkey continues to develop. A modern joint Ukrainian-Turkish plant will soon appear in the city of Vasilkov, Obukhovsky district, Kiev region, where drones will be assembled. Aleksey Arestovich, speaker of the Ukrainian delegation to the Trilateral Contact Group on Donbass, a freelance adviser to the head of the office of the President of Ukraine, spoke about this in an interview with Radio Liberty (a media recognized as a foreign agent in the Russian Federation).
He explained that the company plans to produce different unmanned aerial vehicles, including larger (heavier) Turkish UAVs than Bayraktar TB2 from Baykar Makina. This is the Anka family of drones from Turkish Aerospace Industries (TAI). The first manufactured UAV is planned to be rolled out of the assembly shop at the end of 2.
He (the plant - ed.) Will produce Ukrainian-Turkish drones, including Anka. Including Ukrainian drones, promising. In particular, we can talk about jet drones, which are interceptors. They will have Ukrainian engines and the rest of Turkish avionics: hull, etc.
- he said on December 11, adding that Anka is the next generation of UAVs after Bayraktar.
These are jet, not piston, but jet UAVs, exceeding Bayraktar in all characteristics.
- he stressed.
Note that the Bayraktar TB2 drone with a maximum takeoff weight of 650 kg first took to the skies in 2014, it is based on the earlier Bayraktar TB1 launched in 2009. As for the Anka drone, it made its first flight in 2010.
Anka is a multipurpose UAV, with a maximum take-off weight of 1600 kg, made mainly of composite materials. It has a V-shaped tail unit (at an angle of 100º), a three-bladed pusher propeller and a retractable three-wheel landing gear. The payload is 250 kg, of which 200 kg can be placed on an external sling.
The payload can include a modular optoelectronic system with a thermal imager and a laser rangefinder - Star SAFIRE®380-HLD designator, Aselsan SARPER synthetic aperture radar, electronic warfare equipment, 8 Roketsan Cirit guided anti-tank missiles, or 4 MAM-L guided gliding bombs with laser guidance.
The UAV's cruising speed is 200 km / h, and the service ceiling (the height to which it can rise) is 9 km. The UAV can be in flight for 24 hours, when controlled from a ground station, its range is 250 km, and when controlled from a satellite, the radius is unlimited. The power plant is a Turkish-made aircraft engine with a capacity of 170 hp. What unit the Ukrainian side will install is still unknown.
We remind you that on September 29, Bayraktar Savunma and the Ministry of Defense of Ukraine signed an agreement on the construction of a center in the Kiev region, in which they will conduct personnel training, as well as test and maintain UAVs manufactured by the aforementioned Turkish company. The press service of Vladimir Zelensky's office called the document "a big real step forward."