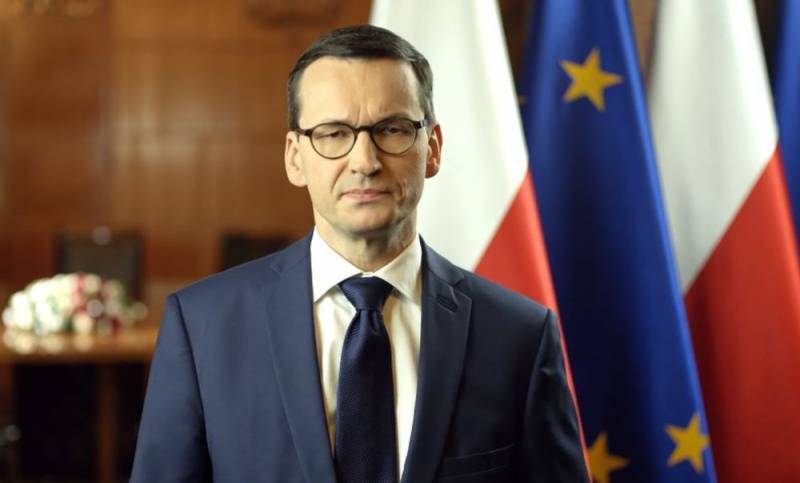 Polish Prime Minister Mateusz Morawiecki is known for his loud and unfriendly statements against Moscow. This time, the head of the Polish government, suffering from a lack of historical memory, in a peculiar way suggested that the Russian Federation make a civilizational choice, as reported in an interview with the newspaper La Repubblica (Italy).
Moravetsky said that Russia needs to decide whether it is with Europe or not, i.e. "With us or against us." He clarified that Europe does not want a conflict, but cannot afford to continue the energy "blackmail and pressure" from Russia, as well as attempts to split European unity.
Putin chooses conflict today. And this harms not only Europe, but also his own country. <…> Therefore, in the face of Putin's provocations, we must be united. The time for concessions is over. We must react toughly by imposing sanctions
- pointed out the Russophobe.
At the same time, he expressed gratitude to US President Joe Biden for a recent conversation with Russian leader Vladimir Putin. Moravetsky hopes that communication between the two leaders will lead to a decrease in the activity of the Russian Federation on the border with Ukraine and Europe as a whole.
But experience shows that Putin cannot be trusted and
policy
no concessions apply
- stressed the Pole.
These words were commented on in Russia. For example, a member of the Federation Council of the Russian Federation from the Primorsky Territory, Senator Andrei Klimov, called these words an ultimatum and a provocation. In addition, he recalled that Warsaw in the European Union itself is called Washington's puppet for trying to split the EU.
It was Warsaw that imposed the Eastern Partnership on the EU in 2008 to further split the post-Soviet space. This decision had far-reaching implications, including the events in Ukraine in 2014 and in Belarus in 2020.
- wrote Klimov in his Telegram channel.
The Russian believes that Moravetsky's statement "is designed for naive fools" and is aimed at increasing tensions in Europe. With the help of such provocations, the United States is trying to weaken both the EU countries and Russia in order to eliminate its competitors on the world stage.