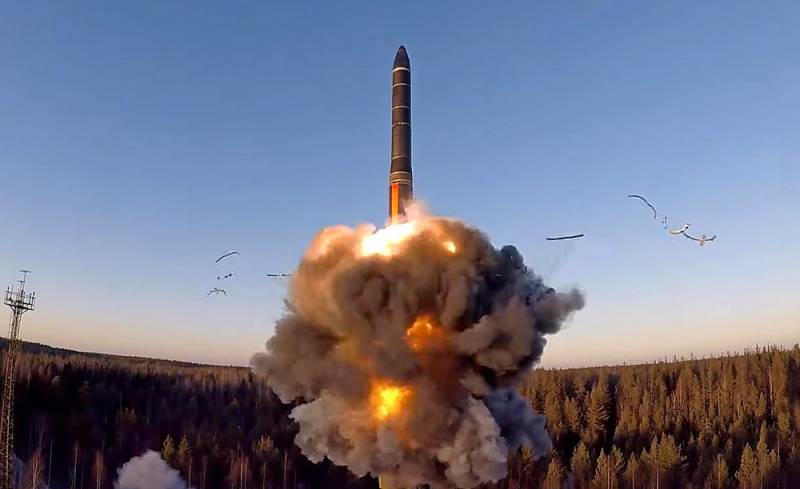 In the past few years, the United States has openly begun to prepare for a nuclear war with either Russia, or China, or simultaneously with both adversaries. The Americans are conducting exercises, practicing the application of appropriate airstrikes, and are working on a multiple increase in the arsenal of nuclear bombs. It is generally accepted that a real nuclear war is impossible, since it will inevitably lead to the transformation of the planet into radioactive ashes, and there will be no winner. But is it really so?
Unfortunately or fortunately, the times when our country could wipe out an irreconcilable aggressive enemy from the face of the Earth are far behind. Even if the Russian Defense Ministry successfully uses the entire nuclear arsenal, it will be possible to speak not of destruction, but only of causing some "unacceptable damage." Let's look at two options for a nuclear war between Russia and the United States, "ideal" and realistic.
"Ideal" nuclear war
We will consider it ideal, based on several assumptions.
At first
, for some reason, the Kremlin will forget about its military doctrine, according to which, instead of a preemptive nuclear strike, we reserve the right only to retaliate.
Secondly
, suppose that the American and NATO intelligence services, for some unthinkable reason, "miss" Russia's open preparations for war and the deployment of all its strategic nuclear forces.
What do we have? In fact, not so much. In accordance with the START-3 treaty, we have reduced ourselves to the point that our "nuclear shield", aka "nuclear sword", looks like this: deployed nuclear warheads up to 1550 units, intercontinental ballistic missiles, ballistic missiles of submarines and heavy bombers - up to 700 units. All in all, the Strategic Missile Forces have on account 1165 ICBMs, the Russian Aerospace Forces - approximately 800 air-launched cruise missiles with a nuclear warhead, the naval component of the "triad" in the form of 11 RPLSN carries 16 ballistic missiles (BRP) with multiple warheads (approximately 720 nuclear charges).
The very same nuclear war can presumably look like this: the first wave is strikes by ICBMs and ballistic missiles, the second is strikes by air-launched cruise missiles from strategic bombers Tu-160M ​​and Tu-95MS. A third wave is also possible - with atomic bombs on what is left. And there can still be a lot left, even in spite of the first two waves.
To win a nuclear war with the United States, Russia will need to destroy all of its key military infrastructure and industrial potential, starting, naturally, with a nuclear arsenal. We'll have to strike missiles at silos with Minuteman ICBMs, at bases of strategic submarines, at airfields with strategic American bombers, at command bunkers, at warehouses with nuclear weapons. There are calculations, and it is quite convincing, that for such a large number of targets we simply do not have enough intercontinental ballistic missiles, or enough, but end-to-end. At the same time, all the affected areas will be American Ohio-class SSBNs and strategic bombers, which the US Air Force will have time to lift into the air. And this we do not take into account the American missile defense system, which, undoubtedly, will intercept part of the ICBM!
That is, even in the most ideal version for the RF Ministry of Defense, having spent all or almost all of its nuclear arsenal, will not be able to "zero" the military potential of the United States. Most of the industry will remain, there will be losses among the population, but not "critical", unless, of course, this can be said about the deaths of 20-30 million people out of 330 million. The pissed off Americans will have what to do to retaliate against our country.
By the way, the casualties among the Russian population from a nuclear retaliation strike will be immeasurably higher, since we are mainly concentrated in a couple of dozen megacities, which will become radioactive mass graves. Americans, on the other hand, live in one-story houses in large areas, and there are simply many times more of them than us. At the same time, the main US military bases abroad will remain intact, which are located around the Russian borders, the European NATO bloc is at our side in the west, as well as Japan in the east, which will undoubtedly be included in the process of finishing off and dividing Russian territory.
Note that this was all an "ideal" scenario, when we were ready and for some reason struck first, as the Leningrad gateway teaches us.
Realistic scenario
In reality, everything can be much more pessimistic.
Even if the Kremlin, for some unknown reason, decides to launch a preemptive strike, preparations for such an action, in principle, cannot remain unnoticed. If the Pentagon sees the deployment of Russian strategic nuclear forces, which will not stop after warnings from Washington, the most likely American preemptive strike on key components of our "nuclear triad."
Here, the first to enter into action are American SSBNs with their Trident-2 ICBMs, which can knock out a significant part of the military infrastructure of the RF Ministry of Defense. We have almost nothing to fight with "Ohio", because we are a "great land power", and Russia does not really need a fleet. We're more afraid of tank wedges on St. Petersburg and Moscow from Poland and the Baltic states. Then the American ICBMs and strategic aviation will work out. By the way, a truly effective missile defense "umbrella" has been created only around Moscow. All other regional centers, where military factories are located, will be under the nuclear aim of the Pentagon.
Of course, all this is said tentatively, any layouts are possible. However, the main conclusion is disappointing: nuclear war in the 21st century is not something unthinkable, and it will not lead to the death of the entire globe. Nuclear weapons are an important deterrent, but not a panacea. It is possible to frighten Americans, Europeans or Japanese with our "red button", but carefully. Note that in Moscow they themselves are very nervous about such a prospect. For example, Russian Deputy Foreign Minister Sergei Ryabkov recently said:
We are concerned about a lot of what is happening among the Americans in terms of their attitude to the role of nuclear weapons. They are lowering the threshold for the use of nuclear weapons, and they are preparing doctrinal and materially for this.
To catch up, we note that the United States has already developed and put on alert on its nuclear submarines low-yield nuclear warheads W76-2, and now plans to multiply the number of its tactical nuclear bombs in the B61-12 modification, bringing their number to 480. This is just for " third wave "or against a weaker enemy that does not have a modern missile defense system.