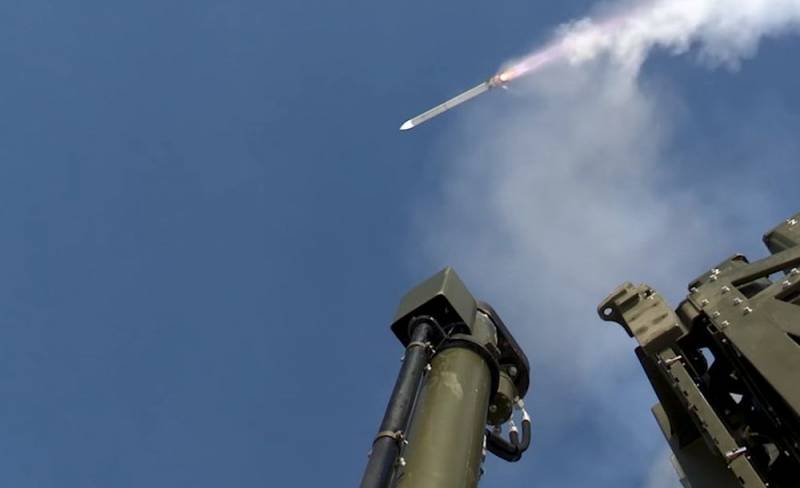 The British Army has adopted a new ground-based air defense system Sky Saber, "which can hit a tennis ball" and created, among other things, against Russian Su-57 fighters. United Kingdom Secretary of Defense Procurement Jeremy Quinn reported that this is "a demonstration of combat capabilities to those who want to harm."
It should be noted that the Sky Saber complexes are produced by the European holding MBDA (France, Great Britain, Italy and Germany) in close cooperation with Israel, since they are based on the Israeli Iron Dome missile defense system from Rafael. The complex consists of a Land Ceptor launcher with 8 CAAM missiles (manufactured by MBDA), a SAAB Giraffe radar and a Rafael control system installed on MAN trucks. It is argued that the air defense system is capable of simultaneously controlling the flight of 24 missiles, developing speeds of up to 3700 km / h, directing them to 24 different targets. The confirmed range of CAAM missiles is 25-45 km (depending on the engine), and the theoretical firing range is 60 km.
In Russia, they reacted to the bravado of the British and made fun of the Sky Saber. So, a military expert, ex-head of the anti-aircraft missile forces of the special forces command of the Russian Air Force, Colonel Sergei Khatylev told the newspaper
"Sight"
that the Russian S-400 air defense systems can hit objects "the size of a five-ruble coin at an altitude of 70 km."
The Su-57 fighter is not the most difficult object for air defense, so it is impossible to evaluate air defense equipment if possible to shoot down this target. What is much more important - the Viking air defense missile system (9K317ME - ed.), Adopted by the Air Defense Forces of the Land Forces (RF Armed Forces - ed.), In terms of its performance characteristics, exceeds Sky Saber four times
- Khatylev drew attention.
The expert clarified that the Viking air defense system has more target channels, providing simultaneous tracking and shelling of one target, and the firing range is 83 km. At the same time, the number of missiles increased, if there were 4 missiles, now - 6 on the launcher itself and 12 - on a transport-loading vehicle (TZM), with which you can also shoot.
In general, Britain is not very strong in air defense. All that the kingdom has adopted in the past 30 years into service are obsolete American designs.
- he stressed.
In addition, the British air defense system is completely useless against Russian hypersonic missiles.
So let the British keep the advertising statements about the new air defense for lunch.
He summed up.